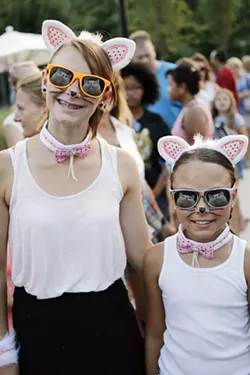 Doug Hoke
Internet Cat Video Festival on the Great Lawn of the Myriad Botanical Gardens, August 1, 2015. Photo by Doug Hoke
Oklahoma City's Internet Cat Video Festival is only three years old, but it might already be on its ninth life.
Maureen Heffernan, executive director of Myriad Botanical Gardens, said organizers intended for the festival to be a one-off event when they hosted their first screening in 2014 on the Great Lawn, 301 W. Sheridan Ave.
Heffernan has a simple message for friends of the feline who still haven't had a chance to take in the unique event: The time is meow.
"We don't want to just repeat and repeat things. We want to find new things," she said. "This year, it's kind of run its course, so it's like the grand finale year."
The movie screening, a hilarious 75-minute compilation of the best and more creative cat productions from the web, begins at 9 p.m., though guests are welcome to join in the celebration on the lawn as early as 7:30 p.m. The video is curated by Walker Art Center in Minneapolis, Minnesota.
A number of food trucks will be on-site. OKC Pets Magazine and Central Oklahoma Humane Society will also be out on the lawn distributing information.
Part of the reason Heffernan said this likely will be the festival's last year is because this is the last time Walker Arts Center plans on putting out its annual video. The center was the site of the first internet cat video fest.
Hefferman read an article about it in The New York Times several years ago and eventually decided to replicate the idea in Oklahoma City using the video Walker rents out each year.
The event sounds like silly and frivolous fun on its surface, but Heffernan believes the gathering serves a greater purpose.
"Usually when you're watching cat videos, you're sitting at your computer alone," she said. "It's funny and you're laughing to yourself, but the breakthrough idea was, 'Wouldn't it be fun if we took this out of somebody sitting there by themselves and do it as a public event?'"
The Internet Cat Video Festival is part of a growing national and global trend to replace the solitude of the digital age with real-world experience and a tangible sense of community. Another example, Pokemon GO, a popular new GPS-based augmented reality game app, has drawn numerous players to the gardens and countless other locations around the city and world — players who otherwise might not have ever visited.
"[The festival] is taking a sense of isolation and bringing people together," Heffernan said. "The foundation behind it is to remove that sense of isolation."
The director, an admitted cat owner and lover, said the festival is a chance for like-minded ailurophiles to share a laugh over their favorite subject.
"I think that whole stereotype with the crazy cat lady or that people who have cats are somehow socially withdrawn or something, that's so not the case," Heffernan said. "These people are fun; they're outgoing and lively."
The director is open to hearing new ideas from the community and encourages people to send what they come up with her way. Event ideas can be emailed to mheffernan@myriadgardens.org.
"I'd love to get more ideas from people and maybe they've traveled somewhere and have seen something they'd want to do here," she said.
Heffernan is always on the lookout for new ideas. She might already be planning which furry friend will be next in line for a film dedication.
"Who knows? Maybe there will be an internet goat festival one day," she said.
Maybe one day, when the world is ready. Until then, at least we have YouTube.
Print headline: Last meow?, Myriad Botanical Gardens purr-suades the curious to check out what might be the final Internet Cat Video Fest.