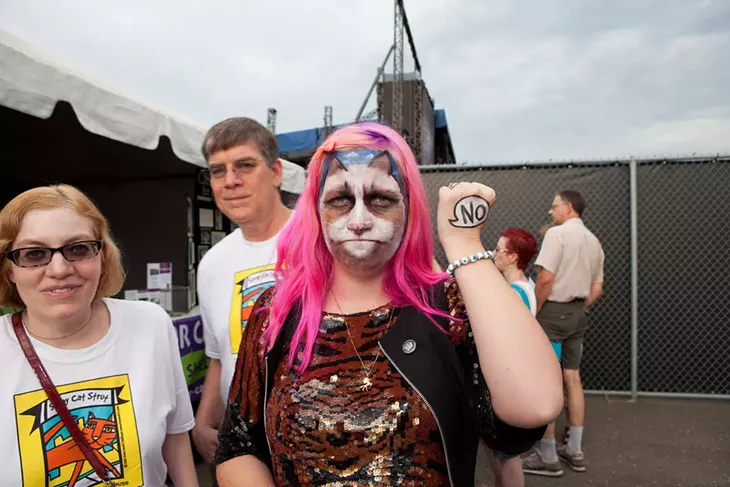 A festival attendee dressed as her favorite feline internet feline, Grumpy Cat
The kittens are coming straight out of the Internet.
We all know the Internet is fueled primarily by funny cat videos. Come Saturday, the best and the brightest of the Internet cats will descend on Oklahoma City. Myriad Botanical Gardens is an official stop on the 26-date tour of the Walker Art Center's (Minneapolis, Wisconsin) runaway hit, the Internet Cat Video Festival. Watch as grown humans dress up and LOL their way through an evening of food, felines and fun.
You know you've spent countless hours on Facebook poring over funny cat videos. You probably do it on company time (we won't tell), but it's usually something you do in private, right? Either you get it or you don't. Why not join hundreds of people who do and watch them all together?
Walker Art Center in Minneapolis asked the same question and held a festival devoted to the best the Internet had to offer. The program compiled a curated, juried selection and crammed it into one video and the first Internet Cat Video Festival was born. The fest is now crisscrossing the country on an official tour.
"With the Walker Center, they were kind of amazed at the number of people who showed up," said Christine Eddington, Myriad Gardens' marketing and communications director.
When the opportunity came to host the festival, the entire staff was immediately onboard, and of course, they chose a "Caturday." There will be food trucks, including Kona Ice, The Hall's Pizza Kitchen and Roxy's Ice Cream Social. Coop Ale Works will also be there to help you wash down all the laughs. Arts Council of Oklahoma City is providing a live band before the show. There will be face painting and potted catnip, as well as official festival merchandise, available for sale.
"We are hosting a cat picture contest on our Facebook, and the response has been enormous," Eddington said. "The winning feline will have their picture on the big screen before the show."
People watching cats on the big screen
There will also be several animal rescue groups, including The Bella Foundation and Central Oklahoma Humane Society, in attendance. They will not be hosting pet adoptions at the event, but they will be distributing information on how to get your own possible internationally famous feline.
Please do keep in mind that while you might enjoy socializing with people who also love furry felines, this might be terribly stressful on an actual cat. The festival asks that you leave your fur ball at home. You can tell him or her all about the fun you had.
That possibly the most aloof of our domesticated animals can create such camaraderie is for greater minds than us. We just know we want cat videos and we want them ... meow.
Print: Meowie wowie, The cats of the Internet invade Myriad Botanical Gardens for the sole purpose of making you laugh.