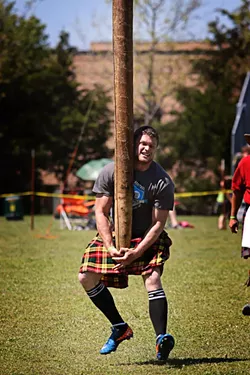 Jonathon Irvin considered going pro. He spent years competing in Scottish Highland games across the country as a highly ranked amateur. It's the stuff you see on late-night television: huge, muscled men with beards, wearing kilts and heaving telephone poles end-over-end. In fact, that's how Irvin, 43, an independent contractor from Moore, got into the sport.
"I was watching ESPN one night super late," he said. "And I was watching the sheaf toss. They were throwing hay bales up over a bar. I thought, 'That's crazy.'"
After learning the sport from other Scottish athletes in the area, he was at the top of his game four years ago, but the time, travel and money commitments, combined with being naturally undersized (at 245 pounds) for a world-class Scottish athlete and his desire to be home with his wife and children, led Irvin to shelve his pro dreams.
What Irvin has done instead is help organize the highly successful Iron Thistle Scottish Heritage Festival & Highland Games. The ninth annual festival runs Saturday and Sunday at Kirkpatrick Family Farm, 1001 Garth Brooks Blvd., in Yukon and features Celtic bands and pipers, Highland dance, sheep herding demonstrations, archery, children's activities, Scottish food (haggis!) and shopping (swords!) and the crowd favorite: heavy athletics.
Highland games date back to 11th century Scotland when King Malcolm III used the contests as a way to evaluate bodyguards, said Irvin, president of the United Scottish Clans of Oklahoma, the nonprofit organization that hosts the festival. Events include caber toss, sheaf toss, Scottish hammer throw, weight throw, weight over bar and the stone put.
Festival attendance has doubled in the past three years, and organizers expect about 7,000 spectators this year, said Laura Ladymon, USCO's chief development officer, who is also the only Highland dancing instructor in Oklahoma. She owns Ladymon School of Scottish Dance in Yukon and learned the art from 87-year-old Betty Lawrence, a world-famous Scottish dance teacher.
The festival begins Friday with a fire ceremony and ceilidh, Gaelic for party. The opening ceremonies start at noon on Saturday, followed by the top amateurs competing in heavy athletics. On Sunday morning, the Kirkin' O' the Tartan, a traditional church service, will honor Scots and their clans.
Over the years, many Scottish and Irish people have migrated to the American Midwest, and Oklahoma history is dappled with Celtic brethren, Ladymon said. Trader Jesse Chisholm was half-Scottish, and McIntosh County in eastern Oklahoma is named for William McIntosh, a Scottish-Creek tribal chief whose descendants helped found the Western Creek Nation after being displaced from Georgia in 1828.
Print headline: Highland time, The ninth annual Iron Thistle Scottish Heritage Festival & Highland Games comes to Yukon.