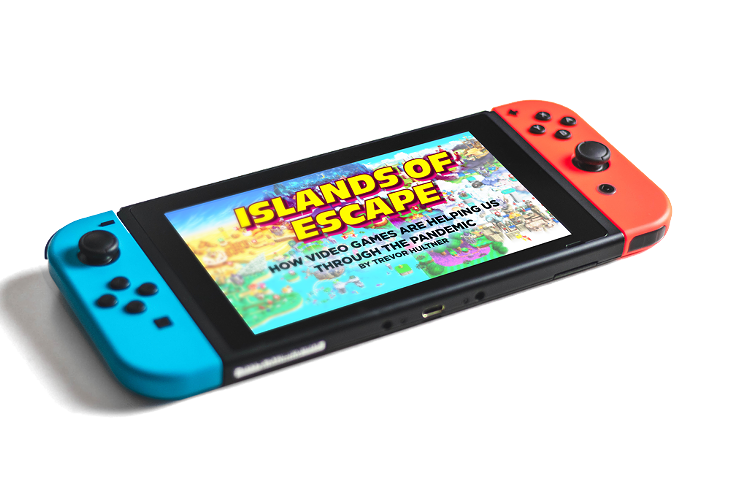 On March 20, 2020, something weird happened. A video game, of all things, became a symbol of the fight against COVID-19.
Coming into 2020, Nintendo, one of the "Big Three" video game console makers along with Sony and Microsoft, was celebrating a minor victory. It had just sold more lifetime units of its flagship handheld console hybrid device, the Switch, than Microsoft's Xbox One, making Nintendo the number-two best-selling console manufacturer in the world.
Fifty-three million people owned a Switch worldwide, and the 2019 holiday season had been particularly good to the company. The recently-released
Pokémon Sword and Shield, the first mainline Pokémon game to hit the Switch since the console's release in 2017, sold 16 million copies, providing a big boost in Switch sales as well.
But as the holiday season waned and whispers of a new, deadly virus started to get louder, that momentum was threatened. Their first-party release lineup for the year primarily consisted of a remaster of a Wii game, Xenoblade Chronicles, a special Mario 35th anniversary package, and a remake of Pikmin 3. Nothing that exactly screamed "tent- pole release." Oh, and the Entertainment, Planning and Development Group No. 5, led by veteran director Aya Kyogoku, was putting the finishing touches on a new Animal Crossing title. The planned date of release: March 20, 2020.
The very first thing anyone says to you in Animal Crossing: New Horizons comes from the Nook twins, Timmy and Tommy: "Good morning! We're so excited to have you here!"
They are sitting at the front desk of the Nook Inc. Deserted Island Getaway Package check-in counter, and in addition to their excitement to see us, they want to be "the first to congratulate you on your wise decision to sign up for this adventure." DOOM, this isn't. Well, actually - we'll come back to DOOM.

The game is all rounded corners, soft colors and adorable, friendly (if bizarre) anthropomorphic animals. You play as the only human character, the winner of a "deserted island getaway" that quickly morphs into a new permanent settlement, with you at the center as the "village representative." You can craft items, build your own home and the homes of other villagers, go fishing and dig for rare fossils - all in any order you like, and at your own pace. One of the coolest features: you could visit your friends' islands, and they yours.
unsplash.com
Players play Fortnite remotely during the pandemic. Fortnite allows players to play on various devices.
Early and release-day reviews are primarily positive, noting the relaxed pace and calming sound design.
Writing for VICE, Gita Jackson observed that "New Horizons is asking you to create a society from scratch, to build a community out of a deserted island, but making a community isn't dependent on how many trees you cut or weeds you pull. Community in New Horizons is built in the same ways it is built in the real world: by talking to your neighbors, and listening to them in return."
Everybody thought the game was good, a perfectly workable title with a calming atmosphere at a time when nobody was feeling very calm. Nobody expected the explosion it would cause.
Spring Break, 2020. Bryan Trude, a University of Georgia researcher, is having to make some last-minute adjustments to his daily routine. Now, instead of making the commute across Athens from his apartment to the campus and teaching classes in person, he'd be teaching from his apartment instead. COVID had necessitated a move to virtual learning over the break.
Trude, an alum of the University of Central Oklahoma and Oklahoma State University, describes himself as a homebody; the sudden switch in routine, to him, was little more than his "normal," just "turned up another notch." Plus, he had something to look forward to just as the spring semester was getting started.
"I was so eager to get [Animal Crossing: New Horizons] I actually pre-ordered the digital version just so I could have it downloaded and ready to play the moment it activated," he said.
Trude is a Ph.D. candidate studying how social online games help reduce feelings of loneliness and increase feelings of belonging and social support compared to social media sites.
"From a psychological standpoint, there are three core elements that go into the formation and maintenance of a social relationship between two individuals," he said. "[Two] of those elements refer to your physical closeness - physical proximity - to another person, and a social closeness in shared interests, likes, dislikes, hobbies etc. - social proximity."
As he describes it, "When most of the planet went into lockdown, many people (myself included) found that physical proximity to others reduced to zero - I live alone and have no pets. What video games offer, however, particularly social online games, is an approximation of that physical proximity through the social proximity offered in online play."
When the game came out, Trude was spending time building up his island and inviting his friends to visit.
"We would spend time just chasing each other around, whapping each other with nets and spamming emotes at each
other, but it felt like I was spending time with someone, doing something we enjoyed, even if I was physically isolated," he said. "It was like taking the edge off of my loneliness, like I was escaping the confines of my 450-square- foot apartment, and not putting my life at risk to do so."
Animal Crossing: New Horizons sold more than 11 million copies in the first eleven days after release. By the time the company released its quarterly investor report in May, the game had sky-rocketed to 13 million copies sold and growing; it was "now the best start ever for a Nintendo Switch title," according to the report. During the 2019 fiscal year, the company had managed to sell
21 million Switches; between December 2019 and June 2020, the company sold another 8.9 million devices.
And it wasn't just gamers buying the console and Animal Crossing by themselves. It was regular folks from all walks of life: grandparents and grandkids, spouses and partners, friends, classmates, coworkers - all looking for an island of escape.
Writing for NBC Think on March 29, just days after the game's launch, cultural critic Ani Bundel caught the wave early. "'Animal Crossing' is a world where there is no run on medicines that heal you, or lack of food to eat," she wrote. "In this time of social distancing, it turns out that a trip to a calming island, where there are no demands on your time other than building a few houses and planting some trees in a virtual paradise is exactly what many of us need."
Imad Khan, writing for the New York Times, uncovered just a month after launch how the game was already being used in unconventional ways, like as a virtual meeting room for isolated drug and alcohol addicts in recovery.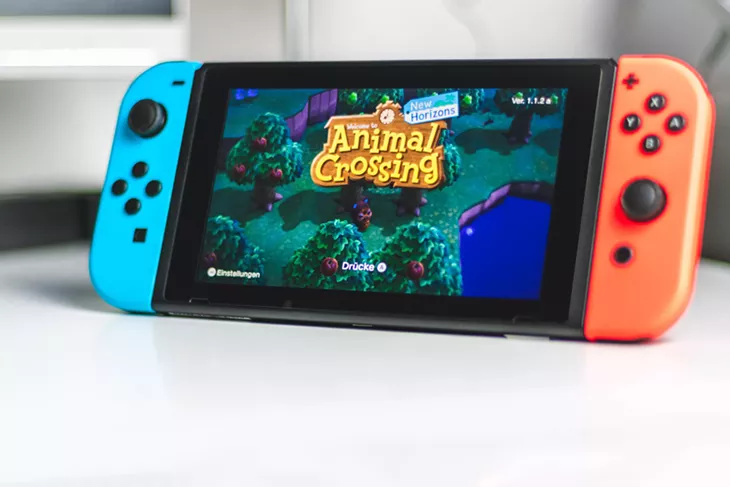 Unsplash.com
Animal Crossing on Nintendo Switch
"Animal Crossing offers a haven and can give players a feeling of empowerment and community, particularly at a moment when many are being told to stay at home," he wrote.
Bella Blondeau felt like she dodged a bullet. The freelance writer had just finished moving across the country to be with her girlfriend, and lockdown loomed huge overhead just as they managed to find a place.
"[The pandemic] intensified a relationship that might have grown slower, and produced this cogent, 'we can survive anything' feeling for the two of us," she said via Twitter direct messages last month. As her jobs changed mid-pandemic, she found herself with more quality time to spend with both her partner and with games in general, Animal Crossing among them.
"I don't have to worry about making people outside of my own social circle care about stuff," she said. "And I think that's led to not only a healthier, deeper appreciation of gaming, but a better relationship to discussing them with people."
As for New Horizons, she said, "These past few months, I've dipped my toes in it again without the baggage of hype, or mining it for guides, or whatever. So I'm treating it like the tiny, cute life sim it is at heart - it feels like I'm rediscovering Wild World (a 2005 Animal Crossing title for the Nintendo DS) as a little girl all over again."
Animal Crossing was not the only island of escape uncovered throughout the year in quarantine. Games across the board got a bump in popularity. One game, Among Us, went from being an almost dead game with an exceedingly small indie community to one of the largest cultural events of the summer and fall of 2020. Two congresspeople, Alexandria Ocasio-Cortez and Ilhan Omar, even appeared on a prominent Twitch streamer's Among Us stream and played multiple rounds of the game as part of their get-out-the-vote campaign. Indie titles Fall Guys and Phasmophobia also went viral as digital novelties-cum-social gathering spots. Established titles like Fortnite continued hosting concerts and other special events in earnest, staking early claims in the nascent digital space known as the "metaverse."
While these games certainly attracted new players to gaming in 2020, it became clear quite quickly that the titles themselves weren't as important as the building and maintenance of social bonds they facilitated - you could be around friends in a game in a way that was simply unsafe to do in the world.
"I've met some of the most amazing people in the gaming community," local Landon Payne said. "We continue to provide much-needed love and support to each other and new gamers as well. This mess of a pandemic has brought a lot of terrific people together."
One such trend of terrific people coming together is among the indie development scene and the website Itch. io, which hosts games on a payment scheme similar to the music download site Bandcamp. Last year, during the Black Lives Matter protests following the murder of George Floyd, developers pooled their games together - in the thousands - and offered them for sale in a five-dollar bundle.
The bundle, called the Itch.io Bundle for Racial Justice and Equality, featured 1700 games valued at $9,400; it raised more than $8.1 million for the NAACP Legal Defense and Education Fund and the Community Bail Fund in just a few days. In the ensuing year, Itch has done similar bundles for queer game developers, raising over $100,000 for 200 creators, and Palestinian aid, raising over $800,000 for the United Nations Relief and Works Agency for Palestine Refugees in the Near East.
Games may not have been able to save us from the worst effects of the past 18 months, and they likely will not be able to save us from what the months to come have in store, but one thing they can do is give us little pockets of joy we can share across distance and time, without risking our physical well-being and that of those around us. The worlds they contain and the narratives they offer us can provide us with the sparks to keep up the struggle just as they offer a narrow window of escape.
Animal Crossing, Among Us, Phasmophobia all provided us with an opportunity to get together over our networks and enjoy experiences we
couldn't replicate in the real world. Other games, like Kentucky Route Zero, Umurangi Generation and Cloudpunk, made powerful statements through their carefully crafted stories and the rich worlds those stories took place in; they provided sources of inspiration and determination among a mire of confusion. Gamers even made a whole fake sport, Blaseball, that kept the fantasy sports dream alive when most real ones weren't playing.
So, if you have the time, play a game. It doesn't have to be on an expensive next-gen console or a super-powerful computer with a graphics card worth more than your car. It can be on your phone, in those few stolen minutes of a smoke break. Maybe it won't save the world, but it might take the edge off just enough to keep going.