The House / provided
A barbecue chicken pizza from Belle Isle Restaurant & Brewery
Long before the sleek streetcar was motoring around Midtown and downtown, Oklahoma City had an earlier model in the last century. Its power derived from Belle Isle Lake that was an oasis of sorts in an otherwise undeveloped prairie north of Oklahoma City.
The lake attracted an amusement park with a giant carousel and a "honeymoon bridge" that led to an island in the middle of the lake. Belle Isle Amusement Park became such a draw that the park attracted Harry Houdini over a Fourth of July, according to 405 Magazine. Getting Houdini in town was the early 20th-century equivalent to this year's Ariana Grande concert at Chesapeake Energy Arena.
Belle Isle was the place to be seen in OKC during its era, but then Oklahoma Railway Company, which built the lake to power the streetcar, sold it to OG&E in 1928. The company built a new power plant, the lake was drained and the amusement park eventually shuttered, leaving city residents to go to amusement parks like Springlake and Wedgewood.
The Belle Isle history lives to this day along Northwest Expressway, where the public library, shopping centers and Belle Isle Restaurant & Brewery, 1900 Northwest Expressway at 50 Penn Place, carry its name.
Belle Isle Restaurant opened in the mall in 1995 and is a direct link to the bygone era. Co-owner David Riesenberg told 405 that the lights hanging over the tables are from the OG&E power plant in Belle Isle, and there are a few trolley control boxes from that original streetcar in the large space that features multiple bars and a performance stage.
Belle Isle Restaurant carries on the amusement park's entertainment tradition by offering live music on the weekends.
Since moving to Oklahoma City, I've always been intrigued by Belle Isle because I'm a sucker for going to the mall, and I like to walk around 50 Penn Place and imagine what it was like during its heyday. Even still, it's much more lively than I was expecting between Full Circle Bookstore and some new businesses on its first floor.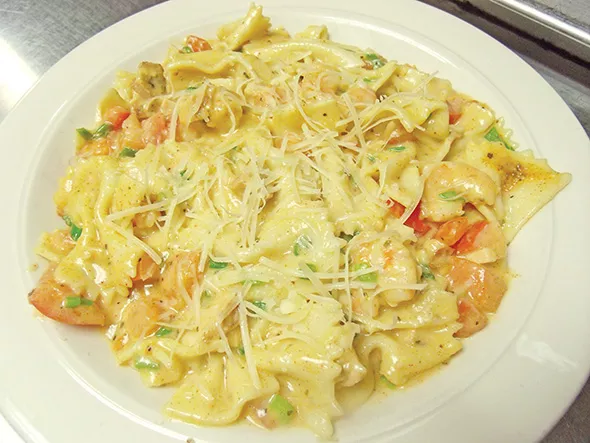 The House / provided
Cajun bow tie pasta from Belle Isle Restaurant & Brewery
I was finally able to swing by Belle Isle Restaurant, where they brew a few craft beers onsite, and was struck by the history of the place. Old photos line the walls from bygone Belle Isle Amusement Park, and the dark wood of the interior adds to the retro aesthetic.
The upstairs brewpub portion of Belle Isle Restaurant is 21-and-over and has another antiquated amenity, a smoking section, which I wasn't pleased to see while I was in the final stages of battling bronchitis, but to each their own, I suppose. The first-floor restaurant has patio dining and no age requirements.
First ride
My trip to Belle Isle Restaurant came when a reader recommended its burger. Never one to turn down a good hamburger, I went in the early evening and found a decent crowd watching college basketball before its weekly Tuesday bingo night.
The waitress took my order at the bar, and I only had a few minutes to wait before the food arrived. I went with the mushroom and Swiss burger, which is a fresh 7-ounce patty from OKC Meats cooked medium well. They also have longhorn beef, veggie burger options and the opportunity to get a pretzel bun. I forgot to upgrade but was pleasantly surprised to see that the burger was served on a hearty wheat bun. It's served with lettuce, tomatoes and red onion on the side with the ability to add mayonnaise, mustard and ketchup — no special sauce.
The burger was cooked to temperature and had a nice, crispy exterior. The star of the
Jacob Threadgill
Mushroom and Swiss burger
sandwich was the Burgundy mushrooms. The mushrooms retained a nice plumpness but had plenty of wine flavor that was a real treat. I usually cook my mushrooms at home with a blend of soy and Worcestershire sauces, but this was a reminder to cook them with wine. The accompanying fries were good, if needing a heavy dose of salt.
At the behest of my wife, my order also included an order of cheesy potato skins. I thought they were solid, if unspectacular, but we got them for a reduced price during happy hour. The fried Swiss cheese is probably Belle Isle's most intriguing appetizer option.
I also tried the Cajun bow tie pasta and was surprised that it packed a good level of heat; a lot of times, dishes like it are Cajun in name only. Entrees are served with a large and indulgent beer muffin that comes with plenty of butter.
Belle Isle's signature food item is its pizza, and perhaps I erred in not trying one, but I've eaten a lot of pizza in the last few weeks, so forgive me for not pulling the trigger. Averaging about $10 per pizza, they're big enough to serve multiple people and are cooked in a brick oven. The sausage and mushroom margherita ($10.29) will be the first thing I order the next time.
I was expecting standard brewpub food in a sterile environment, but I was surprised to find that the food surpassed my expectations and the restaurant has a lot of well-executed history.
Visit
belleislerestaurant.com
.