Maucieri Visuals Co. / provided
The prosciutto crocchetta at Osteria
The partnership that includes celebrity chef Fabio Viviani and local chef Jonathon Stranger — Osteria — expanded its offerings to midweek lunch and weekend brunch last week, but it's only the beginning of the expansion between talented chefs.
The duo will join with other partners to open Bar Cicchetti in the old Urban Johnnie's location at 121 NE Second Street in Deep Deuce later this year.
It will be the latest addition to Viviani's collection of restaurants that total more than 20 across seven states. His footprint has grown since he was voted fan favorite on the fifth season of Bravo's Top Chef.
"Oklahoma City is where Detroit was five years ago, where Houston was 10 years ago," Viviani said, seated at the bar during Osteria's, 6430 Avondale Drive, first brunch service. "It's the place where you can grow, have business and reasonable prices, and a lot of people are moving in. [OKC] is yet from being in the spotlight, which makes it, for us, very appealing for creating concepts. I can't get the kind of land I can get here in Chicago and New York. The amount of people in the city, the quality of people, income bracket and eating habits justify somebody like us to come in and partner with a local rock star like Jonathon Stranger."
Stranger credited Viviani and his management team with operating a smooth transition at Osteria since it opened last November, which has led to staff retention and easy expansion into lunch and brunch. Through its first week of brunch and lunch service, 10 percent of all sales will be donated to Someday Soon Foundation, a local nonprofit focused on helping the homeless and run by Tommy Kelly.
"It's almost like a Robin Hood situation," Stranger said of Someday Soon. "Every dollar that goes to Someday Soon, Tommy assesses the immediate needs of the needy and gets what they need. There is no administrative cost or marketing. It's take the money, feed people if they're hungry; if they're cold, give them coats."
Viviani — a native of Florence, Italy, who moved to the U.S. in 2005 — admitted that brunch is not an Italian tradition but said he has had fun designing the menu by putting Italian and Mediterranean twists on American classics like adding pesto to hollandaise or using pork belly instead of bacon.
"We've got a gigantic cinnamon roll that doesn't have frosting; it has a pecan glaze because there are a lot of pecans in Italy," Viviani said. "We love caramello, caramel sauce. There is a lot of infusion of Italian culture into a timeframe of the day where we're not used to eating."
The Chelsea's cinnamon roll supreme ($12) is the size of a softball and is topped with macerated balsamic berries. During its preview service, the house-cured salmon with spiced mascarpone and cocoli — a fried Italian popover — was some of the best bites.
provided
The breakfast pizza features local eggs, potatoes and nduja, a spreadable Italian sausage.
Stranger's favorite on the brunch menu is the Calabrese breakfast pizza ($19), which uses farm eggs, potato and nduja — a spicy Italian sausage that is spreadable.
The brunch menu also includes oven-fired baked eggs pomodoro, shrimp and grits, tiramisu French toast, an open-faced prosciutto crocchetta sandwich, pancetta Benedict, avocado toast, yellow corn waffles and a sausage-and-pepper omelet.
The lunch menu places an emphasis on Osteria's housemade pasta and wood-fired pizzas. It also has a wagyu beef burger and grilled chicken breast entrée. The restaurant is now open at 11 a.m. every day and serves until midnight Sunday-Thursday and until 2 a.m. on Friday and Saturday nights.
Viviani travels to Oklahoma City from his home in Chicago at least once per month.
"I got here on a Friday and didn't land until 10 p.m.," he said. "When I got [to Osteria], it was packed. That's what we want to do. We want to bring good entertainment and hospitality to people. When everyone else around you is dead and you've got 50 people in here, that's the best."
Stranger and Viviani's relationship strengthened during Osteria's delayed opening, due to the previous tenant — Starbucks — being delayed in its own move across Nichols Hills Plaza. Stranger said they knew they wanted to do another restaurant together before Osteria officially opened.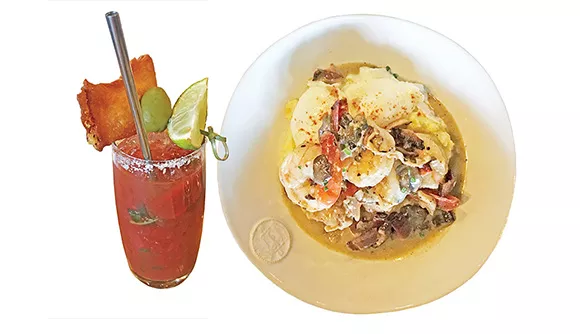 Jacob Threadgill
left The bloody mary is garnished with a tomato and fried cheese pierogi. right Shrimp and grits on the new Osteria brunch menu
After Urban Johnnie's closed, they struck a deal. Stranger's career in Oklahoma blossomed downtown after returning to his hometown, where he opened Ludivine and The R&J Supper Club and Lounge with Russ Johnson. He's excited to move back into the area and was attracted to the high residential density in Deep Deuce.
Viviani described Bar Cicchetti "as if a sports bar and Italian restaurant had a baby."
Stranger said they will eschew lots of smaller televisions for one large movie theater-style screen that will come down for big games. "Cicchetti" typically means small plates and dishes, especially in the Venice region.
The menu at Bar Cicchetti is still a long way from being finalized, but Stranger envisions plenty of Mediterranean influence with family-style plates and large appetizers. They are eyeing an opening in the third quarter of 2019.
It will mean more visits to Oklahoma for Viviani, who said he enjoys the state's great outdoors.
"For me, whether it is hunting or fishing, hiking or shooting, I love it," Viviani said. "There are a lot of activities here that you can do. We went driving ATVs last time. Next trip, we're going helicopter hunting. I love to do what the locals do. Just sign me up."

Visit osteriaokc.com.