provided
Patrono chef Jonathan Krell
The Feast of the Seven Fishes is a Christmastime tradition rooted in Italian-Catholic history that was codified in the United States by Italian-Americans.
A pair of Oklahoma City restaurants will host their own Feast of the Seven Fishes dinners. Patrono, 305 N. Walker Ave., hosts a pair of $125 seven-course meals Dec. 19-20 while Stella, 1201 N. Walker Ave., will host a family-style dinner for $65 on Dec. 23.
Feast history
The feast has its origins in cena della Vigilia di Natale, the Christmas Eve meal in Italy and its specifics differ across the many regions of the country, but one constant is that many of the meals do not include livestock, based on the Catholic tradition of abstaining from meat and dairy before certain holidays.
The diaspora of Italian tradition began to homogenize in early 20th-century enclaves of Italian families in the United States, and the feast allowed families to feel connected to their home country while celebrating life from the sea, according to research from Italian-based online marketplace Eataly.
The seven is connected to the numerous appearances of the number 7 in Catholic symbols, such as the sacraments, days of creation and deadly sins. Traditionally, the feast can either be seven courses or feature seven types of fish.
Patrono
Patrono executive chef Jonathan Krell grew up in the Philadelphia neighborhood Bella Vista, which he said had a large Italian-Catholic population and was near a large Italian market. This background inspired Krell to start a Feast of the Seven Fishes last year.
"I've grown up with [The Feast of the Seven Fishes] my whole life," he said. "My friends' families would do it. You could walk down the street and smell the fish frying. It was usually more of a potluck situation so that one person wasn't responsible for making all seven courses. There was always a huge table of dessert, and it was a big gathering time."
provided
A clam pasta from Patrono's 2017 Feast of the Seven Fishes
Many of the components Krell enjoyed during feasts while growing up were fried, but his seven-course meal only has one fried item, a Birra Moretti-battered tarragon sablefish.
Krell wants to put to onus on nuanced preparations of fresh seafood.
"Most people I've encountered [in Oklahoma] either love seafood and want it all the time or they say they don't eat it," he said. "Times have changed; it's not like it is being shipped by truck. It's flown overnight. The seafood distributors that I use, some it comes packed in seaweed to let you know where it came from and the freshness of it. I love being able to open a box and it smells like the ocean."
The Patrono dinner begins with tuna carpaccio with lemon, caper berry and anchovy aioli. The second course is spicy garlic shrimp over orzo with a basil puree, which is followed by the fried sablefish.
"The way I cook, I like to let everyone get the perfect bite and a piece of everything," he said. "I don't cover anything with sauce; it's always on the side or separated. I want people get a bite with everything and then have fun and make your own bites. It's a fun way to cook and more interactive way of eating."
The fourth course is a lump crab raviolo (one large ravioli) with roasted red pepper, olive and pomodoro sauce. It is followed by a tomato-braised octopus with creamy polenta and sautéed greens. The sixth course is a grilled diver scallop with garbanzo bean-and-artichoke salad. The final course is Mediterranean swordfish with white beans and winter copanta, which is a seasonal take on the relish that features squash, root vegetables and a hint of cocoa.
Patrono will still offer its regular menu both nights of the feast unless tickets sell out. Reservations start at 5 p.m. Call 405-702-7660. Patrono is also hosting its ode to Italian-American classics in a $60 dinner featuring guest chef Maryann Reardon, Krell's mother, on Jan. 30, 2019.

Editor's note: A previous version of this story incorrectly stated the the price of the Feast of Seven Fishes dinner at Patrono includes tax and gratuity.
Stella Modern Italian Cuisine
Owner Lori Burson got her crash course in Italian cooking while working in restaurants as a way to pay for a semester abroad in Italy while in college. Stella hosts a special dinner every month, but it usually revolves around wine. After years of contemplating the idea, Stella will host its first Feast of the Seven Fishes Dec. 23.
"December is such a time to focus on family that I wanted to do a dinner that allowed people to bring their children in," Burson said.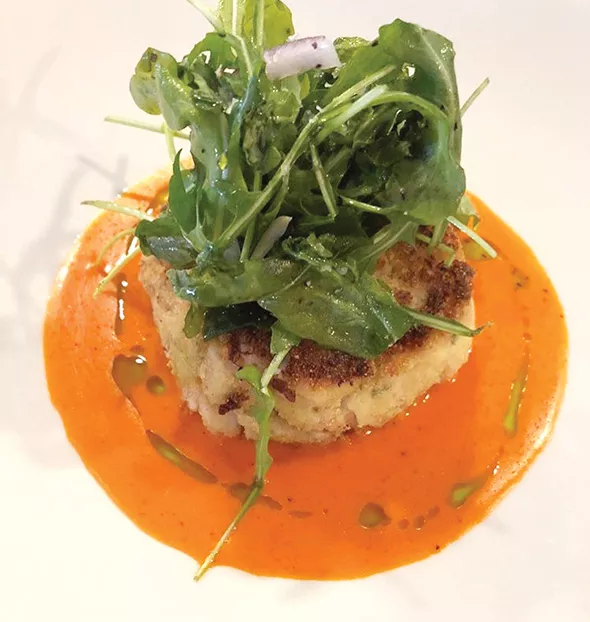 provided
A fish cake from Patrono's 2017 Feast of the Seven Fishes
Stella's dinner on Dec. 23 will begin at 6:30 p.m. with bar service beginning at 6 p.m. The $65 cost does not include alcohol, tax or gratuity. Burson said that seating is family-style around a large table. Some dishes will be served on big platters, while others, like dessert, will be brought out individually.
"We want people to become friends over the course of the meal," she said.
The meal designed by Burson and executive chef Melissa Aust begins with a salmon rillette with whipped egg yolk, fried capers and smoked paprika. It is followed with grilled swordfish skewers, pepperonata puree, organic greens and bloody mary vinaigrette.
The third course is a deconstructed chowder with littleneck clams, New Zealand green-lipped mussels, crispy confit potato and cream.
A seafood mac and cheese rounds out the savory offerings with shrimp, lobster, crab and a five-cheese sauce.
Dessert is chocolate-dipped burnt orange ricotta cannoli.
Stella is also offering take-home sides and packaged meals for Christmas dinner. Customers can get sides like sausage dressing or autumn hash on their own or a full meal centered on a choice of spiral cut ham or prime rib with sides.
Call 405-235-2200 for reservations.