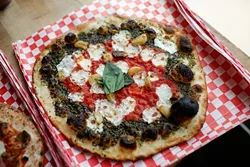 Garett Fisbeck
Mt. Etna at the Saucee Sicilian in Oklahoma City, Wednesday, May 27, 2015.
Open your mouth and eat these balls.
Nonna's meatballs that is. She hand-rolls them and serves them in a marinara sauce bursting with flavor, waiting to explode in your mouth.
Outside The Saucee Sicilian, the roving food truck manned primarily by Gannon Mendez and his mother, Nonna (aka Priscilla Jones), you're promised not just a good pizza but probably a few salty jokes, too. They like to have a good time.
The truck they've constructed is a party on wheels. Tables on three sides fold down. Big, flat-screen TVs are built into the back and emerge from the sides. There's a roof, too, in case the weather starts ... weathering.
But even if there were none of those amenities, I'd still make it a point to find The Saucee Sicilian because it makes a heckuva pie.
Not every food truck should have appetizers because not every food truck is pleasant to hang around for a full meal. But the focaccia ($4) and sauce and balls ($5) are the kinds of dishes I'd gobble up in any Italian restaurant.
Fresh, right-from-the-oven bread is an intoxicating luxury. Paired with Nonna's fall-apart meatballs, it's a winner every time.
But let's not act like you're not getting a pizza. Stop it. Stop acting. You are not good at it. You make Frank Stallone look like Sylvester Stallone with your terrible acting. So stuff your face with 8 inches of Capizzi ($9) instead.
A Neapolitan-style pizza, the Capizzi is cooked fresh when you order and comes topped with roasted red peppers, ricotta and mozzarella and big cloves of sweet, roasted garlic. My recommendation (on this and every other pizza) is to get the chili oil as well. Mamma mia that chili oil! It has a burst of flavorful heat I can't resist.
As a big fan of meats, I am also a big fan of the Noto and the Tusa (both $9.50).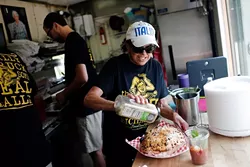 Garett Fisbeck
Nonna prepares focaccia at the Saucee Sicilian in Oklahoma City, Wednesday, May 27, 2015.
The Noto starts with red sauce and adds hot soppressata (think pepperoni's fancier cousin) and Nonna's meatballs, garlic and basil.
The Tusa swaps out the meatballs for Italian sausage and piles on hot capicola (think ham's fancier cousin), mushrooms and chili oil.
The Saucee Sicilian also makes its own pesto. What is pesto? It's heaven if it was green and made with basil. One of the best showcases for it is on the Mt. Etna ($9.50). In the middle is red sauce, then mozzarella, then pesto. Roasted garlic villagers run from the flavor eruption, but they won't get far. You will eat them.
[moment of silence]
Are you my friend Rob, who tries to order pepperoni pizza at Starbucks? Good news, Rob! The Catania ($9) is a pepperoni pizza with basil. It's a pretty tasty pepperoni pizza. You don't have to get any other cool flavors, like caramelized onion or artichokes, Rob. You can just have this thing, which is a better version of the thing you always order everywhere.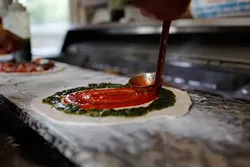 Garett Fisbeck
Gannon Mendez prepares a pizza at the Saucee Sicilian in Oklahoma City, Wednesday, May 27, 2015.
You can also get it if you're not Rob. The staff won't ID you or anything.
Do you still have room for more food? Liar! You are full. Terrible acting, but I'll play along.
If you crave something sweet, the Buona Vita ($6) is a calzone … filed with s'mores. Yes. Chocolate. Marshmallows. Covered in powdered sugar. It absolutely will get on your clothes, but you won't care.
The Saucee Sicilian isn't just the best pizza you can get from a food truck; it's some of the best pizza in the city. Seek it out. Buy a pie already. Have a seat around back and watch a game. They like to have a good time, and you probably will, too.
Print headline: Pie-sano! The Saucee Sicilian might serve the best pizza pie on wheels, or anyplace for that matter.