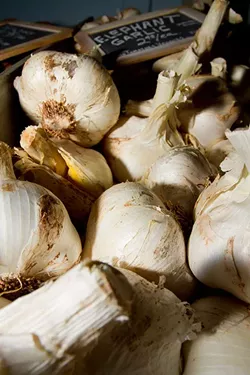 Keaton Draper
Shot 6/24/2015 at Urban Agrarian
Hot dogs and hamburgers are great, wonderful even. That's why Americans eat them all the time.
But as Independence Day draws near, perhaps it is time to appreciate the bounty of the season as we commemorate the overwhelming success of the country we straight-up ganked from Native Americans.
(But seriously, we live on appropriated property, and you know it.)
So let's really celebrate America the way Americans do best: by eating some of it.
Matt Burch wants you to eat a tomato, especially if you think you hate tomatoes.
"The tomatoes at the grocery store are completely different than what we have here," said the Urban Agrarian founder. "They're thick-skinned, watery and bred for shipping. They're picked green and gassed to ripen."
They don't taste good, but he said they're not really supposed to. Those are tomatoes grown to be moved across continents.
"Now look at these," he said, nimbly sorting through a box of slicing tomatoes in his office, "tender, red, just picked. These are planted for color and flavor. That's flavor that develops on the vine."
The staff at Urban Agrarian, 1235 SW Second St., knows its produce and how to use it. Sales manager and co-owner Shiloh Kile can break down the science of how tomatoes picked too young and overly refrigerated yield mealy, flavorless fruit.
Crimson pride
One great thing about gazpacho is you can make it with ugly tomatoes. Perfect skin is irrelevant, as some recipes call for the tomatoes to be peeled and most are either diced or pureed into a lively summer soup.
Experiment with heirloom varieties and classic slicing tomatoes to mix sweet tomatoes with acidic ones and find the right texture. If you're stuck trying to figure out the right tomato for you, Burch said to ask.
"Everyone here is very knowledgeable," he said. "They cook at home. They're passionate about food. People here are always swapping recipes and trying new things."
Other items to get: fresh sweet peppers (add a little diced spicy pepper for kick), cucumbers, garlic and olive oil. Most of those ingredients can be found at Urban Agrarian, and they will likely taste better than their supermarket counterparts.
It comes down to when a crop is picked. A fresh market cucumber will be sweeter and easier to eat without any preparation, while many supermarket varieties have a bitter skin that must be peeled.
And with local greenhouses popping up and a growing demand, Burch said it won't be long until locavores can find great-tasting tomatoes and other produce almost year-round.
Still, there's no better time to dig into farm-fresh vegetables and fruits. Once you buy them, don't wait too long to eat them either. Restaurants that purchase from Urban Agrarian see turnover every few days, but when a tomato is ready to eat, it can't sit long before it gets overripe.
Kile said better-tasting produce also means you might have to deal with more bugs. They, too, know when it's time to eat.
At any given time, you'll find up to 12 varieties of tomato at Urban Agrarian, but shoppers might find even more variety if they hit up the area's ever-expanding number of farmers markets. Local growers might hit a bumper crop at any time, which means a visit to OSU-OKC Farmers Market, Uptown 23rd Farmers Market, Mercy Market and Metro Tech Farmers Market can yield delicious finds.
Edmond, Norman, Midwest City, Moore, El Reno, Choctaw and other cities also host farmers markets, so you might not have to drive far to find fresh fruits and vegetables.
Keaton Draper
Shot 6/24/2015 at Urban Agrarian
Berry cheesy
Red might be the most plentiful color this season, but it's easy to find local whites and blues, too.
Krebs-based Lovera's Handcrafted Foods has a line of Italian-style cheeses called caciocavera that come awfully close to white but taste so good you wouldn't care if they were purple.
The batista caciocavera combines cow and goat milk for a creamy, nutty flavor that's delicious melted or on top of a fresh salad. (If you're thinking about shaving some over your gazpacho, stop right there. It's a great idea. Go with it.)
Or you could combine the white with the blue for an inspired dessert of cheese and fruit. Urban Agrarian has plenty of blueberries (and blackberries) for anyone craving a sweet end to their patriotic repast.
If fruit and cheese for dessert seems kind of European, it's probably not a bad time to note that a bunch of our ancestors were also Europeans, so let's just eat some of Oklahoma's bounty and get through another scorching-hot Fourth of July.
After all, it'll be winter soon enough, and tomatoes will be scarce, but there'll be plenty of hot dogs and hamburgers to sustain you until summer comes around again.
Print headline: Star-spangled sustenance, It's really hot outside, which means it's also perfect weather for fresh, patriotically hued produce.