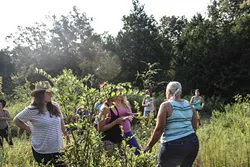 Jackie Dill of Coyle is an educator of a lost art: wildcrafting. Some call it food foraging or gathering. Dill is the go-to expert for chefs, survivalists and anyone interested in carrying on the tradition and knowledge of how to utilize plants as food and medicine.
Dill, an Eastern Band Cherokee, acquired most of her wildcrafting knowledge while spending summers with her grandmother in Grapevine, Arkansas. As a result, most of her recipes reflect Cherokee tradition.
"Everything that I know on this subject came down by practicing skills learned from my grandmother," Dill said. "Grape dumplings and hickory soup are just a couple of those Cherokee menu items."
Love, tradition
Dill spends a great deal of her time at St. Francis of the Woods, a spiritual renewal center near Coyle. The property spans 500 acres, allowing plenty of space to host walks and hold workshops. She has hosted activities there since 2014.
"[The executive director] called me and asked me to come out and visit," Dill said. "The space just has a new warmth to it. It's so welcoming."
True love for tradition and heritage is what keeps Dill educating and sharing her trade. She joins wildcrafting chef Mike Givens for an Introduction to Wildcrafting Dinner 5-8 p.m. April 16 at Myriad Botanical Gardens Events Center, 301 W. Reno Ave. Tickets are $50-$65, and guests must be at least 21 years old. The registration deadline is April 12.
The first course of the four-course dinner is led by Givens, who will discuss common wild edibles. Dill leads participants through the remaining three as she talks about wildcrafting ethics and safety.
A lifestyle
Dill said she has a strong connection with the Earth, and her way of living inspires many.
"This interest is not from one walk of life. Everyone is included; every economic standpoint, race, religion, gender — you name it," Dill said. "This isn't just a hobby; this is the way I live. I made all of my own medicines. I live my life this way every day. I haven't been to the doctor in … oh, a long time."
Dill said sustainable ways of feeding people by having gardens, canning and preparing and preserving foods are useful in a world where food waste is so prominent.
Much of the wildcrafting education in Oklahoma is shared through Dill's Oklahoma Wildcrafting Facebook group, facebook.com/groups/oklahomawildcrafting, and her website, oklahomawildcrafting.com. Visitors can share photos and help identify and find uses for things they find.
Dill also has two published books available, Oklahoma Wildcrafting: The Beginners Guide and Oklahoma Wildcrafting: Eat Your Weeds Cookbook. Both are available in print and e-book formats via her website.
"I was forced to do this," Dill said. "For the cookbook, I had to actually make everything and write it down because I don't use an actual recipe for anything."
Print headline: Eating weeds, Wildcrafting expert Jackie Dill leads a four-course educational dinner April 16 at Myriad Botanical Gardens.