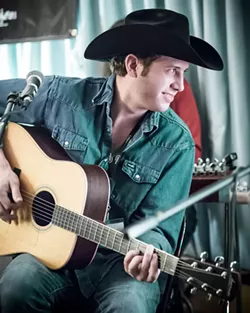 Phil Clarkin Photography / Provided
Jacob Tovar
Editor's note: Oklahoma Gazette will feature one Norman Music Fest performer a week in the lead-up to the festival.
When Jacob Tovar isn't flexing his golden voice at late-night gigs in Tulsa, he can probably be found riding a horse in the rural town of Perry.
"I'm obsessed with it," he said. "I love horseback."
Honky-tonk guitar trio Jacob Tovar and the Saddle Tramps performs 7 p.m. April 23 on the Depot Stage at Norman Music Festival. The act released its self-titled debut in August.
Tovar doesn't own a horse. He lives the city-slicker life in Tulsa and focuses on his music, though he spent most of his youth in the country. For now, Tovar rides his dad's horses in Perry. His goal is to earn enough money to return to the country, where he can ride to his heart's content.
That's not to say he doesn't enjoy being part of the city's vibrant music scene.
Tovar's classic country style often gets him labeled as a throwback act. It's a label he embraces.
"I'm not much of a Red Dirt artist," he admitted. "I don't play a lot of that kind of country music, and I damn sure don't play pop country."
The picker got a late start in music. He said he started seriously playing guitar when he was 19 or 20 years old as a way to honor his late brother, Josh, a talented player.
Tovar was a quick study. It helped that he was raised in a family with good musicians and lovers of choice country music. He also practiced tirelessly.
Last year, he toured Netherlands and France with fellow Oklahoma musician Wink Burcham.
Tovar said he was unsure of how his honky-tonk sound would be received in Europe, but it was warmly embraced.
Crowds were familiar with iconic American acts like Hank Williams, but most had never heard it live.
Europe's live-show culture, compared to America's bustling one, also was a welcome change for Tovar.
"Over there, every bar we went to, the bartenders would come up to us and say, 'Hey, when are you going to take a break? We'd like you to take a break so people will order drinks,'" Tovar said. "They take it so seriously over there. The second you start playing, they give you their full attention."
Tovar always assumed he would draw fan support from 40- and 50-year-olds. Over the years, however, he has been pleasantly surprised by how many 20-somethings attend his shows.
Part of that, he said, could be attributed to the popularity of purer country acts like Sturgill Simpson and Chris Stapleton. With that trend, Tovar expects to see the demand for honky-tonk rise.
"It's probably not ever going to be the most popular thing," he said, "but I think people enjoy it and like hearing something that doesn't sound like a computer singing to them."
Print headline: Primed picker, Jacob Tovar and the Saddle Tramps bring classic country to Norman Music Festival in April.