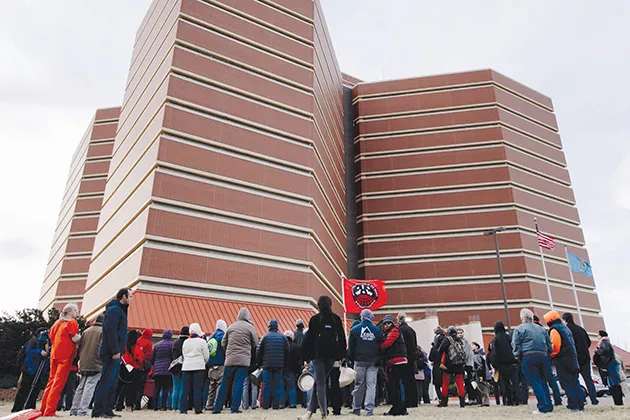 Stephanie Montelongo / provided
Various organizations came together to demand better housing conditions for people in Oklahoma County jail.
A coalition working for human rights started the year off demanding better conditions for those in the Oklahoma County jail. Various organizations came together to host a noise demonstration across the street from the jail on New Year's Day.
Dream Action Oklahoma, Oklahoma Call for Reproductive Justice, Women's March Oklahoma, Oklahoma City Democratic Socialists, Black Lives Matter OKC, American Indian Movement Indian Territory, Ending Violence Everywhere and the OKC NAACP chapter participated in the demonstration.
Last year, several of the same organizations pressured Oklahoma County Sheriff's Office and the county jail trust for similar demands, particularly to end local collaboration with Immigration and Customs Enforcement (ICE).
"We wanted to start the year off with that demonstration to let them know that we're not going to go away," said Cynthia Garcia, a United We Dream organizer and local activist. "And what better way than to make it our New Year's resolution to continue to fight for our collective liberation?"
The coalition's demands for jail officials were to
end local collaboration with ICE;
provide humane conditions for those incarcerated;
remove all juveniles from the county jail;
provide access to jail contracts, commissary accounts, a daily roster of those incarcerated, immigration detainers and length of detention;
end cash bail and commit to not privatize the jail; and
hold people responsible for abuse, negligence and deaths while providing consistent training to "break the culture of criminalization."
"New Year's is a time where people are thinking, 'Let's begin and have a new energy,' so it seemed fitting to remind people that are incarcerated that they're not alone because holidays tend to be really tough for people who aren't able to see their family or who don't have family," Garcia said. "We wanted to set the tone for 2020 because of how big 2020 is going to be for our communities, not just through elections, but in continuing this collaboration to improve what the jail looks like, what incarceration systems look like."
The noise demonstration was inspired by cacerolazo protests that originated in South America where demonstrators bang pots, pans and other similar items. Community members stood outside the jail for two hours in the cold, hearing stories from those who had been affected by the jail's conditions.
"We wanted people [to participate] who were maybe off from work who have been trying to get engaged, who may not see the intersection yet of incarceration yet or immigration or this war against people of color or even just the attacks on poor people," Garcia said.
D'Marria Monday, a Tulsa activist and founder of Block Builderz, helps uplift people impacted by incarceration through her organization. Once incarcerated herself, Monday spoke on the intersection of criminal justice and black and brown people.
"The fight to restore human dignity is one struggle," she said. "I went to jail in Texas. I've never been to county jail in Oklahoma, but what I can say from the different jails that I've been in … jails are the same no matter where you are. Some conditions may be more deplorable than others, but at the same time, those conditions are still put in place to break you, to break your spirit.
"I would like to see Oklahoma practice more restorative justice techniques. Restorative justice reconciles the victim. It's not focused on punitive, but it's focused on healing, on addressing the harm done and healing from it. The system of jails and prison perpetuates this cycle of trauma. In order for us to change the course of our nation, we have to change our practices. Let's focus on restoring our state instead of continuing to punish our state."
Edwin Ramirez told a story about his wife's incarceration following a misunderstanding in a store where they thought she was attempting to steal products. Despite having the money to pay for it, police were called and she was arrested. With young children, Ramirez and his wife worried about not being able to pay the cash bail and faced an indefinite incarceration and potential deportation.
Stephanie Montelongo / provided
Cynthia Garcia said the coalition is working to collect people's stories to better push for transparency and accountability.
"My wife explained to me that whenever she made bail, she was lucky enough not to get deported because ICE was at the time rounding up people who didn't make bail and were undocumented individuals," he said. "I remember I went to pay and … it was around $700 just for the bail. This was before even going to court and testifying and anything like that. … That scared me because I've seen friends of mine end up in jail, and before you know it, they get deported."
Many stories recounted times in which particularly people of color were arrested for minor things such as a broken tail light.
"Rather than someone giving you a warning to get your light fixed, you ended up having to pay a fine, being incarcerated, getting your car impounded — all these other things that obviously set you back as an individual," Garcia said. "The intersection of incarceration for profit and the displacement of families is very systemic, so people are not able to fight together, but that's what we wanted to highlight. We're not fighting a separate fight. It's the same system; we just need to continue to build bridges together to hold those people accountable."
One of the stories that most touched Monday was a woman whose 14-year-old son is incarcerated. Having a child the same age herself, Monday said she couldn't imagine any child that age "having to endure the horrors" they could experience in the county jail. She said stories like that ignite a passion in her to continue fighting for the various demands.
"Our children are not supposed to be there. … Our tax dollars are meant to be invested in our community, but housing youth inside the jail does not invest in our community. I would hope to see them released from jail but also for them to be provided with wraparound resources that can address the trauma that they endured while they were in jail," she said. "Also, if you cannot afford bail, you should not have to sit in jail and face all the consequences that come along with being separated from society. It's not a crime to be poor. When we require cash bail, then it is criminalizing being poor. To me, that's one of the biggest things is ending cash bail."
The coalition is collecting grievances from people who have been incarcerated or know family members who have been incarcerated. Garcia said they want to be able to push for transparency and accountability through testimony from those who have endured the jail's conditions.
Reach out to one of the organizations directly or email endingviolenceeverywhere@yahoo.com.