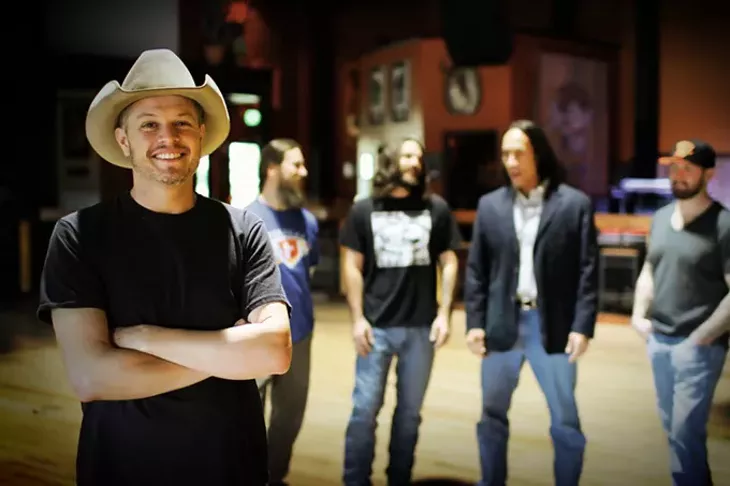 Jason Boland does not care about what is popular.
He does not care who or what song tops Billboard's country or rock charts.
What he and his backing band, The Stragglers, do care about is authenticity.
The idea of music credibility is what inspired and influenced the band when it first launched in Stillwater in 1998 and what it achieves on its latest album, Squelch, released Oct. 9.
"It began like most bands do; just some guys wanting to have fun and create music that we would enjoy leaving behind," Boland said.
Through the notes and lyrics of contemporaries Bob Childers, Tom Skinner and The Red Dirt Rangers, Boland and company recognized substance in the Red Dirt genre and let it flood through guitar picks and drumsticks as they created their first album, Pearl Snaps, in 1999.
Stillwater is considered home to Red Dirt, a blend of country, Southern rock, honky-tonk, Western swing, blues, folk and, on occasion, punk. It also was home to Childers, often called the Father of Oklahoma Red Dirt, and the place many musicians gathered to hone the distinctive sound as they jammed, family-style, on local homesteads and in bars.
Boland said the Red Dirt movement offered an alternative to the sounds of pop country.
"Commercial country music was beginning to feel the backlash, and it created an underground," he said. "We definitely were influenced by rock, especially in our live shows. They were more cowpunk than our early records."
Boland said traits of alt-country bands like Uncle Tupelo and Son Volt find their way into his music, as do the cowpunk influences of Social Distortion. He also holds an affinity for English rock act Muse.
With such an eclectic amalgam of sound, Jason Boland & The Stragglers will never top modern country charts, and bandmates say they are OK with that. In fact, they pride themselves on being part of the genre's underground.
And their roots and friendships matter. Songs not penned by Boland and his band are often written or co-written by friends like Texas country/Red Dirt hybrid Stoney LaRue and fiddle, guitar and pedal steel master Randy Crouch, Boland said. And the band signs off on everything, even album art.
In turn, Jason Boland & The Stragglers is its own band.
Formula none
"You really have to look into the mirror and say, 'What am I going to leave behind, my copy of what this person did?'" he said.
The formulaic structure of modern pop-country, which he also mockingly calls "bro-country," means acts like Jason Aldean, Luke Bryan and Jake Owen often sing about drunken nights by a creek or lake with a truck or tractor and sexually available women. This "eternal summer," as Boland called it, homogenizes the genre to the point of boredom.
In November 2014, Nashville songwriter Greg Todd produced a viral video that mashed up six bro-country hits (including one by Oklahoma's own Blake Shelton) to form a near-seamless tune.
"There's this conveyor belt factory mill of songwriting, and every artist's sitting around, hoping that their label gets them the right song, written by the right eight people it took to write this new rip-off of a Top 40 pop song," Boland said. "In the machine, it's always a second-rate version of something that's already been done, and done badly."
He believes bro-country has its place but, at some point, needs to be cut off and sent home.
As repetitive as it is, it does make money. Aldean, Bryan and Owen have sold millions of albums and singles to millions of fans via heavy play on terrestrial radio and heavy label and promotional backing.
"The masses usually aren't daring enough to say, 'No; listen to this,' because … it's easier for everyone to jump up and down in unison and throw your fist," he said. "Some people will go back and listen to a commercial flop and call it genius now or look at a band that only lasted for three or four years that everybody missed except for the 10 people who were looking for something new."
It's those fans, the ones who hunt for treasures in record stores and on the Internet for something not readily available through mass media, that make up a large part of The Stragglers' following.
"Young kids who aren't afraid to seek out their own music, old people who got left behind by pop music, cowboys who miss honky-tonk music, people with mohawks that listen to Johnny Cash's American Recordings and Social Distortion," he said. "I look out at our crowds and get a chuckle at who's standing next to who."
Boland wanted Squelch to sound full and rich, as if the listener was in a small club with the band. Like previous records Pearl Snaps and Dark & Dirty Mile, the album was recorded on analog equipment. No part of the music touched a computer until its pressing.
Boland likes the sound of reel-to-reel tape as well as the challenges it poses.
"You have a certain amount of tracks, and you have only one performance, not multiple performances taking the best three," he said. "What you do is what you did."
The band enlisted producer Jim Ward, guitarist for the band Sparta and co-founder of Texas post-hardcore band At the Drive-In. Boland felt his influence would further sharpen the album's teeth.
The group's next Oklahoma concerts are Nov. 27 at its 10th annual Leftover Turkey show at Cain's Ballroom in Tulsa and Nov. 28 at Wormy Dog Saloon, 311 E. Sheridan Ave. Visit thestragglers.com.
Print headline: Red grit, Jason Boland proves again that the road least traveled can also be the one least cluttered with bro-country stereotypes.