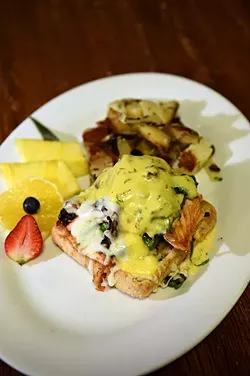 Mark Hancock
Salmon Club at Joey's Cafe, 12325 N. May Avenue in Oklahoma City, 1-13-16.
Espresso drinks get all the glory, but the workhorse of the restaurant business is that orange-rimmed pot of drip-brewed coffee.
Careening from table to table, the waiters and waitresses bounce, pouring coffee on top of coffee on top of coffee. How many cups have you really had? It's hard to tell, as your fingers are vibrating so rapidly there appear to be 15 on each hand.
Some serve a brew so thin and bitter that it seems like someone spilled good coffee, wiped it up with a wet rag and then squeezed it back out into your cup. Take heed, restaurants. We come in for breakfast, and that includes coffee.
The memo has been received at Joey's Cafe, 12325 N. May Ave., an all-day breakfast restaurant that serves a bottomless cup of "organic gourmet coffee" for $1.85.
And, so help me, if you say, "It's just water strained through beans," I will take you behind the woodshed and make you drink a whole pot of the brown-gray "coffee" that gets poured all over the city.
Joey's has a low-acid Brazilian coffee that's perfectly fine without cream or sugar, but if you feel the need to add some, it won't take as much as usual to make a potable cup.
While you're enjoying your morning beverage and perusing the menu, let me point you happily toward The Cobb omelet ($8.99, including potatoes and a biscuit with gravy).
Mark Hancock
The Cobb Omelet at Joey's Cafe, 12325 N. May Avenue in Oklahoma City, 1-13-16.
Inspired by a Cobb salad, this mountain of eggy goodness is packed full of smoked chicken, crisp bacon, sauteed onion, fresh tomato and melted cheese with a few slices of avocado on top.
Chicken and eggs together sound unnatural to me, but the taste was pleasant and satisfying.
The filling has a heft to it, but the presentation is as fancy as all get-out. Kudos to the cooks at Joey's who take some joy in plating.
Breakfast is often a utilitarian affair, which is sad. It's the most important meal of the day, but as much as we profess to love it, we treat it with disdain. A little pizzazz goes a long way. And a little bit of sliced orange, pineapple, strawberry and garnish makes an otherwise ho-hum plate more inviting.
Another very welcoming plate is the eggs Cordon Bleu ($8.50), which is about the fanciest croissanwich I've ever had. A sliced croissant filled with Canadian bacon, Swiss cheese, poached eggs, fresh spinach and hollandaise — yowza.
Mark Hancock
Eggs Cordon Bleu at Joey's Cafe, 12325 N. May Avenue in Oklahoma City, 1-13-16.
This is rich — like, run for president even though you've never held an elected office before, but you had a TV show once and that seems like enough rich. I love the spinach, which has a tender quality as it gently wilts beneath the hollandaise.
My only complaint was with the croissant, which was a little tough, making the ideal bite — a bit of everything — a tad difficult.
The Cakes and Eggs ($8.50) is a pretty standard plate of pancakes and eggs with your choice of meat.
The obvious choice is bacon. It's a good choice.
The pancakes were fine, though nothing to write home about. And if you did, your parents would be really confused. Even the best pancake is hard to build a letter around.
If you like grits, you should get a side of grits with cheese and green chili ($2.99). And I still think you should give them a dash of salt after tasting. Grits are one of my favorite foods, but seasoning is almost always an issue.
Someone who says, "I don't like grits," is probably someone who had underseasoned grits. A little salt and butter — as with most things — makes a world of difference. The addition of the green chili, especially, gives the dish a new dimension of mild heat and a fresh, almost grassy flavor.
Breakfast for lunch is incredibly popular, but at Joey's, you can also get lunch for breakfast. It was 9 a.m. when I ordered the pot roast sandwich ($9.25), and nobody blinked an eye.
The sandwich is served on a baguette with a nice cup of red, beefy, brothy gravy, and the pot roast is fall-apart tender. The bread greedily soaks up that jus, which is clearly the sauce in which the beef was cooked. There was a pea in there. It's real pot roast. That's a notable difference from the vast majority of "pot roast" sandwiches in local restaurants.
Mark Hancock
Pot roast sandwich with fries at Joey's Cafe, 12325 N. May Avenue in Oklahoma City, 1-13-16.
One I didn't get to try, but which came so highly recommended by my server that I knew I should pass it on, is the open-faced salmon club ($8.99) with potato soup on Tuesday. Grilled salmon, spinach, sun-dried tomatoes, basil mayo and grilled onions sounds like a pretty amazing combination, and it's what I'm getting next time I go.
Many diners are happy to work out of the same playbook: eggs and ham and pancakes and — snore. And while Joey's serves plenty of those favorites, the difference is in the details. The restaurant is well worn, but the menu doesn't seem tired or like a lame retread of every other breakfast spot.
The best example is that coffee.
It's like they actually want you to drink it.
Print headline: Breakfast bravado, Breakfast spot Joey's Cafe isn't content to be like every other restaurant.