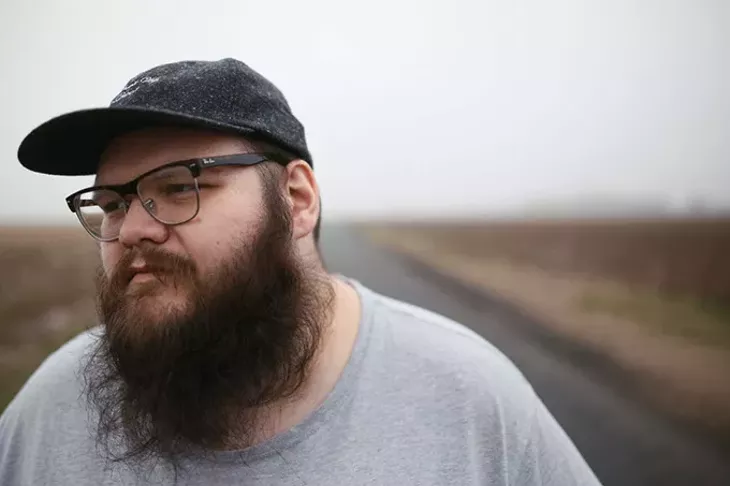 by Matt White - All Eyes Media - provided
John Moreland
The things in life that bring us the most joy in bloom can bring great hurt in their absence or when they wither. Few might understand this point greater than punk-rocker-turned-gruff-folk-crooner John Moreland, who earned praise for his sullen but hearty songwriting on 2015's High on Tulsa Heat. The release made the kind of cannonball splash that sends waves out of Oklahoma's deep talent pool and into sound systems nationwide.
Breakout success always creates some anxiety over what will follow. Moreland set the bar high, but he competently hurdles any doubts on Big Bad Luv, released nationwide May 5. The husky, bearded songwriter turns in a rockier effort, but his lyrics are as rooted and real as ever, even packing a sharper visceral edge.
Part of the coolness in Tulsa Heat's national appeal was that it gave nods to Moreland's home state. That tradition continues on his new project's opener "Sallisaw Blue." The rollicking, rhythmic and unfettered bar anthem gives a strong push-start to a tracklist that's later weighed down with more deliberate and reflective songs. Moreland's energy bounds out of the speakers.
Though tonally distinct from the album's other tracks, "Sallisaw Blue" sets an important and recurring theme. This is most apparent in the chorus, where Moreland sings, "It's no use. God bless these blues. Let's get wrecked and bruised and battered."
John Moreland's "Big Bad Luv" - Image All Eyes Media - provided
From the dynamite opener, the album moves on to more troubled "Old Wounds." The tempo shifts downward as the musician relays the painfully relatable but mostly unspoken desire to simply fade away or check out from life indefinitely. The songwriter is sometimes criticized for his somber tone, but his eloquence in expressing raw emotion exemplifies the empathic IQ of a master lyricist.
Moreland hits an intriguing sweet spot in the middle of the record. "Amen, So Be It" touches on barstool gospel. "No Glory in Regret" includes some of the album's most poetic vocals coupled with chillingly sparse instrumentation. "Ain't We Gold" brings us back to the rowdiness of the opener.
However, Big Bad Luv might shine brightest at its end. In "It Don't Suit Me (Like Before)," the artist lets loose his grip on past anger and frustration. The message and tune are infectious and the song is well-picked as a single. The closing track, "Latchkey Kid," is a beautiful, piano-backed ballad that will once again earn Moreland respect in country music's inner circles.
Big Bad Luv explores the idea of pain's inevitability — there is no running from heartache. Moreland recognizes this and embraces it. He wears his hurt like a sleeve tattoo. Repeatedly, instead of sheltering himself from the world, he opens himself up to life and opportunity because, ultimately, these are the things that plug the gaping holes of loss and regret.
Moreland is bound to score more than a few comparisons to Bruce Springsteen and other anchored songsmiths like Townes Van Zandt with this album. Big Bad Luv proves itself worthy of any such lofty relations.
Visit johnmoreland.net.
Print headline: Luv notes, John Moreland presents Big Bad Luv, an emotionally raw follow-up to 2015's hit High on Tulsa Heat.