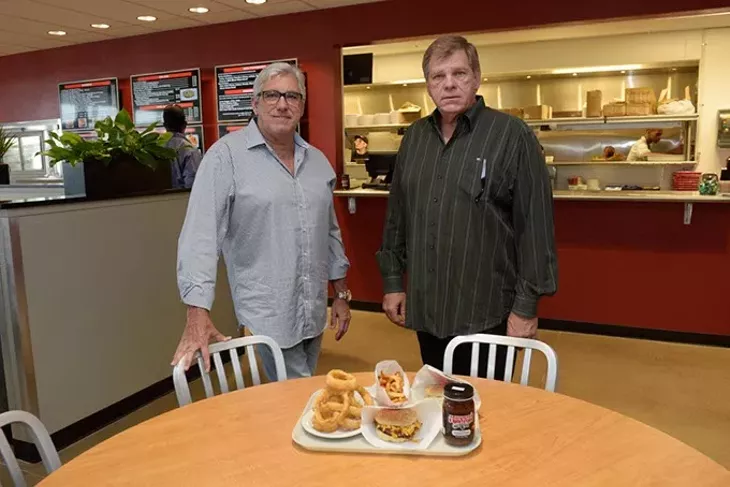 Garett Fisbeck
Rick and David Haynes poses for a photo at Johnnie's in Yukon, Tuesday, Nov. 1, 2016.
Oklahomans have enjoyed Johnnie's Charcoal Broiler for more than 60 years even though the restaurant has only been around since 1971.
Rick Haynes, who owns the restaurant chain with his brother David, said the metro's obsession began when his father helped open and manage the now-defunct Split-T just north of Interstate 44 on Western Avenue in 1953.
"My dad was the Split-T, even though he didn't own it," Rick said. "It became an Oklahoma City icon."
Their father, David "Johnnie" Haynes, cooked the burgers with a mixture of gas and charcoal, giving each one a familiar backyard barbecue taste. The restaurant was a hit, becoming a popular spot for hamburger lovers across the city.
Even so, Johnnie hungered to own his own place.
The long hours were especially challenging, Rick explained. All restaurant work is hard and his dad put in long hours six days a week, but he still found time to spend with his family.
Seeing them would get easier, though, after Johnnie and his wife Pauline opened the first Johnnie's Charcoal Broiler at Britton Road and Military Avenue in 1971.
"We opened Johnnie's when I was 13, so I worked with my dad and brother and mother every day," Rick said. "I've never had another job, and neither has my brother. We've been in the family business all this time."
Tasty tradition
Johnnie Haynes didn't just use the dual-grilling method on his burgers; he also brought signature burgers, including the Theta and Caesar, to Johnnie's.
"The food is the same that's been there forever," Rick said. "We've had a lot of people copy us over the years that weren't successful, but there are a lot of new places that do succeed."
Despite competition, Johnnie's Charcoal Broiler persevered because the restaurant stayed true to the senior Haynes' vision.
"We've done other restaurants, but we've remained who we are," Rick said. "All cities grow up with a love for something. You're partial to what you grew up eating, and it gets passed on to your kids and grandkids."
In addition to Johnnie's Charcoal Broiler locations, the Haynes brothers own West, 6714 N. Western Ave. and 1 Mickey Mantle Drive, and Urban Johnnie Bar & Grille, 121 NE Second St. Being able to explore different takes on the menu at their other eateries allows the duo keep the core Johnnie's concept unchanged, making it a traditional Oklahoma City taste. Over the last 45 years in business, demand from Oklahoma ex-pats grew so high the restaurant began shipping Johnnie's hickory sauce, the key to its Theta burger, to fans all over the world.
Little changes
The menu has remained largely unchanged over the last decade, when the Haynes began serving sandwiches and salads.
"For every one of those we sell, we probably sell 100 hamburgers," Rick said. "That's the core of our business: hamburgers, onion rings and french fries."
The reason it stayed the same is simple, he said: Change isn't necessary.
"You have to do the things the customer demands, like when we added the gluten-free bun," he said. "But as things progress, you try not to lose who you are and what you are."
Their father died in 2000, and the Haynes brothers have run the restaurants since the early 1980s.
"My dad was involved — he was always involved until he died — but the last five or six years of his life, he was sick," Rick said. "The vision to grow the company was probably more my brother's and mine than his. I think he would be very appreciative and proud of what we've done."
Expanding the restaurant, which now has more than a half-dozen locations across the metro, is a response to the changing city.
"It's different now than it was then," Rick said. "There weren't so many restaurants and people didn't eat out as much. People would drive across town to eat at Johnnie's."
Now the burger joint is expanding and recently opened a Yukon location at 1700 Shedeck Parkway. Additional locations are planned for Moore and Midwest City.
Rick said every business has an ebb and flow, and he discovered the best way to survive is through consistency.
Every few years, the venues get updates, including fresh paint, but he said that's basic upkeep.
"I think what happens is a lot of older restaurants don't do those things. They don't make themselves fresh, or if they do, they try to change who they are," Rick said. "We're lucky to have so many traditions in Oklahoma City, like Junior's and Cattlemen's [Steakhouse]. Johnnie's is one of those."
Success stories
The most refreshing thing Rick Haynes sees when he walks into one of his businesses is another generation of diners enjoying the food.
"If you go into one of our restaurants today, you see lots of little kids and lots of families eating Johnnie's," he said.
And employees always have stories about customers who moved away some years ago and, upon landing in Oklahoma City for a visit, stop in for a burger. His family's work continues to make an impact. That's a big reason the Haynes brothers are excited to open more stores.
"We want to be there for people growing up to eat at Johnnie's, as well," Rick said.
Because beyond the gas and charcoal, the homemade onion rings and the fresh-cut french fries, what matters is the finished product and the product guests can't wait to finish.
"A lot of people worry about other restaurants opening, but if you take care of what you do and do it well, you'll be successful," Rick said.
Visit johnniesburgers.com.
Print headline: Edible culture, Johnnie's Charcoal Broiler turns 45 this year, but metro diners have enjoyed this family's signature burgers even longer.