The '70s and '80s are alive again Tuesday in Oklahoma City.
Journey and The Doobie Brothers, both classic bands hailing from California's Bay Area, will deliver classic hits like "Don't Stop Believin'" and "Listen to the Music" to Oklahoma City fans 7 p.m. Tuesday at Chesapeake Energy Arena, 100 W. Reno Ave. They will be accompanied by Rock and Roll Hall of Fame guitarist Dave Mason, known for his work in the English band Traffic.
Oklahoma Gazette recently spoke with two of the world's most famed guitarists, Mason and Journey's Neal Schon, ahead of their OKC tour stop.
State honored
Schon is proud to be an Oklahoman, even if some might consider his membership more of a technicality.
The guitarist and vocalist best known for playing in bands Santana and Journey was born at Tinker Air Force Base to military parents, though the family moved away when he was an infant.
Schon, like many military kids, spent his youth pinballing around the country. He moved with his parents from Oklahoma to New Jersey, where they were closer to his dad's side of the family. He lived there until he was 6 or 7 years old, when his family relocated to the West Coast. He spent a couple of years with his mom's side of the family near Hollister, California, before settling in San Francisco.
It was a fortuitous move for Schon and music fans alike, as the guitarist became synonymous with Bay Area rock of the '70s and '80s along with friend and Santana founder Carlos Santana.
Schon's father led a jazz band and taught Schon to play many instruments from a young age. Everything clicked when he was introduced to the guitar.
"My whole world started changing," Schon said during a recent a phone interview with Oklahoma Gazette. "I would say in two years, from 10 to 12, I really got attached to the instrument and I really loved the blues artists I was listening to."
The often soulful musician said B.B. King, Albert King, Buddy Guy and Muddy Waters were early influences. He remembers his dad taking him to see Duke Ellington and Ella Fitzgerald. Schon also was influenced Jimi Hendrix and musicians of the '60s British Invasion era, including Jimmy Page. To form his earliest playing style, Schon said he fused English influences with American jazz and blues.
He was inducted into the Oklahoma Music Hall of Fame in 2013, a distinction he said he never would have expected.
"It was a big surprise and what an honor," he said. "I wasn't that aware of it and how many great people are already in."
His band Journey is still waiting to be inducted into the Rock and Roll Hall of Fame in Cleveland, and Schon said that is an honor he could take or leave. He stores boxes of platinum records and old awards in his attic.
"So many people I know just rest on the laurels of the stuff that they've done," he said. "'Oh, well, I don't have to do anything more; look at this.' They think this is all people want to hear, the greatest hits. That's not true."
Schon is proud of his achievements, but his biggest concern is what's to come.
"The cool thing about the name Journey is that it's always evolving and it's about travel," he said. "I don't want to be stuck in any one place for too long. I have to move forward, you know?"
Steady Traffic
Through his work with some of the most important British bands of the last half-century, singer-guitarist Mason built a reputation as a key figure in post-British Invasion rock. Mason brings a wealth of music to his performance, including bona fide rock standards. However, Mason said he has no plans to commemorate those 50 years in music.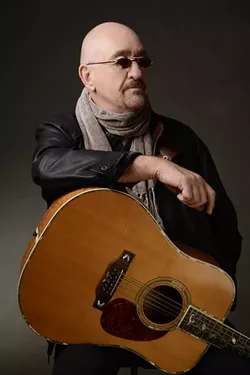 "Not really," Mason said. "I'm just living my life."
In 1967, 18-year-old Mason joined former Spencer Davis Group vocalist Steve Winwood in Traffic with Jim Capaldi and Chris Wood. However, his tenure came with stops and starts. Mason departed shortly after the band released its debut record, Mr. Fantasy, to produce Family's album Music in a Doll's House. He returned in 1968 for Traffic's self-titled sophomore effort, which included his classic contribution "Feelin' Alright." The song became an undisputed classic when Joe Cocker famously covered it on his landmark 1970 album Mad Dogs & Englishmen.
During this time, Mason operated as an unsung hero of British rock. He performed on George Harrison's debut record, All Things Must Pass, and played with Derek and the Dominos. Mason returned for one last Traffic jam, live release Welcome to the Canteen. He then launched a successful solo career that produced a massive 1977 hit, "We Just Disagree."
Strangely, Mason capped the 1970s with an appearance in the aggressively awful 1979 roller boogie epic Skatetown, U.S.A., starring Scott Baio, Maureen McCormick and Patrick Swayze, in which he performed the title song.
His embrace of dance continued with his 1980 Michael Jackson duet, "Save Me," a lost gem from Jackson's golden era. A period of relative inactivity followed until Mason resurfaced as a member of Fleetwood Mac for 1995's Time. That record, which featured Mason and Bekka Bramlett along with classic members Christine McVie, Mick Fleetwood and John McVie, did not sit well with Fleetwood Mac fans accustomed to hearing Lindsey Buckingham and Stevie Nicks. Mason soon departed the group.
In recent years, Mason has toured with a band called Traffic Jam, performs songs spanning his career and records only sporadically, as he did with 2008's star-packed 26 Letters, 12 Notes and 2014's Future's Past, which revisited tunes going back to his teen years. Now living in the U.S., Mason said he is enjoying touring with Journey and The Doobie Brothers.
"It's a great tour. A great show, great music and great venues. It's really cool," he said. "It's one of the most successful summer tours out there this year. It's a lot of good music."
Mason said the current economics of the music industry require musicians to be road warriors since the payroll has largely shifted from album sales to concert tickets.
"It's pretty much what we have to do," he said. "Life on the road doesn't change. … It's traveling, a lot of traveling."
Print headline: Road trip, Journey's Neal Schon and Traffic's Dave Mason embark on one of this summer's biggest rock tours.