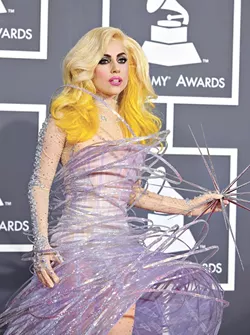 Bigstock
LOS ANGELES - JAN 31: Lady Gaga arriving at the 52nd Annual GRAMMY Awards held at Staples Center in Los Angeles, California on January 31, 2010.
Life always has its challenges. For those who struggle with mental illness, however, the efforts to maintain a regular life can sometimes hang by a delicate thread. For example, opening up to others about having a mental illness could have serious consequences if told to someone who doesn't understand.
Transition House, a Norman-based mental health outreach facility, wants to change the stigma of mental illness and promote the goal of mental wellness.
June Bug Jam is one way to do it.
This year, Transition House's annual June Bug Jam benefit focuses on Music throughout the Ages: A timeline of musicians in relation to mental illness 7 p.m. June 3 at Sooner Theatre, 101 E. Main St., in Norman. Transition House executive director Bonnie Peruttzi said performers will focus on hit songs by artists from the 1950s to present day who are known for their struggles with mental illness and promote awareness, such as Lady Gaga, Michael Jackson, John Lennon and The Beach Boys' Brian Wilson.
"At this particular show, we want it to be fun and upbeat and celebratory," Peruttzi said. "We want [June Bug Jam] to be a celebration of people who have recovered from mental illness and people who have mental illness. Because there is so much stigma associated with this disorder, we want to keep it upbeat and positive."
In addition to performances, a kids' dance party takes place 30 minutes before the official event.
"This [event] gives us a public forum — in a very positive, upbeat way — to celebrate the fact that people do recover from this illness," she said. "There are people who are incredibly talented who have this disease who create opportunities for joy in our lives with their music, their dance or their art."
Transition House began in 1982 as a program to help people leaving inpatient psychiatric care gain transitional housing and life-skill development. Since then, the organization has expanded to include wellness programs and partnerships with University of Oklahoma students. Transition House also opened a "drop-in" offering people group activities and a much-needed safe space.
"With any other illness, we don't discriminate or throw people in prison," Peruttzi said. "Mental illness is just like other illness that can happen in our lifetime, but with proper support, people can recover."
This year's fundraising goal is $26,000. A new approach to the event was adding organizations and nonprofits that sponsor the acts. There is also an incentive among cosponsors to sell the most tickets. The winning organization receives $500 from Transition House toward its nonprofit efforts.
"Mental illness does not mean somebody who needs to be outcast," Peruttzi said. "There are a lot of amazing people who have this illness. We want to celebrate those people as well as the people we work with throughout our organization."
June Bug Jam tickets are $10-15, and a ticket and T-shirt package is $25. For more information, visit Transition Center's website thouse.org or call 405-360-7926.
Print headline: Mindful melodies, The June Bug Jam promotes mental health awareness through music.