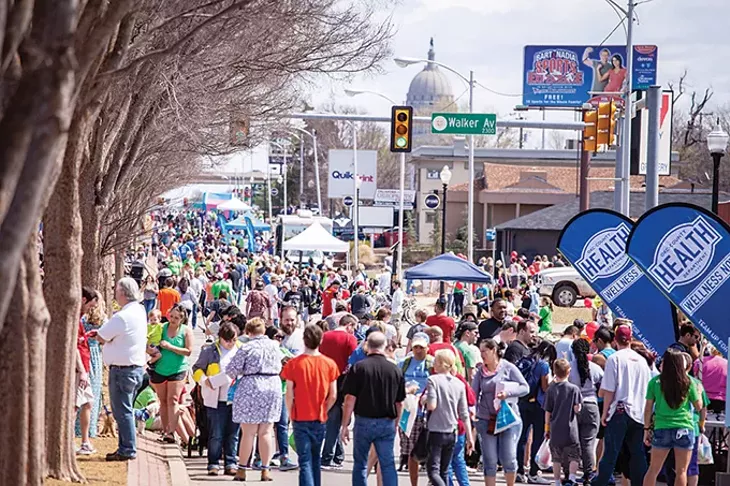 OCCH / provided
People flood the streets for Open Streets OKC in the Uptown 23rd District. The health and wellness event returns April 8.
As the executive director of Uptown 23rd District, Amanda de la Torre has a lot of love for the urban district that's burgeoning with hip restaurants and shops, trendy coffee joints and a renovated theater that has become the place in Oklahoma City to catch live musical acts or rewatch a cult-classic film.

Each spring for the past four years, Uptown 23rd District plays host to the widely successful Open Streets OKC, a health and wellness street festival by Oklahoma City-County Health Department (OCCHD).

"We love to have Open Streets and see all those faces and feet in the district," de la Torre said. "It is an opportunity to renew an acquaintance or make a new friend. It is a huge benefit to us, and we have been deeply appreciative of the Open Streets committee and Prodigal for allowing us to be the host. I always say it's kind of like someone else throwing a party in your house. We provide the district, and they provide the party."
At Open Streets, people traffic replaces car traffic on a Sunday afternoon. Popular Oklahoma City commercial districts resemble block parties with people gathering on the closed streets for entertainment, activities, food trucks and booths showcasing local organizations. From noon to 4 p.m. April 8, Open Streets returns to northwest Oklahoma City. The spring event marks OCCHD's eighth event. Each fall, OCCHD travels to Calle Dos Cinco in Historic Capitol Hill and SW 20 District – La 29.


Open Streets' footprint has expanded, taking over the Paseo Arts District and further connecting the event to the city's well-established arts area. Paseo Arts District and OCCHD have partnered in the past, but this year, a shuttle will run from NW 36th Street and N. Walker Avenue to Paseo Street and NW 30th Street.

The goal of Open Streets is to inspire and encourage physical activity and wellness, but it's also designed to change conventional thinking about ways to get around other than by car. In the context of Oklahoma City's evolving urban environment, the event has found an audience as a crowd of between 20,000 and 40,000 people come out to the twice-a-year event.

Open Streets highlights the walkability of Uptown 23rd and the Paseo, which have long been visited by neighbors on foot or bike. However, closing the streets to cars adds freshness to those two districts.
"The biggest thing is the novelty of no automobile traffic," de la Torre said. "We have this huge stretch of a street that usually carries about 25,000-30,000 cars a day. For a few hours on a Sunday afternoon, it's just feet. People are on skateboards. People are cycling. People are with their dogs. People are having a good time. To me, that's so novel. That's the buzz of what I get off this event. This is so cool. How can we do more?"
Family fun
Since its beginning, Open Streets recruited local organizations with a connection to health, wellness or active transportation to line the closed streets and present an activity to participants. Activities have ranged from playing hopscotch or whiffle ball to striking a dance move or getting creative with an art activity. Among those activities, health organizations offered basic health screenings, balance tests and more.
The organizations are spread apart. The distance requires participants to engage in active transportation, like walking, biking, strolling, skating or more.
Junior League of Oklahoma City is one of many organizations that continue to return to the daytime event. Katy McNeil Meier explained the partnership between Open Streets and Junior League was ideal, as the organization has specifically focused on community projects that address health and wellness needs in recent years. Each time Open Streets rolls around, members plan a unique activity. In this year's event, they will challenge participants in an inflatable basketball hoop game.
"It's good to see the community come together and spend an afternoon, hopefully in the sunshine, in activities that promote health and wellness," McNeil Meier said.
Open Streets gives Junior League members a real season of kinship.
"It's nice to interact with different groups of people," McNeil Meier said. "We've also met new members because they've visited our booth and found out we are an organization that does community service. It's beneficial both ways."
Along April's Open Street route, participants can connect with Latino Community Development Agency, American Heart Association, Spokies, USA Softball, Oklahoma City University and University of Oklahoma College of Medicine, just to name a few. Participants can partake in 60 activities. Thirty local food trucks will be offering healthy menu items along the route. Behind Tower Theatre, live musical acts will provide entertainment.
For those who have never visited an Open Streets event, de la Torre encourages stopping in, especially if the idea of leaving the vehicle behind is enticing.
"It all goes back to being able to walk someplace," she said. "The lucky, lucky people who live in Mesta Park, Jefferson Park, Gatewood, Heritage Hills and all the other neighborhoods surrounding Uptown 23rd and Paseo walk to this event. The car stays in the driveway. I think that's what defines the urban experience. The people who are moving back to the core, that's what they are looking for. Open Streets delivers."