Garett Fisbeck
Kabob platter at Kabob-n-Curry, Wednesday, March 16, 2016.
My first thought was, "Where's the stick?"
It shouldn't have been. As the cook brought plate after plate of food to my table at Kabob-n-Curry, 4101 N. Portland Ave., I should have been thinking about how good the food smelled (it did) or how wonderful it looked (it did) or how I was going to fit all of it into my stomach (I didn't).
But looking at my kabob platter ($11.75), I wanted to know where the sticks were. Because that's half the fun of eating shish kabobs — eating your food off a stick.
Maybe it's an obsession borne of years visiting the Oklahoma State Fair or just a deeply ingrained love of corn dogs, but I am absolutely enamored with foods on sticks when they're done well. The kabob platter was done well, but the only tools at my disposal to eat the chicken seekh kabob, beef chapli kabob and chicken tikka kabob were a knife and fork. Where's the fun in that?
It turned out the fun was in the food. For those worried about too much spice, the chicken tikka kabob is your best bet in a Pakistani/Indian restaurant. It's big chunks of marinated white meat chicken grilled until done, but not overly flavorful.
The beef chapli kabob, however, has lots of flavor from the vegetables and spices that come with it. This meatloaf-like patty could make a killer burger, but it pairs well with the basmati rice and cilantro and chili chutney served with the platter.
The texture is the downfall of the chicken seekh kabob, which simply felt too spongy to me. The heat on it is mild and the taste is good, but it had too much chew for my liking. Your mileage might vary, though.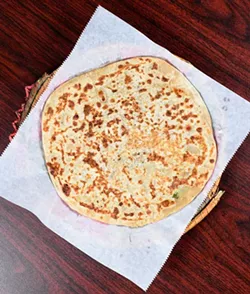 Garett Fisbeck
Pratha bread potatoes stuffed at Kabob-n-Curry, Wednesday, March 16, 2016.
The platters are a wonderful way to introduce yourself to Kabob-n-Curry, which likely serves many of your old favorites and a few dishes you've not yet seen. Getting a sampler like this gives you some rice, naan bread, a little salad and lots of ways to try a new food without feeling too locked in for the whole meal.
Garett Fisbeck
Shami Kabob Sandwich at Kabob-n-Curry, Wednesday, March 16, 2016.
If you're still nervous about what to get, let me point you to the shami kabob burger ($3.99), which takes a pretty simple setup of hamburger bun with the usual fixings and subs in a beef-and-lentil patty for the normal burger. The lentils add a mild earthiness to the sandwich and crispness to the patty, while the beef brings a welcome heft to each bite. This might be as kid-friendly as taking your family to a Pakistani restaurant can get.
But if you're willing to step outside your comfort zone, switch over to the n-Curry portion of the restaurant's menu, where there are a bevy of enticing options to tingle your taste buds — or straight-up set them on fire.
Garett Fisbeck
Daal Maash at Kabob-n-Curry, Wednesday, March 16, 2016.
On the milder end, I really enjoyed the daal maash with white lentils ($4.99). Don't let the peppers and spices studded throughout scare you off. There's heat, but it accentuates the creamy-white lentils that nearly melt against the tongue.
Any of you looking to remove meat from your diet for a meal or two a day should definitely explore lentils, which are packed with protein and easy to cook. Vegetarian stews, called daals, are a huge part of that region's cuisines and quite filling. When I go back, I'll definitely ask them to bump the heat level on the daal maash or switch over to a spicier dish like chana masala ($4.99), which is a bit thinner and uses chickpeas instead of lentils.
I don't want to get into any arguments about how authentic chicken tikka masala/chicken malai/butter chicken is. Let's just all agree this dish of chicken bites cooked in a creamy, aromatic sauce is a delight and get on with our lives. Some think of butter chicken ($5.99) as starter Pakistani food, and they might be right. But what does it matter when it tastes this good? Peanut butter and jelly might be a starter sandwich, but it's still wonderful. Just eat what you like, folks.
Though I love naan bread ($1) so much it might be unhealthy, my favorite starchy treat at Kabob-n-Curry is the pratha bread stuffed with potato ($2.99).
Think about a whole wheat Frisbee stuffed with seasoned potatoes and pan-fried until golden. That is a pratha. Dip it in sauces, pile your kabobs on top or just stare ahead and eat it, thinking of the future. That's how the Internet was invented.
Finally, a shoutout to a food I still think should be Oklahoma's official fried treat: the samosa ($1.25 each). It's a baseball-sized hunk of crisp, fried dough with seasoned vegetables inside, and I can't stop ordering it.
Don't be one of those folks who "can't eat" ethnic cuisines. Yes, you can. And there's no easier place to start than Kabob-n-Curry, even if they don't leave the sticks in your kabobs.
Print headline: Stick around, A mild intro to Pakistani/Indian cuisine makes Kabob-n-Curry a beginner's destination.