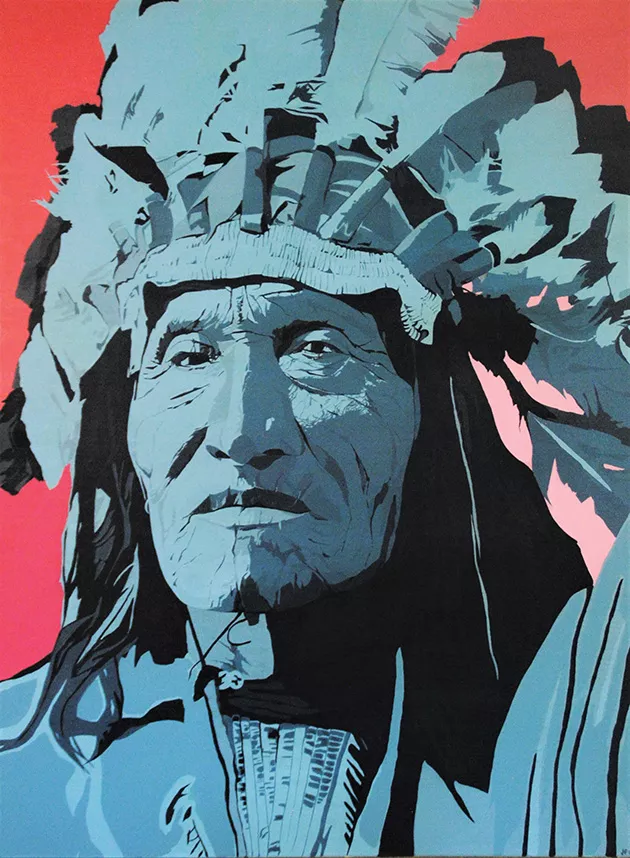 provided
"He Dog, Lakota" by Jack Fowler
Cowboy Swordfight!
Sunday-Monday
Tower Theatre
425 NW 23rd St.
towertheatreokc.com
405-708-6937
Free-$10
Inspiration for Jack Fowler's latest art exhibition came from concerns that he might be hanging meaningless garbage in his house.
"I've got stuff on my walls from my travels that probably don't mean anything to the people that are from those countries," Fowler said in a phone interview while he was preparing for a trip to Cyprus and Qatar. "I noticed that a few months ago, and the actual thought that led me to do the whole show was … I wondered if in Uganda that my counterpart has like Arby's coupons on the wall or something like that — some throwaway thing for us, but to them it's exotic. The French wine poster is the best example I can come up with because it's so ubiquitous in every restaurant and apartment. They're just everywhere, and I wonder what it is about that. If we could read it in English, would we still buy it?"
Fowler's curated "movie mix-tape" and "nonsense Western pop-art show" Cowboy Swordfight! runs Sunday-Monday at Tower Theatre, 425 NW 23rd St. Visitors can watch Western films chosen by Fowler and view several paintings he created exploring cross-cultural disconnect by emblazoning Western scenes with random phrases in foreign languages.
"If you can ignore the text or can't read it, we ascribe value to it that might not be there," Fowler said. "There's a guy on a bucking bronco on the image, so it must say something daring or brave or something about being tough. That's just what it feels like it says, but it says 'Worst Volleyball Team Ever,' and that's just a private joke for me."
Other paintings are titled "I Wouldn't Say I've Been Missing It, Bob," "Yankee Cowboy Football Hot Dog USA" and "These Pretzels Are Making Me Thirsty," inspired by a Seinfeld rerun he saw while staying in a West Texas hotel room.
"I wanted it to look like it obviously meant something else, like, grander," Fowler said. "I wanted the paintings to look like this is some sort of inspirational message … like a poster some businessman would have on his wall, but other than that, the qualifications were pretty loose."
Aesthetics were his main concern, so spacing was more important than actual meaning. The messages are written in Portuguese, Japanese and other languages, but Fowler said he was unable to make Swahili work because the translations were too wordy.
"They don't go obviously with the scene, but they look like they do because I don't read Portuguese or Japanese, so it looks beautiful over the scene," Fowler said. "That's what intrigues me."
The inspiration for the images on the paintings came from another cross-cultural mash-up.
"I borrowed composition and some posing and stuff like that from old Bollywood Western posters, which I didn't know was a thing that existed," Fowler said. "But Bollywood produced quite a few Westerns, and their posters are badass. They were making movies 50 years ago about our Western cowboy culture, setting it in India, making posters that were very reminiscent of Gary Cooper and John Wayne and John Ford movies from the '40s and '50s, in that style. And then I see them 50 years later and borrow the images right back and then write Japanese on top of it. I think it's beautiful. I really do. I like the whole idea of it."
While he enjoys the concept of mixing cultures together, Fowler attempts to avoid cultural appropriation in his art.
"An interesting conversation is, What's the difference between appropriation and an homage?" Fowler said. "I'm showcasing at least two Native portraits, 'He Dog, Lakota' and 'Pretty Nose'… and I've asked myself if my portraits of Natives were appropriation. I've come to the conclusion, just for my own peace, that those are homages to, number one, the beauty of their faces. I like painting old men, the wrinkles and the character and all that, but old portraits, old photographs of Natives, to me, are very powerful. I want to paint them because they're beautiful, and I don't claim any Native ancestry or anything like that, so I've never worried anymore about that appropriation as far as my portraits go, but with these pictures that I'm doing now, it's just borrowing another language. It doesn't have anything to do with another culture. All the portraits are our Western American culture. The phrases are nonsense, and I just borrowed somebody else's letters because they're beautiful. Chinese calligraphy is the most beautiful thing in the world. I know why people get tattoos of that. It's really graceful and lovely."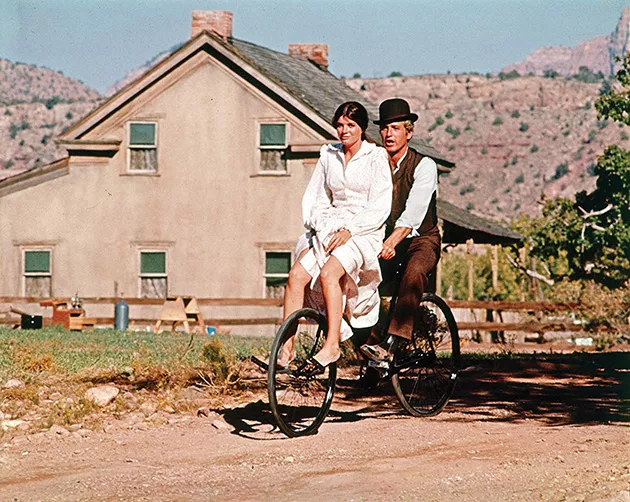 provided
Butch Cassidy and the Sundance Kid shows 7:30 p.m. Sunday at Tower Theatre.
Growing up in Oklahoma with Native friends, Fowler said, has made him concerned about remaining culturally sensitive, but combining cultures seems almost unavoidable.
"In a bigger sense, the borrowing and building upon and admiration of other cultures is all a big circle," Fowler said. "It's an inevitable conclusion. The first time, I think, people traded spices along some ancient trade route, they borrowed a little bit of what they liked from the next guy they met. I think that's sort of a human condition."
Western movements
The films Fowler selected to screen also showcase the West as a place where different cultures can cross-pollinate. Jim Jarmusch's Dead Man, showing 2 p.m. Sunday, stars Johnny Depp as a fugitive who has a mind-expanding encounter with a Native American outcast named Nobody (played by Gary Farmer). Bradley Beesley's Sweethearts of the Prison Rodeo, showing 5 p.m. Sunday, is a documentary about women competing in the 2007 Oklahoma State Penitentiary Rodeo. George Roy Hill's Butch Cassidy and the Sundance Kid, showing 7:30 p.m. Sunday, stars Paul Newman and Robert Redford as the titular outlaws attempting to escape to Bolivia after a failed train robbery.
Monday's selections — The Magnificent Seven (showing 6 p.m.) and Seven Samurai (8:45 p.m.) — feature seven fighters who attempt to save a poor farming village from violent bandits, though Akira Kurosawa's 1954 film is set in feudal Japan and the American remake is set along the U.S. border with Mexico.
"This isn't an original thought, but I think maybe it was Shakespeare or Pope or someone that said there aren't any more new stories," Fowler said. "I like the idea that those two movies are the same story, and all you have to do is tweak the environment and they become vastly different. I find that somehow comforting. As much as I like to travel, it always makes me sort of nervous before I go. I wonder about language barriers and changing money and all the normal stuff that people worry about before they go somewhere really different, and then every time I get there, I have no idea what I was so worried about. It's always comforting to know … that everyone sort of does tell the same stories and that the cultural differences that surround them are just almost entirely aesthetic sometimes."
Tickets to Sunday films are $10; Monday screenings are free. Visit towertheatreokc.com.