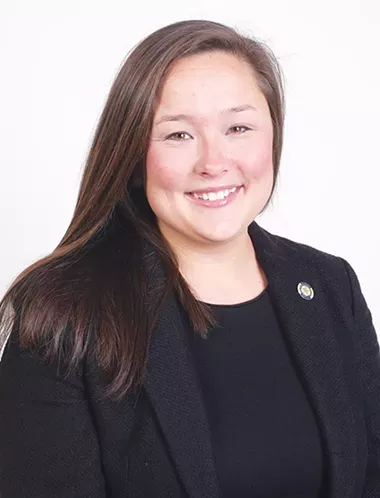 Gazette / file
State Rep. Cyndi Munson, D-Oklahoma City, was an Oklahoma's Promise recipient.
Before 33-year-old Oklahoma State Rep. Cyndi Munson, D-Oklahoma City, made history in 2015 by becoming the first Asian-American woman elected to the state Legislature and the first Democrat to win representation in House District 85 and inspired a wave of female political newcomers in 2018, she was a starry-eyed middle school student in Lawton with a dream of becoming the first person in her family to earn a college degree.
"I didn't come from a political family or from wealth," Munson said. "Neither of my parents went to college, but they wanted better for us, like all parents do, and they did everything they could to make sure we would become college graduates."
After Munson's Korean-born mother and U.S. military father divorced when she was 13 years old, her father was left to raise Munson and her sister Sandra alone and navigate helping his daughters apply for college.
"When it came to filling out the FAFSA (Free Application for Federal Student Aid) and submitting college applications, he had no clue," she said. "He'd be the first one to tell you that. But he became highly involved in our classes and afterschool programs."
At an afterschool program, Munson's father picked up a brochure about Oklahoma's Promise, a college scholarship program created to help students from low-income families earn college degrees.
With her father's support, Munson began asking teachers and counselors about the program. She applied for the scholarship, was accepted and went on to earn a political science degree from University of Central Oklahoma before earning a master's degree in leadership education, working for Girl Scouts Western Oklahoma and later, running for state Legislature.
"Oklahoma's Promise is the best investment we have in education," Munson said. "Without it, college would not have been attainable for me."
Every year, on what the Legislature calls Oklahoma's Promise Day, Munson shares her testimony at the Capitol in an effort to remind lawmakers of the value of legislation that was passed over two decades ago and show student visitors what is possible.
"There are a few of us in the Legislature who were Oklahoma's Promise recipients," Munson said. "But there certainly weren't any recipients in the Legislature when I was growing up. I always knew I wanted to run for office, but I didn't know if that was possible for someone like me because most politicians I learned about had either political connections or wealth. I want students who come to the Capitol on Oklahoma's Promise Day to know that it's possible to go from low-income to House Representative. I always end my speech by telling them that someday, the governor of our state will be an Oklahoma's Promise recipient, and I truly believe that will be the case."
Oklahoma's Promise is administered by the state Regents for Higher Education, said vice chancellor for scholarships and grants Bryce Fair. The scholarship was created by the Legislature in 1992 and was originally called Oklahoma Higher Learning Access Program.
Fair said Munson is one of 85,000 Oklahoman students who have received the scholarship since its inception.
"We are proud of our success and of our students' success," Fair said. "Our data shows that the students who receive Oklahoma's Promise scholarships outperform their peers in college and remain in Oklahoma where they attain jobs within the first year after graduation."
While Oklahoma's Promise has a plethora of success stories, Fair said there's always room for improvement in the system.
Fine print
Jenks Public Schools teacher Ann Schuh said she became aware of Oklahoma's Promise through her inner circle of educator friends and colleagues. Shortly after her divorce, she jumped at the chance to send her two children to college with their tuition paid through the program.
"I was a single mom and a public school teacher," Schuh said. "I knew there was no way I could pay for them to go to college on my own, but I also knew that I didn't want them to be drowning in debt from student loans after they graduated."
Schuh's son Austin was awarded an Oklahoma's Promise scholarship and made the decision to go to University of Tulsa.
Shortly before the start of his senior year, Schuh said Austin was dropped from Oklahoma's Promise based on the newly required annual income check. Schuh had remarried, and the couple's combined income was barely above the maximum $100,000 threshold.
"I understand why there is an income limit, but I think it's only right to allow kids who started with the scholarship to finish with it regardless of whether or not their parents' income level changes while they are in school," Schuh said. "My husband has two children of his own, and while it might appear on paper that we can afford tuition for all of our children, it's not the case."
Austin applied for alternative scholarships this year and expects to graduate with a bachelor's degree in energy management in May, Schuh said.
Fair said the annual income update Schuh was asked to provide was due to changes legislators made last year to Oklahoma's Promise in an effort to attract more applicants while also reducing costs.
"When the scholarship launched, the maximum income that a family could earn to qualify their child for Oklahoma's Promise was $24,000," Fair said. "In 1999, the threshold became $32,000. In 2000, it became $50,000, and last year, it was changed to $55,000. After the income increase in 2000, we saw an increase in applicants for the first time in years and we are hoping with this latest change we'll see an increase in applicants from low-income and middle-class families as well."
According to Oklahoma's Promise 2017 Year End Report, the cost of all scholarships paid to students since 2012 has almost doubled from $59.5 million in 2012 to $68.3 million last year. During the same time, scholarship recipients dropped from 20,031 in 2012 to 17,749 last year.
Fair said one explanation for the spike in scholarship costs despite the decrease in applicants is increases in tuition.
To offset costs, Fair said legislators also decided to drop payment of remedial courses and check recipients' income every year instead of just once when applicants are required to first apply for the scholarship anytime between eighth and 10th grade.
"A student's family must make below $55,000 when the student first applies for the scholarship," Fair said. "Once a student is enrolled in college, we check to see that the families' income has not exceeded $100,000. While we encourage families to work towards increasing their incomes, we believe that those students whose families make less than $100,000 are the most in need of the scholarship."
To be eligible for Oklahoma's Promise, high school students must apply for the scholarship between eighth and 10th grade, with the last day to apply being June 30 of a 10th-grader's summer break. Additional requirements include living in a household with a combined income of less than $55,000; maintaining a cumulative grade point average of a 2.5 or higher; and abstaining from criminal behavior.
"My dad always said Oklahoma's Promise is the best-kept secret in Oklahoma, but it shouldn't be a secret at all," Munson said.
Visit okhighered.org.