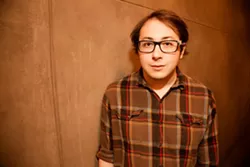 Danny Hatch got an iPod for Christmas when he was 14 years old. His family was living in Edmond at the time, having moved to the metro when Hatch was only 5.
"I found the Keith and the Girl (KATG) podcast on my computer and downloaded it to my iPod," he said. "It was pretty raunchy, so when my mom found it, she freaked out and grounded me from listening."
As most teenagers would, he downloaded the podcast to his iPod and then deleted it from his computer so his mother wouldn't know. He listened for years and moved to New York City shortly after graduating from Bishop McGuinness Catholic High School in 2010.
"We were looking for interns at the time Danny got here," said Keith Malley, host of KATG. "We hired him, and he did a great job for us."
Hatch did such a good a job that he became the associate producer of KATG in July.
To celebrate its 10th anniversary, the crew hit the road for a 10-city tour with a stop in Oklahoma City on Saturday. The edgy talk show decided to book Hatch's mother Franny to appear on the live broadcast.
"I think the main goal … is to embarrass me in front of my mom," Hatch said.
Cohost Chemda Khalili confirmed Hatch's suspicion.
"We booked his mom because we intend to embarrass the shit out of Danny," she said. "That is the focus of the show."
Comedians Ray DeVito and Katherine Heller, as well as other personalities familiar to regular listeners, are also on the tour. The live format is slightly different than the regular production because the crew can interact with the audience, Malley said. It also will be more personal because Hatch's family and friends will be there.
Keith and the Girl
Malley and Khalili are podcast pioneers. The two were dating for a while before they started the show in 2005. Malley said both had a "computer genius" brother who told them about RSS feeds, which were mostly used for delivering news at the time.
"It could also be used to deliver content like a podcast," he said. "I started the podcast and recorded five days a week at first."
The name of the show came from Khalili, who opted for some degree of anonymity. KATG now averages 50,000 downloads a day.
Keith meets Girl
"I was singing, and Surf Reality was this open-mic thing where you could do all kinds of stuff," Khalili said. "Keith was there, doing standup. I didn't like him at first. His material was offensive … but I laughed. It seemed like bad feminism to connect with him or his material."
Podcasting was a relatively new medium at the time, and the duo was unsure of the type of format they wanted. However, they knew they wanted it to be honest, so they adopted a talk show format combining news, commentary, humor and offbeat personalities.
"Podcasting was different than regular radio because you could have an opinion and say what you want," Malley said. "A quarter of the world is going through insane stuff at any given time, and you could talk about any of it."
Shock jocks like Howard Stern and Don Imus made names for themselves by commenting on issues from porn to politics, interviewing and mocking guests, and created a free-flowing style. However, they still had some constraints because they were on the radio, which is overseen by the Federal Communications Commission. Podcasting is different because there is far less oversight of content or language.
Malley and Khalili understood the difference early and have been hugely successful.
"Chemda has a producer's mind," Malley said. "It was her idea for me to do a live album, and I've done one on my birthday every year for 12 years."
Khalili eventually overcame her reticence to disclose her identity, but the name stuck anyway. The two eventually stopped dating, and Khalili's husband tours with them.
In addition to their own podcast, KATG helps other personalities launch shows through their VIP subscription service. Hatch launched his new podcast, That's the Show With Danny. For now, it is an hour-long program with Malley and Khalili.
Hatch calls it his first "non-open-mic live show." Before he left OKC, he performed open-mic shows at Sauced on Paseo.
"It was awful," he said. "I'm glad I can't remember what I said. One night, the amp wasn't working, so the manager encouraged me to go from table to table to tell jokes. It was so bad."
Catch Keith and the Girl at 8 p.m. Sunday at ACM@UCO Performance Lab, 329 E. Sheridan Ave.
Print Headline: Embarrassing pioneers, Keith and the Girl humiliate their producer in front of his mother.