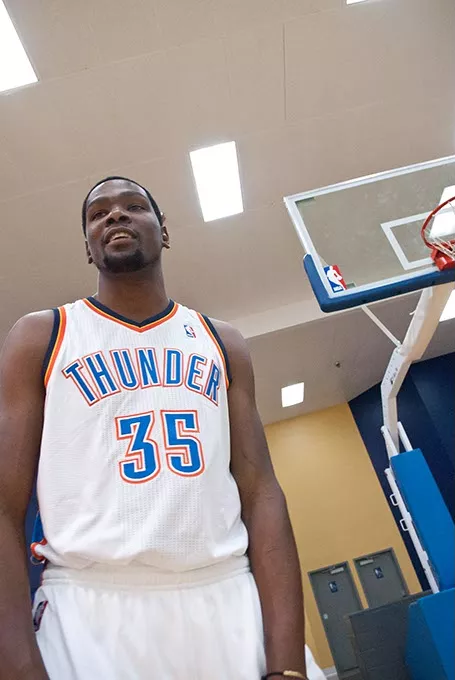 "Location is important with basketball, and yet it's not," wrote Thomas Beller in an essay for The New Yorker. "You can play anywhere, and in the act of playing you forget where you are."
The game of basketball has an intimate relationship with the urban landscape, and for many of the world's best players, their love for the game was launched on a public court just off a busy city street.
Oklahoma City Thunder star Kevin Durant grew up in Prince George's County, Maryland, and his identity was transformed by basketball as he played on local courts. This summer, Durant announced he would help expand that opportunity to other children across the world by renovating public courts, beginning with three this fall.
"When I was young, playing basketball was one of the things that kept me out of trouble and kept me focused on my growth and maturity into the man I would eventually become," Durant said in a statement. "For that reason, I've always wanted to play a leadership role in communities and neighborhoods — like the one I grew up in — and give kids a chance to choose health, teamwork and basketball over some of the other negative influences they may face."
In partnership with Nike, Durant and his personal charity foundation have launched the Build It and They Will Ball basketball courts renovation program. Kevin Durant Charity Foundation said it was seeking to increase the opportunity to play basketball in underprivileged communities across the country and all over world.
The program plans to renovate three courts this year in Oklahoma City; Washington D.C.; and Berlin, Germany. Exact locations have not been announced.
The partnership with Nike includes the use of Nike Grind, a material made from recycled athletic shoes and other scraps from Nike facilities that will be used to construct the court surface.
While the initial renovations will take place in two domestic communities in which Durant has close ties — he plays for the Oklahoma City Thunder and was born in DC — the third will be in an international city that matches Durant's increased interest in growing the sport around the world, his foundation stated. Referencing recent trips by Durant to Asia and Europe, the foundation said it was important for the basketball superstar to have a presence outside of the United States.
The three basketball courts are expected to be open in September.
After a season plagued by injury, Durant expressed his desire to improve his game in the offseason and be prepared to make an NBA title run next year. In a recent interview for the Prototype by Nike podcast, Durant said he was proud of his accomplishments but was seeking more.
"I just feel like I'm confident, but I also know I have to put in the work to win a title," Durant said. "I feel like I'm the best player, but I'm not going to just talk about it; I'm going to show you. I'm willing to back it up and go through the ups and downs to be considered that."
Durant's status as a global celebrity has allowed him to make interesting friendships, including one with actor Mark Wahlberg, who told Nike that Durant's competitive drive is evident even when playing around with kids at a backyard cookout.
"They want to get on the court with [Durant]," Wahlberg said about his own kids at a recent get-together, "and he starts blocking their shots, and it took my son about five times to finally [get a shot off] on him. If you get within 10 feet of this dude, he is going to block that shot."
In the same podcast episode, rapper Wale, who is also good friends with Durant, said he is a competitive person but is also very loyal to his community.
"The majority of the people who are hearing this are only going to know Kevin Durant as a basketball player, but loyalty is a very important thing for him," Wale said.
Durant's loyalty to his childhood home, his adoptive hometown and the sport that he loves shines through in his desire to give kids a chance to play basketball on quality courts.
---
Print headline: Court side, Kevin Durant recently announced renovation plans for three basketball courts, one in Oklahoma, this year.