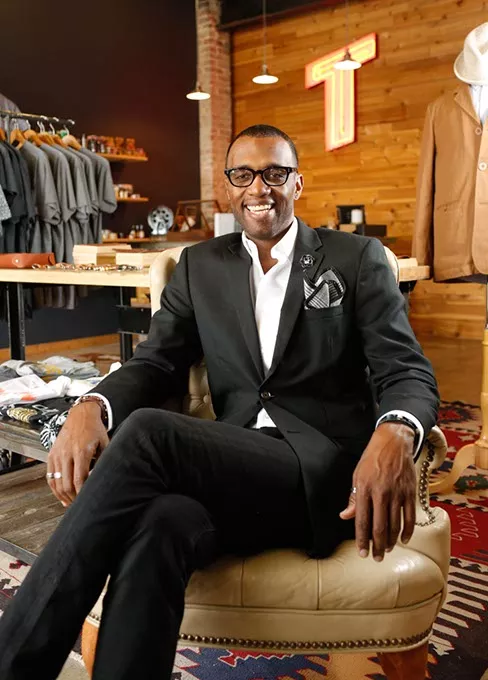 Garett Fisbeck
Kevin Samuels poses for a photo at Trade Men's Wares in Oklahoma City, Monday, June 27, 2016.
With only seven seconds to make a first impression, Kevin Samuels, founder of Life & Style by Kevin Samuels, knows exactly what he's doing. Samuels says the best time to dress with a purpose is always, which he proves before uttering a word.
He stands tall to give a firm handshake, wearing a black jacket and matching, pressed-neat denim. His monochrome look is finished by a flawlessly folded black-and-white plaid pocket square, a silver flower pin and an elegant black nose ring.
"Even when you're going out to get a carton of milk, go change," Samuels said. "You never know who you're going to meet."
As a kid, he knew he had a flair for making fashion statements, even if nobody saw.
"I laid out my pajamas and made sure they were pressed," Samuels said. "I go to sleep thinking about it. I wake up thinking about it. Yeah, I love this."
He said his mother frequently questioned him, but nonetheless, the women in his family were very supportive and truly a catalyst in helping Samuels learn about fashion and eventually discover a unique career path.
Although he had an obvious knack for putting together a proper ensemble, it didn't become a way to earn a living until he stumbled upon styling during another job. He said he worked in marketing and a coworker asked for fashion help. Interested and willing, Samuels agreed, only to be asked how much it would cost for his advice.
Realizing that he could make money doing his passion, he became an image consultant.
"If someone will pay you for your advice, you're a consultant," he said.
Since then, Samuels has been confident in his ability to form perfect looks for clients.
"If you don't have the eye, you don't have the eye," he said. "Style is unspoken communication. It separates you into the winner category."
His business is best defined as personal brand-building. Each client gets different results because Samuels doesn't market any brands, which allows him to be objective.
"I put together the products," he said. "I don't make products."
Samuels believes this approach leads to a more authentic experience for his clients.
To begin the process, he offers a free consultation if scheduled from his website, kevinrsamuels.com. Potential clients feel at ease and can learn if he's the right stylist for them over the phone. Then Samuels moves forward with styling each person in a way that makes them feel their best. It's not his intention to make everyone look like they're walking in Paris Fashion Week but to make them display enough confidence to feel like their world is a runway itself.
He reminds each client that looking good is the first step of making a good impression. Also, he said a personal scent is the most important piece of the puzzle when getting ready each day.
"It's the exclamation point to your style," Samuels said. "Everyone should have a signature fragrance to go with their signature brand."
Samuels believes in supporting local businesses and uses them as much as possible. He sees the potential that OKC has to grow, so he brought his out-of-town experiences back home and is here to stay.
Visit kevinrsamuels.com and facebook.com/lifeandstylebykevinsamuels.
Print Headline: Life, style, Kevin Samuels designs confident, appropriate style for his clients.