Shannon Cornman
Riley Ann Taylor runs the Obstacle Course at Science Museum Oklahoma while her sister Alexandra anxiously waits her turn.
Science Museum Oklahoma is widely known for its hands-on, physical approach to exploring the wonders of science. Its newest interactive exhibit, Power Play, embraces that theme by offering visitors the opportunity to discover the potential of the human body.
Visitors can test their speed, strength, stamina, balance and flexibility across the 4,000-square-foot exhibit on the second floor of the museum.
Power Play includes a timed obstacle course and climbing wall for small children and a timed two- person, 50-foot dash course, tug of war and other equipment created to measure physical challenges.
"For a kid, this is just play," said museum Planetarium Director Wayne Harris-Wyrick. "If they learn something along the way, it's a bonus."
Harris-Wyrick researched the information for the text and photos on display throughout the exhibit. The signs highlight famous Oklahomans known for their athletic achievements, including former champion boxer Sean O' Grady and Maria Tallchief, the first Native American prima ballerina of the New York City Ballet.
Additional informative signs instruct visitors on how to interact with the exhibit and explain what a world- class athlete could achieve using the same equipment. (See box for details.)
Suzette Ellison, museum vice president of interpretation, said that the human body truly is a machine that many of us take for granted each day.
"Power Play not only gets kids moving, but it also inspires the conversation among adults and children about the ways in which our body's work, the importance of taking care of ourselves and choosing the right foods to maintain a healthy body," Ellison said. "The exhibit encourages kids to challenge themselves, as well as strike up friendly competition with friends. We have always been a museum that encourages loud voices and playing. Now we want families to get to running, jumping and climbing through the physical challenges found inside Power Play."
Ellison said Power Play most likely will appeal to children ages 6 to 12 but also has a mini ropes course for younger, budding athletes up to age 4.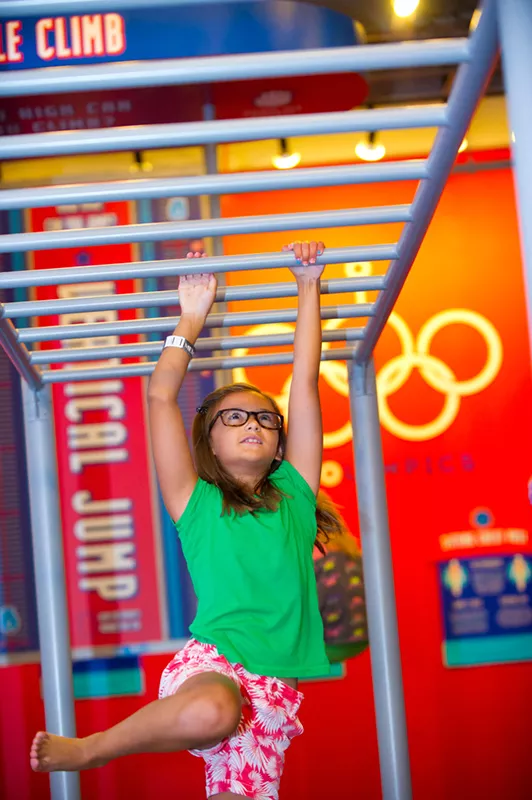 Shannon Cornman
Skylar Lawrence works her way across the horizontal ladder at the fairly new Power Play exhibit at Science Museum of Oklahoma.
Power Play facts
Tug of war: "Did you know that Tug of War was an Olympic sport from 1900-1920? Over that period, Great Britain won two gold medals and [the] U.S.A., Norway and Sweden won one each ..."
Balance: "While no competitive records are kept of balancing, the Science Museum Oklahoma staff competed against each other to test how long each could maintain his/ her balance. Our best time was four minutes, 12 seconds."
Rock climbing: "In 1993, American competitive climber Lynn Hill made the first free-climb ascent of the 3,000-foot, sheer rock face known as "The Nose" of El Capitan in Yosemite National Park. Many other climbers had conquered "The Nose" before, but none had done so without the aid of ropes and other equipment. For years, this [was] the most coveted goal in the world of rock climbing. She repeated it a year later, in less than 24 hours."
Print headline: Power of one,
Science Museum Oklahoma's Power Play exhibit encourages visitors to test their physical prowess.