provided
Deezy's song "Rollin'" has been featured on Wild 104.9.
Homecoming Kingz
9 p.m. Saturday
51st Street Speakeasy
1114 NW 51st St.
51stspeakeasy.com
405-463-0470
Free
Hopefully Dallas-based hip-hop artist Motian's return to the Oklahoma City area will go smoother than when his family first moved him here at age 12.
"I came from Tehran, Iran, in 2001 right before 9/11 happened, and I'm in Moore, Oklahoma, so it wasn't the most diverse place in the world to go," Motian said. "I didn't speak any English at all. So one of the big challenges for me was, How do I communicate? … The one thing that bothered me the most is I was unable to verbally stand my ground. I could physically fight, but you can't fight the whole world. I wasn't able to really get my message across. That was probably the most frustrating part because I had to internalize everything."
Motian performs with several other hip-hop artists with local ties at Homecoming Kingz Saturday at 51st Street Speakeasy, 1114 NW 51st St. He began connecting with other students at afterschool rap battles.
"There were these cool guys that were telling the story, and everybody was listening to them," Motian said. "So that's what I wanted for myself. … Towards my senior year of high school, that's when I really got involved in music."
In a studio he shared with his cousin, producer and film director Nima T, Motian said he first began to learn to make music.
"It was really bad at the time, as you can imagine," Motian said. "There wasn't anybody like, 'Hey, this is how you make rap music.' … In the past few years is really when I've kind of got the business side of it down, so now I'm getting more aggressive with the marketing, with the content and now I have direction as to where I want to go and how I want to go."
His song "Walking Tall" and the accompanying video directed by Nima T offers encouragement to kids struggling with bullying and suicidal thoughts.
"I had a good support system that got me through it, but I felt like a lot of kids out there don't have something like that," Motian said. "When they go home from school after all day being bullied, they might also be bullied by parents, stepparents or whomever it may be. My goal with 'Walking Tall' was to really shine a light on this issue, just kind of help kids see that you don't have to take your own life. You don't have to end it short. There's going to come a time where you can look back at it and be proud of yourself for how far you came."
Who's next
Thomas Who moved back to OKC in August after living in Dallas for several years and is also scheduled to perform. Who said his most recent album, Who Knew? is his most personal project.
provided
Thomas Who recently released the single "ABNL (All Blessings No Luck)" from his upcoming album Splash.
"It was a very transparent, open, vulnerable, uncomfortable project," Who said, "so if nobody knew who I was as an individual, they'd be able to take a listen to that project and kind of get a wide-range understanding of exactly who I am and what I represent and what I stand for, what I've been through, so on and so forth."
"Like Father Like Son," for example, details depression and intimacy issues caused by a complicated relationship with his father.
"That was one of the most difficult songs I've ever written in my life because when you have people that have parental issues, sometimes there's still time to resolve it," Who said. "My pops is dead, and there was no resolution. … That's an ugly, sad, vulnerable story to tell, but it's a part of my truth."
His contributions to The Space Program collective, which released the album Curriculum of the Mind in April, relate his experience as a black college athlete at a predominately white university.
"Football kind of saved me," Who said. "I'm a fat kid from the east side of Oklahoma City, and I've done all of the dumb things, the selling drugs, the getting shot at, the shooting guns, being in crazy violence, but I'm 6'5" and at that point, I was 300 pounds and could run a five-flat 40. … My 10th-grade year, my football coach at Northeast High School basically begged me to come play ball, and it allowed me to go to a university. … It opened me up in a lot of ways; however, you do feel like an alien in those instances, too."
At University of Tulsa, a private, predominately white school, he said some professors treated him like "a jock who had no common sense."
"A lot of times, we as athletes, and just being completely transparent, we as black men, get this label, like if you're a bald-headed kid with a beard and hood tattoos, you have nothing to say that is of any value, you have no redeeming qualities. If you blew out your knee right now, nobody would give a damn about you," Who said. "We had to speak to that. That was my experience."
After two introspective albums, Who said his upcoming release, Splash, will be more fun.
"Splash gave me the ability to look into the mirror and say, 'Say, bro, just have a good time,'" Who said. "Let me just be honest and know that, yeah, I enjoy Talib Kweli, but I also listen to DaBaby. I'm not going to act like both of those things aren't happening."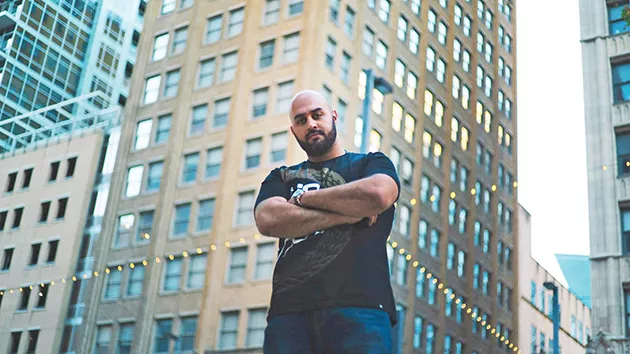 provided
Dallas-based artist Motian performs with several other hip-hop artists with local ties at Homecoming Kingz on Saturday.
Deezy uneasy
Deezy, another OKC-based member of The Space Program, is also scheduled to perform. Working on Curriculum of the Mind gave him a chance to talk about his own experiences as a young black man.
"My parents were really big on pushing me towards college," Deezy said, "but at the same time, my dad is a college grad and he worked in corporate America. He had a glass ceiling over him where he's outperforming people, he's more qualified than certain people, but he's been stuck at the same salary and not being promoted while all his white counterparts that are less qualified and aren't really taking on as much work or doing work as good as him are being promoted around him. … I'm looking at him like, 'Why the fuck am I going to go to college and do the same thing that he's doing?'"
Like Motian and Who, however, Deezy said his music covers a complex array of moods and feelings.
"I'm a really versatile artist," Deezy said. "On one track, you might hear me get really deep or get political or it's life-experience-type stuff, and then I've got tracks like 'Throw It Down,' where I'm talking to females. I have turn-up tracks. I have a song called 'Rollin'' that was on 104.9."
His upcoming project, Aporia, is a five-song music video EP about "wanting something and not wanting it at the same time," more specifically the difficulty he has reconciling his public and private lives as an artist and entertainer.
"You wanted this success so bad," Deezy said, "but now that you start getting it, now that you see how it's affecting other things in life, you start to question whether you really want it or not."
L-Smooth Mensah, Eclipse Darkness, Druce Wayne and Jacobi Ryan share the bill. Admission is free. Visit 51stspeakeasy.com.