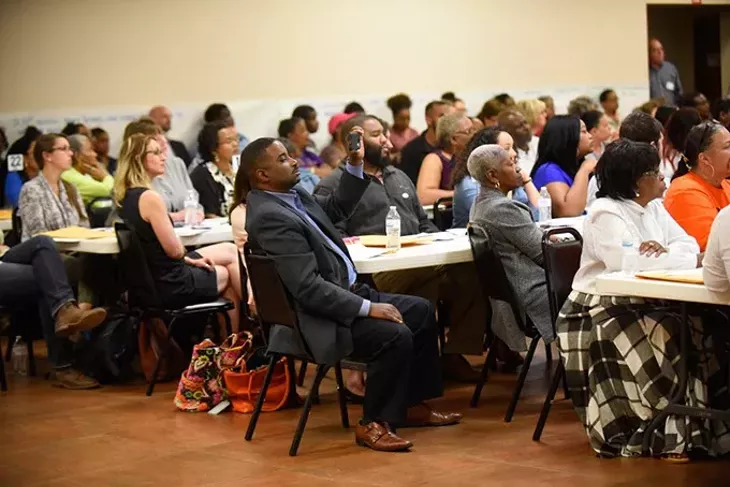 Garett Fisbeck
Community members listen during a OKCPS Charter School expansion meeting at Fairview Missionary Baptist Church, Tuesday, April 5, 2016.
Earlier this month, the Oklahoma City community began a discussion about altering public education after three charter schools sought to become bigger and more established players in the city's education arena.
Charter school expansion in Oklahoma City Public Schools (OKCPS) is a hotly debated topic with passionate views on both sides. However, all agree on one point: the need for an education system that prepares every student to succeed.
In their 14 years educating students in grades fifth through eighth grades, leaders of KIPP (Knowledge Is Power Program) Reach College Preparatory say that's exactly what they've built in rented classroom space at F.D. Moon Elementary School. KIPP parent and volunteer Gary Jones used data to back up his claim. As the first KIPP leader to address the crowd of more than 150 at the first district-sanctioned community meeting on April 5, he evoked in people their desire for each student to learn.
Garett Fisbeck
Gary Jones, KIPP parent, speaks during a OKCPS Charter School expansion meeting at Fairview Missionary Baptist Church, Tuesday, April 5, 2016.
"We want to make sure everybody understands something," Jones said. "A lot of people think this is about the 'who gets' and the 'who don'ts.' It is really about all of us getting the same thing."
KIPP offer
KIPP leaders proposed creating a "world-class" elementary school in northeast Oklahoma City and eventually expand into a high school model. Over time, they want KIPP to move into the city's southern quadrant.
Serving northeast neighborhood students in prekindergarten through eighth grades, KIPP wishes to locate in an existing OKCPS building suitable for 900 students. Additionally, the charter would expand its network into a local high school utilizing classroom space, but share certain facilities such as bathrooms, the cafeteria and library.
First established in Oklahoma City in 2002, KIPP is known for providing quality education to low-income minority students through longer school days and its goal to send all its graduates on to higher education. Four years ago, KIPP's success was recognized by the U.S. Department of Education with the coveted National Blue Ribbon Schools Award.
KIPP was the first charter to publicly share its proposal. Through a partnership with The Inasmuch Foundation, local nonprofit Possibilities, Inc. is facilitating public forums. Each begins with charter leaders outlining possible plans, followed by groups presenting hopes and concerns and concluding with charter leaders answering questions. Two additional KIPP expansion meetings are planned this month.
Fellow charters John Rex Charter Elementary School and Santa Fe South will present expansion plans in similarly formatted meetings facilitated by Possibilities later this spring.
Growing presence
It's arguably an important time for parents, community members, teachers and education leaders to take part in the forums. OKCPS leaders repetitively stressed they would foster public participation before any charter school proposals would be considered.
However, charter presence has steadily grown in the district for years without a public conversation. During the 2007-08 school year, 12 charters authorized by the district served 3,718 students. Three academic years later, the number grew by 1,071 as the district authorized 13 schools.
Currently, 4,809 students attend 11 charter schools sponsored by OKCPS, according to the 2014-15 Statistical Profile. There are 371 students at John Rex, which is listed in the district's profile but sponsored by the University of Oklahoma.
A year ago, the Oklahoma City Board of Education approved contracts to expand the number of students served by Santa Fe South elementary, middle and high schools. The 2015 proposal with Santa Fe South to absorb OKCPS' south side students passed with a unanimous board vote.
Eight months ago, the board approved a contract to sponsor the newly established Lighthouse Academies of Oklahoma City, which serves 263 students in prekindergarten through fourth grades.
During that month, a bill to amend the Oklahoma Charter School Act became law. For the first time, charters could locate outside of Oklahoma City and Tulsa metro areas. Now, school districts can adopt charter models and operate district schools as charters.
OKCPS could become one of the first districts to apply aspects of the new law if the eight board of education members approve an expansion plan.
Opening doors
KIPP leaders desired to expand charter reach in Oklahoma City before its presentation at the February school board meeting, said Tracy McDaniel, the school's principal.
In 2014, a $1.05 million grant was awarded to KIPP from the Inasmuch Foundation, which donates to public and charter schools. The funding allowed the charter to begin growing its model by paying for staff training for new schools and producing a feasibility study. At that time, KIPP planned to grow to a five-school model and serve over 2,500 students per year.
Garett Fisbeck
Tracy McDaniel, KIPP administrator, speaks during a OKCPS Charter School expansion meeting at Fairview Missionary Baptist Church, Tuesday, April 5, 2016.
Talk of charter school expansion has received some pushback, most notably from the teachers union. At the first community meeting, opposition flyers were scattered on tables from the Oklahoma City Federation of Classified Employees, AFT Local 4574 — a union for district employees.
Typically, teachers unions rally against charter school proposals, as they fear job losses and that state money might be transferred from the district to charters.
Charters generally have a mixed record, but many in Oklahoma City have brought about better academic outcomes for students than traditional schools.
Seven of the 11 charter schools authorized by OKCPS received a grade of B- or higher on the Oklahoma Department of Education's most recent A-F report card.
However, in 2013, poor academic performance mixed with financial mismanagement led the district's board to end ties with and close Marcus Garvey Leadership Charter School.
Other concerns expressed at the meeting included KIPP's ability to serve students with behavior issues and special needs.
If the district approves KIPP's expansion plan, McDaniel said the school wouldn't "cherry pick" students. KIPP accepts all children within the school's boundaries, just as regular public schools do.
"If you are satisfied with what you have, that's a problem," McDaniel told the crowd. "We shouldn't be satisfied with what we have. I am looking for a solution. What is best for our community?"
Print headline: First offer, OKCPS is no stranger to charter growth, but now conversation is a public discourse.