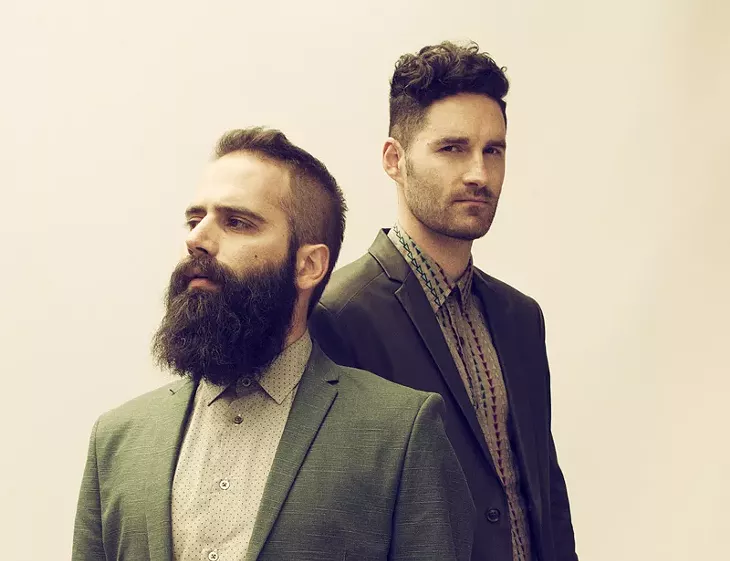 Center of the Universe Festival
featuring Capital Cities, Young the Giant
AWOLNATION and more
Friday-Saturda
Downtown Tulsa
centeroftheuniversefestival.com
$35-$50
There's a certain sense of delicious irony to the success enjoyed by the creative partnership of Ryan Merchant and Sebu Simonian over the past year or so.
Before Capital Cities even came to be, the two worked together in the fast-paced world of jingle writing and ad campaign music composition, facing their share of criticism, creative compromise and outright rejection.
But with the duo's debut album, In a Tidal Wave of Mystery, those discarded musical scraps — inspired by acts as varied as The Beatles, Depeche Mode, Radiohead and Air — were molded into well more than an island of misfit toys. Merchant and Simonian would eventually take them from small club shows in their hometown of Los Angeles to their current slot opening for Katy Perry on her current U.S. tour and headlining performances like this weekend's appearance at Center of the Universe Festival.
Still more juicy is the ubiquitous nature of US Alternative Songs chart- topping "Safe and Sound," a song that has gone on to be placed in commercials for Mazda, HBO, Smart Car, Microsoft and more.
"We were always having to come up with lots of ideas," Simonian said. "Some of them were so interesting we used them in our music after having been rejected by the commercial we were working for in the first place."
For all the harsh realities of commissioned work, there were more than a few silver linings, though. The demand for grabbing someone's attention quickly and working even quicker are useful lessons have continued to pay dividends.
"In that world, you have to work really fast, and we apply that mindset to Capital Cities," Simonian said. "It's not pigeonholing yourself and incorporating lots of kinds of music and also trying not to dwell on the details and make decisions relatively quickly."
It's funny that a band favoring such a rapid-fire approach has enjoyed such a slow burn; "Safe and Sound" was first released back in 2011 and is still readily played on Top 40 radio, and In a Tidal Wave of Mystery is still birthing fun, funk-bent indie-pop singles like "Kangaroo Court," "I Sold My Bed, But Not My Stereo" and its latest, "One Minute More."
"We're kind of riding that wave and allowing for it to do its thing," Simonian said.
Even in the midst of a demanding, near-ceaseless tour schedule, Capital Cities has ground through the past few years. The creative partners are at work on new material, jotting down ideas and recording sketches for songs on the bus between shows.
But the heavy lifting won't come until 2015, when the live shows slow down in favor of studio time, allowing Capital Cities to flesh out and refine these earliest drafts described as a little more experimental and possibly less dance-hook heavy.
"The overall feeling and general approach is going to be the same," Simonian said. "We're just trying to create interesting, provocative songs that are going to make the listener want to tap their toes. I have a good feeling about the future of the relationship with our fans."