Bigstock.com
New laws make it illegal to shackle pregnant inmates while they are in labor.
Twenty-six-year-old Kayla Jo Jeffries remembers the night she gave birth to her now 2-year-old daughter, Emersyn, the way most women do — as if it were yesterday.
Her experience might have been memorable, she said, but it wasn't enjoyable. Her partner wasn't holding her hand, and the waiting room outside wasn't filled with adoring family members waiting to don the new baby with infant onesies and handmade baby blankets.
Instead, Jeffries said, she had never felt so alone in her life.
"It was just me and the hospital staff in the room," she said. "I had 48 hours with my baby. After she was born, I was taken to a dark room on the very bottom floor of the hospital."
Jeffries was an inmate of Mable Bassett Correctional Center when she went into labor. When she started having contractions before her daughter's birth, she was transported to OU Medical Center by a security officer.
After 18 hours of labor, she bonded with her daughter briefly over two days, given ibuprofen and transported back to prison.
The silver lining, Jeffries said, was that her mother and sister were granted custody of Emersyn.
Jeffries said her fellow inmates know they might never see their babies again.
On Dec. 5, Gov. Mary Fallin granted Jeffries and two dozen other inmates commutation that erased her 20-year conviction and allowed her early release from prison.
The commutations came a year after Oklahoma voters passed State Question 780, also known as The Oklahoma Reclassification of Some Drugs and Property Crimes as Misdemeanors Initiative.
The new law lowered the charges of certain nonviolent drug- and theft-related crimes from felonies to misdemeanors, which carry a maximum penalty of a one-year prison sentence and a $1,000 fine.
Under the new law, Jeffries' methamphetamine possession wouldn't have given her a 20-year prison sentence, a felony conviction and the experience of having delivered a child as a prisoner.
"I know everything happens for a reason," she said, "but I wish I could have had the chance to get to know her more back then."
Today, Jeffries said she sees her two children almost every day.
While an earlier passage of SQ780 could have spared Jeffries the experience of delivering a baby as an inmate, House Bill 3393 could have made the process a little more comfortable.
In shackles
Fallin signed HB3393 into law in May, effectively making it illegal for correctional facility workers to shackle pregnant inmates who are in labor.
The bill's author, Rep. Regina Goodwin, D-Tulsa, said her motivation to pass the bill came after formerly incarcerated women shared stories of being shackled to hospital beds while they were in labor.
"They told me the same story: that they were chained by their right ankle and right wrist during delivery," she said. "Hearing their stories about how painful it is, how degrading it is, how they would have a male guard in the room while they are exposed — I just think these women are entitled to some decency and some privacy while they're delivering a child, and also for the safety of the baby, the doctor needs to be able to have these women push without being chained to anything and having these obstructions."
Goodwin's bill focuses on safety and states that the "least restrictive restraints on pregnant inmates" should be used. The law additionally states that jailers are prohibited from placing pregnant women in any kind of position that could harm the health of her unborn child, including facedown or being linked to another inmate.
Most pleasing to Jeffries is that the law requires that correctional officers and hospital staff allow one supporting person to be in the delivery room with an inmate when she goes into labor. That supporting person can be a doula, a member of the clergy or a family member.
"My mom is my best friend," Jeffries said. "I would have loved to have had her with me."
The harm that can result from shackling a pregnant women became clear after a 2008 report filed by U.S. Department of Justice's Civil Rights Division revealed that a woman detainee of Oklahoma County Jail was in premature labor three months early when she was left handcuffed to a wall for 10 hours with no medical treatment or help despite crying out for it. The infant died shortly after it was born, the report said.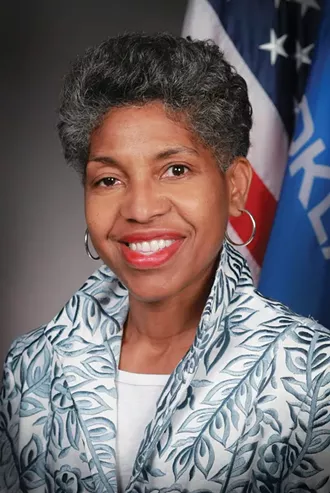 provided
Regina Goodwin authored a bill that prohibits the shackling of pregnant inmates while they are in labor.
While Oklahoma ranks first in the nation for the number of women incarcerated per capita, Department of Corrections spokesman Matt Elliott said most of those women are not pregnant.
The Department of Corrections currently has 14 inmates who are pregnant.
Pregnant inmates, Elliott said, are able to go to doctor's appointments within a prison's medical services unit.
When the women go into labor, a correctional officer has to accompany them from jail cell to hospital room.
"If it happens often, it puts quite a strain on our resources," he said.
Oklahoma City certified doula Brittany Chavez said it's imperative that inmates going into labor get the same level of quality treatment that other women receive.
Good treatment, she said, ranges from access to medication to emotional support.
"It's horrific that nonviolent women were ever shackled to a bed while giving birth," she said. "Studies have shown that giving birth while laying on your back is counterproductive. It limits the flexibility of the pelvis and actually makes the birthing process more difficult for the mother. That difficulty often translates to the mother needing additional medication and experiencing possible complications. Having freedom of motion is vital in the delivery process."
Just having a hand to hold during the process can significantly impact a woman's delivery experience, Chavez said. Emotional support can reduce a laboring woman's blood pressure and anxiety levels.
Postpartum, Elliott said, women are given the same kind of treatment that noninmates receive, including being prescribed their necessary medication.
"Controlled drugs like opioids can be prescribed as medically necessary, but they are prescribed in a tightly controlled and monitored fashion," Elliott said.
Despite Jeffries' memories of isolation post-partum, Elliott said there is not a separate recovery area for women inmates within OU Medical Center.
One thing Jeffries remembers vividly, she said, was being shackled while pregnant. Though correctional officers did not require her to be shackled during labor, Jeffries said she was shackled when she was taken from Oklahoma's County Jail to the hospital for doctor's appointments. She's thankful, she said, that women will not have to undergo the same experience moving forward.
Catching up
Oklahoma's recent sweep of criminal justice reform is a reflection of a national movement.
On Dec. 20, federal bill First Step Act was passed in the House and lists a number of criminal justice reform measures including a mandate that federal prisons provide feminine products, like pads and tampons, to female inmates for free.
The Senate previously passed the measure, and it will become legal if signed by the president.
Elliott said Oklahoma is one of several states that have joined the movement to provide women free feminine products.
"We provide them for free," he said. "However, feminine hygiene products are also sold on canteen if someone wants to buy a specific type or brand."
Prison might be a bit nicer since Jeffries left, but she's still glad she's out.