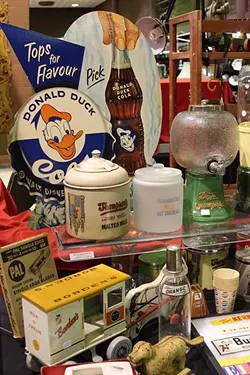 Now in its sixth year, OKC Land Run Antique Show is changing venues to showcase more than 50 vendors selling genuine antiques and vintage items.
The event, previously held at the Fairgrounds, is 9 a.m.-5 p.m. July 15-16 at Cox Convention Center, 1 Myriad Gardens. Wayne Dudley, regional manager of Heritage Event Company, said Land Run Antique Show's aim toward authenticity is what sets it apart.
"Our show is billed as an antique show, and we are protective of that brand," Dudley said. "We really want to make sure the dealers who participate carry legitimate antiques and vintage merchandise. We distinguish ourselves from some of the other shows that have few legitimate vintage and tend to be more crafty or vintage-inspired."
History lesson
It's also a great opportunity for antique fans to learn more about their own collections from vendors that specialize in a variety of antique artifacts.
The event spans 50,000 square feet of venue space and features dealers from across the country selling jewelry, furniture, books, art, cameras, dishware, glass, Western memorabilia, vintage firearms, ceramics, records, home decor and other unique collectibles.
Some vendors use antique objects and repurpose, or upcycle, them to create new items like fashion jewelry or shabby-chic furniture.
For those looking for quirky items to add flair to interior spaces, there are plenty of vintage advertisement posters, light fixtures and lamps, rugs and sculptures. Collectors of vinyl or books can browse for new additions to their library.
From fine art to kitschy tchotchkes, Dudley said the event offers items in every price range.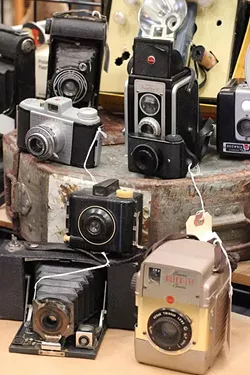 Happy memories
Dudley manages the event and is also a dealer.
"My merchandise centers around vintage utilitarian items, such as old telephones or old cameras from the 1800s to the 1960s — colorful plastic cameras that people remember when they were growing up," he said. "When people walk into my booth, I just see smiles. It's the nostalgic factor that draws people in at these shows."
About 2,500-3,000 people attend each year, but Dudley expects to see up to 4,000 during this year's event. He said the new location downtown should entice more visitors.
"We think the move downtown is a good marriage. Since our show is so close to Bricktown, we are encouraging our customers to come make a day of it," he said. "Come shop the show, then go to Bricktown for a good meal and a little entertainment."
Weekend general admission is free-$6. Visit heritageeventcompany.com or call 918-619-2875.
Print headline: Prime vintage, Land Run Antique Show brings authentic vintage wares to Cox Convention Center.