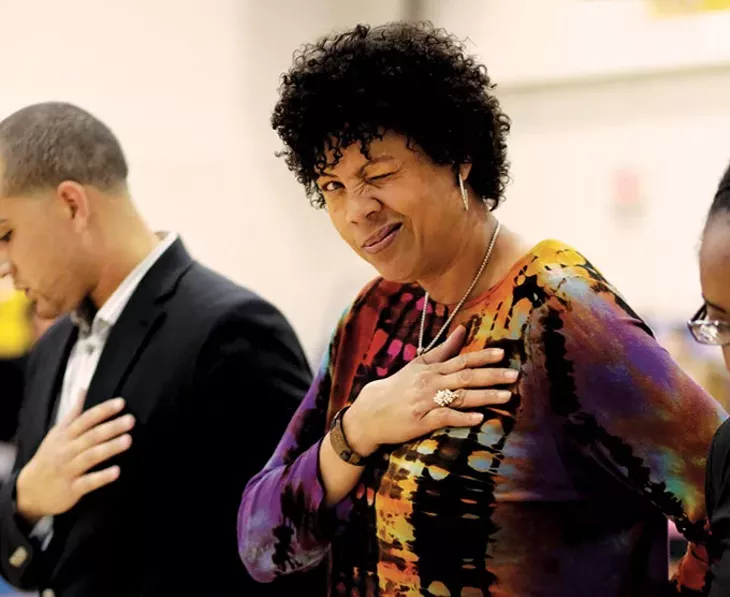 Lauren Hamilton
Cheryl Miller winks at the camera before coaching the Langston Lady Lions against Southwestern Christian University in Oklahoma City. The Lady Lions are unbeaten with a 7-0 record so far this season.
As the pep band played just a few feet away and the small crowd sounded about five times larger in the cramped college gym, Lulu Perry leaned in closer in an attempt to hear her coach during a first-half timeout.
Staring back at Perry was one of women's basketball's most decorated icons, a former Olympic gold medal winner and a member of the Naismith Memorial Basketball Hall of Fame.
"It's special," Perry said about having Cheryl Miller as her basketball coach.
Langston University's hiring of Miller to coach the Lady Lions might be one of the most underrated local sports stories of the past year. This small, historically black university a 30-minute drive north of Oklahoma City raised eyebrows earlier this year when Miller was announced as its new coach.
The Lady Lions opened its season at Southwestern Christian University, a venue that is certainly different from the NCAA and professional arenas where Miller has played, coached and worked as a television analyst for TNT.
The first game was nerve-wracking. However, Miller passed the test. Langston, which plays in the National Association of Intercollegiate Athletics, won its first season game 60-57.
Miller let out an ironic laugh when congratulated on the win.
"We'll take it," Miller said. "But Southwestern outplayed us. We got exposed tonight."
Miller's career included a fiery personality that she said was a necessity growing up playing with her two brothers, which includes NBA great Reggie Miller.
"Cheryl was the king of the block, and that was over the guys and the girls," Reggie said in the ESPN documentary Winning Time: Reggie Miller vs. the New York Knicks. "She jumped the highest, she played the hardest and she hit the hardest."
In just one game, the Lady Lions appeared to have a bit of their coach's personality in them, including Perry, who wrestled the ball from two opposing players on the floor and would slam the court with her hand in celebration after driving into the lane, scoring a basket and picking up the foul.
"I love the game of basketball, so I try to play with as much energy as I can … as much as the referees let me," Perry said. "[Miller] pushes us a lot. She allows us to play basketball. That's what I love most about being here. She allows us to do what we are best at."
However, Miller said that personality in some of her players existed before her arrival.
"That's their makeup, too," Miller said. "It just so happens that they've got a very wiry and fiery coach and some of them play like that."
During its three-point win, Langston showed speed, size and physicality, even if it wasn't as consistent as Miller would have liked. Combine that talent with the presence of an iconic coach and the expectations are high this year for the Lady Lions.
"It was fun," Miller said about being back on the court.
Miller is used to the questions about why she chose Langston, but she always calls it a "great fit" and believes there is a chance to raise the profile of the program to a national level.
"I love the location, love the people, love the excitement; people are excited about this program," Miller said. "And they should be. We just have a lot of work to do."
Print headline: Miller time, The Langston Lady Lions are the team to beat this year thanks to its new coach, the legendary Cheryl Miller.