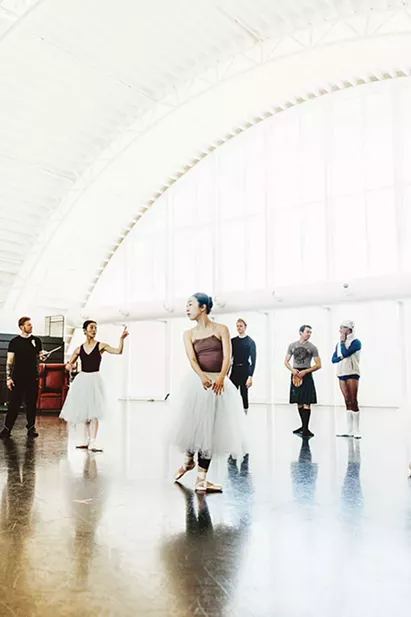 Alexa Ace
Miki Kawamura second from left and Dayoung Jung center rehearse for Oklahoma City Ballet's La Sylphide.
James, on his wedding day, wakes to a winged fairy kissing his forehead. He reaches for her, but she disappears up the chimney, leaving James to pine for a fantastic being he has no hope of holding onto. So begins August Bournonville's La Sylphide, choreographed in 1836, which makes it one of the oldest ballets still being danced today.
Oklahoma City Ballet, with staging by Jacob Sparso and orchestration by Oklahoma City Philharmonic with guest conductor Andrews Sill, performs La Sylphide Friday-Sunday at Civic Center Music Hall, 201 N. Walker Ave.
When principal dancer Miki Kawamura plays the role of the Sylph on Saturday, she said it will be the last time she takes the stage as a dancer after nine years with the company. She will continue in her role as a ballet master, helping other dancers rehearse their roles.
"A lot of things came into this decision," Kawamura said, "my age, my accomplishments, and I've been a principal dancer and ballet master both. I've been doing that for a couple of years, but this season, I felt like the dancers needed me as ballet master, like a hundred percent ballet master. So it's kind of hard to ignore for me. On top of thinking of what I have done as a dancer and where I am at in life, I'm seeing what dancers need."
Kawamura said she chose La Sylphide as her final performance because she wanted another chance to work with Sparso, who she worked with when she originally came to OKC.
"I could have finished the season," she said. "I could have retired in April, but April will be a triple bill, and I don't really have any attachment to those ballets we are going to do."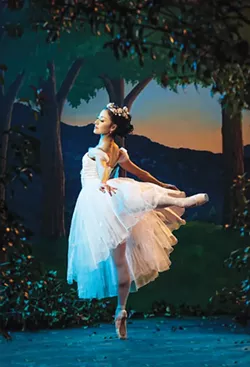 Oklahoma City Ballet / provided
Miki Kawamura makes her final appearance as principal dancer in Oklahoma City Ballet's La Sylphide. She will continue with the company as ballet master.
Scheduled for April 19-20, Visionaries: A Triple Bill features contemporary works by Robert Joffrey, George Balanchine and Cayetano Soto Ramirez. Joffrey's Pas de Déesses will be making its OKC premiere and Ramirez' as-yet-untitled ballet, created for OKC Ballet, will be making its world debut. Though Bournonville's version of La Sylphide is one of the world's oldest surviving ballets, Kawamura has never danced it before.
"It's another challenge, a different challenge," she said. "It's not really commonly done, this ballet. It's not like Swan Lake or Sleeping Beauty that everyone does. This one has a style that's different from how I trained. Jacob grew up taking this kind of class in this style, so the movement is really natural to him, but here I am struggling. … I should have picked something that comes naturally to me, but I think that is another reason why this is perfect one for me to retire on, because I've always loved learning. So, until the end, I am still learning."
Kawamura said she was unsure what makes La Sylphide's style so difficult for her.
"It's a short ballet," she said. "If you count how many minutes I will dance within two acts of ballet, it might not be a lot compared to other classical ballets. … I don't know why I get so tired, but the next day I'm drained. … It doesn't look that, I don't know, physically hard, but somehow it's packed in that short time and you have to jump and be en pointe. There's not much time to rest. When you're onstage, you've really got to fly."
In addition to the physical demands, fitting her performance to the ballet's score has proved challenging for Kawamura.
"The musicality is something I'm not used to, this kind of musicality," she said. "Of course, the music helps you jump or move, but because I'm not used to this kind of musicality, it's kind of, like, not even helping."
Oklahoma City Ballet / provided
Miki Kawamura right and Ronnie Underwood in Jacob Sparso's The Phantom of the Opera.
When the Sylph reappears at the end of act one, James, cursed, can't help but follow her into the woods, where she shows him her magical domain but remains ever out of reach. When he catches her, they will both be undone. Kawamura said dancing the role feels more demanding than anything she's done before, but that might be because she knows she's going to retire.
"I didn't really feel this much physical tiredness until this ballet," she said. "There's something about this ballet. I don't even know why. … Maybe I'm mentally relaxed or something already. … And it's stressful, too. It's frustrating because I was always strong, fine. I didn't really get that tired. I didn't let the feeling of getting tired take my body over, but now I'm so exhausted. I hate even saying it out loud, but it's happening. Maybe it's mental."
Kawamura said she has no regrets about her time dancing in OKC. There were no roles she wished she could have danced but didn't.
"I've enjoyed everything, everything I did, everything I performed," she said. "I got to do everything I wanted to do here, so I'm really blessed in that sense."
Some of her personal highlights include shooting a popular promotional photo capturing her midair, wearing a tutu and an Oklahoma City Thunder jersey just about to slam-dunk a basketball, and being promoted to principal dancer in 2013 following her performance in Swan Lake. She also fondly remembers the night her frequent dancing partner Alvin Tovstogray was promoted to principal dancer after they performed in Romeo and Juliet together. Tovstogray is dancing the part of James in La Sylphide, giving the pair the opportunity to dance together onstage a final time.
In her years with OKC Ballet, Kawamura said she has seen the city become more interested in ballet, a trend she anticipates will continue in the future.
"There's more support every season," she said. "The city and the company have been growing together, so I think that's great."
Tickets are $15-$65. Visit okcballet.org.