There are some days you just can't make time for dinner until late in the day, and at that point who wants to cook? Here are seven kitchens that are open late so you can have a great meal, no matter how late it is.
Guyutes
730 NW 23rd St.
guyutes.com
405-702-6960
Guyutes is an experience you don't want to miss if you're pursuing the streets of Uptown 23rd looking for a late-night bite. Enjoy rooftop seating with incredible murals and a great view of the district, or dine inside with retro decor, either way you're in for a treat. Their unique menu boasts a variety of interesting cocktails and culinary delights and they offer several gluten-free and vegetarian options from 4 p.m. to 1:30 a.m. seven days a week.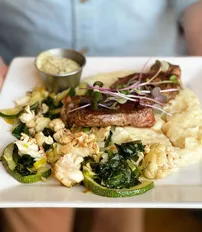 Scratch Kitchen & Cocktails
605 NW 28th St.
eatatscratch.com
405-602-2302
Excellent service, beautiful presentation and an array of flavors await you with the made-from-scratch options at the aptly named Scratch Kitchen & Cocktails. From their charred okra salad to shrimp and grits or the Wagyu sliders, there's something unique for everyone to try. Pair your meal with any one of their handcrafted cocktails for a delightful experience. Enjoy their delicious menu until 10:30 p.m. during the week and 11:30 p.m. on the weekends.
Social Capital
517 S. Hudson Ave.
socialcapitalokc.com

405-270-7805
Making their mark as a craft beer destination, patrons can experience open-air seating and a breathtaking view of downtown Oklahoma City at Social Capital. Enjoy an extensive selection of draft beer, wine and cocktails accompanied by an impressive menu that includes street tacos, salad, charcuterie and more. They are closed on Mondays, but you can make dinner selections until 10 p.m. or later Tuesday through Saturday (the kitchen closes an hour before the bar).
James E. McNellie's Pub
1100 Classen Dr.
mcnellies.com
405-601-7468
McNellie's is certainly known for a great selection of beer and they've got a diverse menu of classic pub favorites to choose from as well. From appetizers like pulled pork nachos to entrees like Cajun meatloaf or cottage pie, there is a dish for everyone to enjoy. Their kitchen stays open until 11 p.m. during the week, and until midnight on the weekends so there's plenty of time to enjoy a late dinner.
Open Container
502 E. 3rd St. #39, Tulsa
opencontainertulsa.com
918-895-5016
This family and pet-friendly restaurant is created from upcycled shipping containers and offers a stunning view of downtown Tulsa as well as some incredible local art. Enjoy the heated patio of the Tulsa Boxyard and a menu that boasts an array of tasty cocktails, brewed confections and of course delicious burgers, sammies and wings - including vegetarian options. Stop in later if you like — their kitchen closes at 10 p.m. each day, but the bar stays open late.
The GOAT Bar & Kitchen
222 S. Kenosha Ave., Tulsa
thegoattulsa.com
918-574-8461
Here you can enjoy internationally inspired dishes, creative cocktails and a vibrant atmosphere like no other in Tulsa. A newer restaurant in the Tulsa scene, The GOAT Bar & Kitchen bravely opened in 2020 during the height of the pandemic with a tasty and unique menu that includes a variety of salads, burgers, flatbreads, skewers and more all with a Mediterranean twist. The kitchen stays open until 10 p.m. on the weekdays, but serves until midnight on the weekends.
Nola's Creole & Cocktails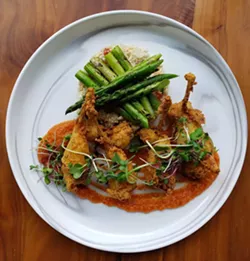 1334 E 15th St., Tulsa
nolastulsa.com
918-779-7766
Fried alligator, beignets, fried green tomatoes, and sauces made from scratch. Get a taste of New Orleans in Tulsa, Oklahoma. Nola's offers a vast menu of Creole and Cajun cuisine and a full-service bar serving craft cocktails, wine and beer in a New Orleans Prohibition-era atmosphere. Their kitchen stays open until 10:45 p.m every day so you can satisfy those Cajun cravings late.