Long before she was old enough to drive herself to a gig, Lauren Anderson would ride with her father around Chicago as he fed cassettes into the car stereo, steadily adding to her musical education. His choices often leaned toward rock operas like The Who's Tommy or the original cast recording of Jesus Christ Superstar, giving his daughter a sense of how to project her feelings.
Anderson, 30, who performs at 10:30 p.m. Saturday at Blue Note Lounge, 2408 N. Robinson Ave., gives her family credit for exposing her to a wide range of music. Whether it was classic rock or Ace of Base, she learned from it all and developed a powerful soul-blues voice — an instrument that compares favorably to acknowledged masters in her genre like Susan Tedeschi — in the process.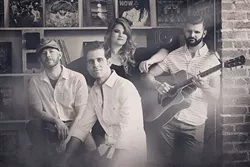 "But I've always sung," Anderson said during a phone interview as she drove from her home in Kansas City, Missouri, back to Chicago for Christmas. "It's kind of like the chicken and the egg — I don't know what started it because they tell me stories of, before I can remember, how much I sang. It was to the point of me interrupting my preschool teacher while she was explaining things because I had a song that I needed to sing to her."
That impulse never went away. Anderson wrote the 14 songs on her full-length debut, Truly Me, over the course of eight years, pouring everything into her lyrics without filtering much out.
"Sharing my songs is a really scary thing, just as it is for a lot of people," Anderson said. "When I write songs, I'm laying it all out there. But I'm really enjoying that now because now I have people coming up to me and saying that this or that song really meant something to them."
Healing notes
The therapeutic nature of Anderson's songs, both for the singer and her audience, dovetails with her day job.
She works as a pediatric music therapist at the University of Kansas Medical Center, helping children with emotional or behavioral disorders or those undergoing chemotherapy express themselves through song.
"It's fun to help the kids say something that they can't say by themselves," she said. "Working with them, they feel good about themselves, they have self-esteem and they have something they can share."
Thanks to her growing popularity in Kansas City, Anderson is reducing her day job hours and expanding her touring radius. In October, she performed at the International Blues Challenge in Oklahoma City and staked out three nights at Blue Note Lounge that weekend. Her first Oklahoma gig went so well, she jumped at the chance to return.
"The audience was fun and the sound system was great, so I decided that I really wanted to go back," she said. "It should be a great show."
Print headline: Blues therapy, In her performances and her debut album, Truly Me, Kansas City's Lauren Anderson honestly belts it out.