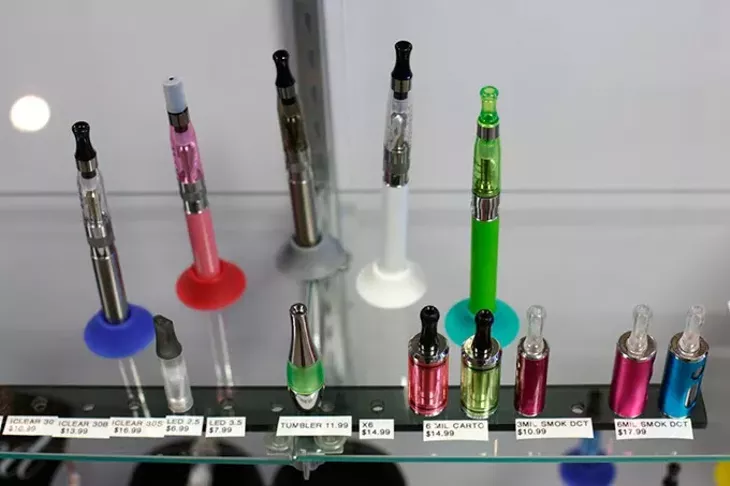 Garett Fisbeck
E-cigarette supplies at Get Vaped in Edmond, Thurday, Nov. 19, 2015.
Sean Gore doesn't hide his frustrations when it comes to talking about pending U.S. Food and Drug Administration regulations of electronic cigarettes.
The restrictions drafted by the federal agency and in review by the White House cause much headache for the vape shop co-owner and Oklahoma Vapor Advocacy League president.
If the 2014 FDA proposal for regulations is adopted, then "99.9 percent" of vape shops would close, he contends.
To illustrate his belief, he pointed to a small and clear e-liquid bottle during an Oklahoma Gazette interview at one of his four Get Vaped stores in the Oklahoma City metro. If the FDA establishes the premarket tobacco application, Gore would need to file an application for each e-cigarette and flavor of e-liquid he wished to sell. He names costs "in the millions" that come with no guarantee of approval. His speculation may sound extreme, but it is rooted in his study of the proposal and his knowledge of FDA officials' warning that the application will cost shop owners millions of dollars.
Gore supports limited FDA regulations, and suggests the industry be regulated similar to food service with abiding by certain safety standards. He said mixing e-liquids is no different from flavoring a soda at a restaurant or convenience store.
"The base is Dr Pepper, but you've added cherry or vanilla flavor," Gore said before asking, "It is still a Dr Pepper? Have you changed the product?"
Product regulations and "grandfather dates" that influence which products staying on the market trouble Gore. He said he is outraged by regulator barriers' impact on small-business owners, which sequentially helped thousands stop smoking traditional cigarettes. Without local shops specializing in vaping products, e-cigarette users would likely return to cigarettes, benefiting Big Tobacco.
"We can help people," said Gore, a former smoker, who tried "everything under the sun" to quit cigarettes before trying vaping 5 years ago. "That's what we are here for."
FDA regulation
In 2003, a smoking pharmacist in China developed the first electronic cigarette and the product hit American shelves about four years later. Shortly after, health officials, anti-tobacco groups and lawmakers began sharing concerns, particularly toward children using e-cigs and the limited research on the product.
In 2009, under the Family Smoking and Tobacco Control Act, the FDA was awarded the power to regulate the tobacco industry, which included e-cigs and cigars, previously pre-exempt from past rules. In April 2014, the first restrictions on e-cigs were proposed.
In October, after rounds of review and public comment, the White House Office of Management and Budget received the latest proposal, which wasn't public. At any time, the White House could approve or adjust the regulations before sending the document to Congress for adoption. Depending on decisions made by national leaders, the FDA rule could birth a structured, regulated vaping market or severely limit the industry that many turn to when trying to tamp down their use of traditional cigarettes.
Nationally, the vaping industry responded to the 2014 proposal with disdain, as advocacy groups — including Oklahoma Vapor Advocacy League — declared aspects of the proposal detrimental to the $2.5 billion industry.
Regulatory impact
Currently, there are little to no rules when it comes to e-cigs, which are battery-operated products designed to deliver nicotine and flavors as an inhaled aerosol.
Without regulations, there is no way to ensure product consistency. A user could buy an e-liquid unaware of the amount of nicotine or other ingredients used to create the juice. E-liquid mixing might take place in a clean area by a gloved worker or in contrary conditions.
In Oklahoma, state law bans stores from selling to minors, but some states have no state laws concerning sales to youth.
Regulations would address, among other things, labeling, safety standards and sales to minors. Federal officials believe regulations would allow for further study of the industry to determine effects of e-cigs on health.
"What we don't know yet is the full impact and ramification that these products have on our nation's health," said Kathleen Sebelius, Secretary of the United States Department of Health and Human Services, during a media call April 24, 2014, which coincided with the release of the FDA's proposed regulations. "We don't yet have a full understanding as to whether these products serve as a gateway to the use of regular cigarettes and we don't know how they influence the behavior of current smokers," Sebelius said. "This proposed deeming rule would allow us to gain a more robust understanding, and if necessary, an ability to take action to mitigate potential harms."
E-cig study
E-cigarettes are the subject of studies, including one recently conducted by the Center for Disease Control, which undercuts the theory that e-cigs are a gateway to smoking. The study concluded 12.6 percent of Americans have tried e-cigs and only 0.4 percent of nonsmokers currently use them. Additionally, 55.4 percent of smokers who quit had used e-cigs.
Health officials warn of the need to further study the longterm effects of e-cigs.
One such official is Adrienne Rollins, who serves as a tobacco use prevention manager at the Oklahoma State Department of Health. She recognizes many adult e-cig users are former smokers. While she applauds those trying to quit, she remains weary of smokers turning to e-cigs for help.
About two years ago, the Oklahoma State Department of Health issued a public health advisory addressing e-cigs and vapor products. The advisory warned of no regulations and cautioned against vaping around children and in vehicles.
"We don't know good or bad what the impact is of e-cigarettes," Rollins said. "I have always said until e-cigarettes are regulated and the research is consistent across the board, we wouldn't know. … The one thing we do know is they contain nicotine."
At Get Vaped, Gore counted the e-liquid ingredients on his hand: Water, nicotine, flavoring, propylene glycol and glycerin. He added the last two ingredients are found in toothpaste, including his daughter's My Little Pony paste.
"Continue to study," Gore said. "The more you find out the better."
Gore believes regulations can offer benefit to both the industry and the consumer, but that's not what he sees in the FDA proposal. Only a few large companies, with ties to Big Tobacco, will survive.
"Regulate as if health matter more than wealth."
Print Headline: Bated breath, Lawmakers, vape shop owners and health officials struggle to define safety and usage guidelines for e-cigarettes.