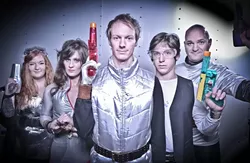 As Arnold Schwarzenegger might say, the robots are back.
Nikolas Thompson, the figurehead behind the retro-futurist, Oklahoma-born synth band Kite Flying Robot, has returned home and will begin playing the band's first live shows in the United States in more than two years.
Thompson has been primarily based out of Seoul, South Korea, for the last three years, where he keeps the offshores version of his band, composed primarily of other outlander musicians in the East Asian country. Thompson will be playing with his Oklahoma bandmates again at the official U.S. CD release of their sophomore album, Magic and Mystery, on Saturday at Blue Note Lounge, 2408 N. Robinson Ave. The band will be playing in a number of other shows, including Norman Music Festival, during Thompson's monthlong visit.
Thompson returns to the area having been opened up to a variety of new experiences while in Korea.
He said the biggest creative impact the move has had on him has been his involvement in Seoul's expat theater scene and performing in musicals, which has shown him a side to performing that he had not considered before.
"For me, it's sort of like almost finding my Ziggy Stardust kind of alter ego," Thompson said. "I'm pretty chill in normal life, but I kind of go a little crazy on stage, you know, and you can tell [the crowd] never expected me to perform in that way."
Thompson said his live show has grown more since before he left for Korea and he feels he connects to the crowd in ways he didn't before.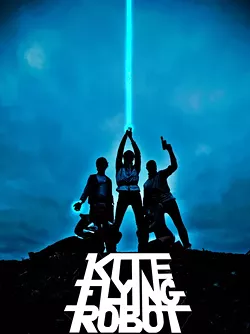 His work with Korea-based music producer B.A. Wheeler, who is from Canada, has also been a major influence on him. Wheeler, a Korean Music Award winner, played drums on Magic and Mystery, Thompson said. He also helped farm ideas and restructure some songs.
"He's a maniac," he said. "He's one of the few geniuses I've ever met in my life, and I'd love to work with him again if possible."
Following his short visit back to the U.S. this month, Thompson said he will be returning to Korea to begin working on several music videos. He's also excited about an opportunity to participate in scoring a feature-length film later in the year.
"That's been a dream of mine for a really long time, so I'd really like to follow through with that before I move back permanently," he said.
The film, Ultra Bleu by young, Korea-based director Nick Neon, has a vibe similar to Eternal Sunshine of the Spotless Mind.
"It's not exactly a happy-ending story," he said. "It works with a lot of color. You're not really sure what's real and what's not."
Thompson said the movie should begin filming later this year. While the scoring process has yet to begin, he said he expects it to be lush with darker synths and landscapes.
Print headline: Flying high, The frontman for Kite Flying Robot returns to the U.S., bringing new experiences and a slate of local shows