Lyric Theatre / provided
Richard Riaz Yoder, Tatum Grace Ludlam and Jeremy Benton star in Lyric Theatre's production of Singin' in the Rain through Sunday at Civic Center Music Hall's Thelma Gaylord Performing Arts Theatre.
Singin' in the Rain
Wednesday-Sunday
Thelma Gaylord Performing Arts Theatre
Civic Center Music Hall
201 N. Walker Ave.
405-524-9312
$42-$95
The most indelible image from the 1952 film Singin' in the Rain is probably that of star Gene Kelly fulfilling the title's promise while swinging himself around a lamppost, but Richard Riaz Yoder, watching as a child, was always mesmerized by comedic support Donald O'Connor.
"My eyes were completely fixated on him the whole time," Yoder said. "I think it was the way that he moved. I kind of don't know how to describe it, but I'm going to try to. Gene Kelly, he's one of the best dancers and he's so athletic, but there was something about Donald O'Connor. He's not fixated on himself at all. He is all about performing; he's all about giving to the audience; he's all about giving to the other characters onstage. And I think there's a quality of movement. … Even though he's not super tall, he has that lanky, fun movement quality to him, and I just remember looking at him, and I was like, 'Oh, I want to do that.'"
Yoder will when he plays Cosmo Brown — the role O'Connor originated — in Lyric Theatre's production of Singin' in the Rain Wednesday through Sunday at Civic Center Music Hall's Thelma Gaylord Performing Arts Theatre, 201 N. Walker Ave. Yoder — who previously played Brown in a 2016 production at Marriott Theatre in Lincolnshire, Illinois — said the role helps him reconnect with his younger, sillier self.
"I was always a goofball as a child, and I was always talking," Yoder said. "I was always making people laugh, and then when I got to high school and college, I kind of reverted into myself a little bit, just because of everything that's happening in high school. Doing this role sometimes kind of helps me bring me out of myself just because it's all about just being as big as you possibly can and really taking a lot of the importance off of yourself and putting it more on other people and making sure other people are having a lot of fun, because I tend to get very in my head, in life and while performing. With this, you can't really do that. If you're in your head and thinking about, 'Oh, so and so's thinking about this,' or I'm thinking, 'Somebody's thinking that I'm not good,' or whatever like that, then you're not doing what you should be doing in this role. This role calls for somebody to really put a lot of love and care and fun into everybody else. It really kind of helps me snap out of that."
Singin' in the Rain — a musical set in Hollywood during the uncertain transition from silent films to "talking pictures" — also stars Jeremy Benton as leading man Don Lockwood, Lyn Cramer as studio head RF Simpson, Lexi Windsor as vocally challenged leading lady Lina Limont and Tatum Grace Ludlam as Kathy Seldon, a ringer musical director Brown brings in to serve as Limont's singing voice.
Yoder said serving as the dance captain under choreographer Kelli Barclay in a production of the musical helped him through a difficult transition period in his own life following the death of his mother, who he called his "biggest cheerleader."
"It kind of took me out of my funk, and it kind of took me out of my sad place," Yoder said. "And so this show, no matter what or how I perform in it, or what I do, it will always have a special place in my heart."
For laughs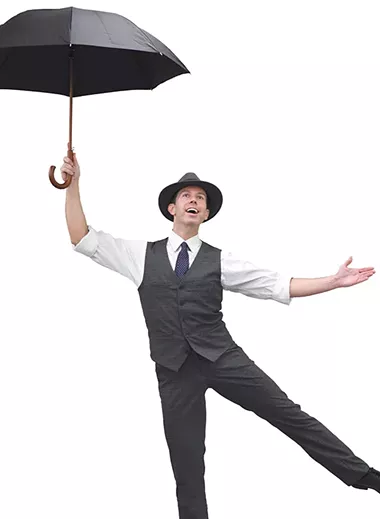 Lyric Theatre / provided
Jeremy Benton plays Don Lockwood in Lyric Theatre's production of Singin' in the Rain.
Yoder, who studied theater at Oklahoma City University, said Lyric Theatre also holds a special place in his heart as the first professional theater he ever worked in, and he hopes he does a better job in the role of Brown than he did for Marriott Theatre.
"The last time that I did it, which was also my first time I did it, I came to the first day of rehearsal; I had everything memorized; I packed my lunch early; I did everything that you could possibly think of," Yoder said. "And I was like, 'This is exactly how I'm going to say it, and this is exactly how I'm going to do it.' And then you realize that once you start doing that so much, it kind of takes the life out of the character. … Going back and looking at some of the videos, I was very proud of the work that I did, but I was a little stiff. And so I'm excited this time around that I have it under my belt to kind of enjoy it a little bit more and know that I don't need to pressure myself."
In his review of the 1952 film, Roger Ebert called "Make 'em Laugh," featuring O'Connor as Brown, "one of the most amazing dance sequences ever filmed."
"He wrestles with a dummy, runs up walls and does backflips, tosses his body around like a rag doll, turns cartwheels on the floor, runs into a brick wall and a lumber plank and crashes through a backdrop," Ebert wrote.
Yoder was originally afraid he would not be able to give audiences that same kind of joy.
"I started getting nervous," Yoder said, "because I was like, 'Wait. What if they don't think I'm funny enough? What am I going to do? What if I say a joke and nobody laughs?' and things like that. Then that just makes it worse. And then you're tentative when you're going out there and you're in your head a lot. I've learned that you just kind of got to let it go because not everybody's going to think you're funny all the time. … All you can do is try your best and see what works. Sometimes there are things that definitely do not work, and a good comedian is somebody that can edit."
Working in the ensemble for the recent Broadway revival of Hello, Dolly! and having the opportunity to watch Bette Midler in the title role taught Yoder an important lesson about making 'em laugh.
"One thing that I've noticed is that everything is steeped within truth," Yoder said. "Even if it's big, it's still truth."
Tickets are $42-$95. Visit lyrictheatreokc.com.