Phillip Danner
Carlos Barboza's mural at Stonecloud@cbaroza_art
The story of contemporary street art probably starts with illegal graffiti in the 1960s, but the Oklahoma chapter is still writing itself across blank walls and empty canvases.
We all remember the "Killroy Was Here" WWII-era drawings from the history books, have seen the early graffiti styles in footage of subways in the 60s and 70s, and some of us even know about Jean-Michel Basquiat and his "SAMO" tags or his photos alongside other pop art luminaries like Andy Warhol before his death at 27 due to a heroin overdose. If you don't, there are multiple documentaries about Basquiat as well as a 1996 feature film.
Then there was Keith Haring. And Shepard Fairey. And Banksy. Quickly, what was a guerilla art form (and often an illegal one to boot) stepped up speed as street artists took their underground passion and brought it to the masses.
Steve Powers' A Love Letter To You composed more than 50 rooftop murals spanning 18 blocks in Philadelphia set the tone for mural festivals to come.
That spirit translates through state mural festivals like the Habit Mural Festival in Tulsa, which is on hiatus this year due to the COVID-19 pandemic. Habit Fest is put together by Clean Hands Army.
"Clean Hands is basically just like a design and mural crew based out of Tulsa. It's kind of a collective of four of us. I do the bulk of the design work and there's about three of us that paint all the murals," Aaron Whisner said.
"Probably five years ago, we had a studio space/storefront in a warehouse on the east side of downtown Tulsa. We'd been looking to start doing like a mural fest in Tulsa, initially, we were going to do it in various locations around town, whatever walls we get donated at the time. But the building, it was this big warehouse and we just had like the small section of it. The landlord offered to give us the whole thing for the event, so that's kind of how we just ended up having it there at that specific spot, as opposed to kind of making it like an all-city thing, which eventually we did a couple of years later," he said.
Phillip Danner
George F. Bakker III mural at the openingof Plaza Walls. @gfb3
Last year's festival was done by streaming the work of the muralists using a film crew on site.
"It was cool, but I felt like the energy — having people out and like watching the process wasn't quite the same — which is, to me, kind of the purpose of all these festivals. To have people physically come and see the process," Whisner said.
While they plan to keep the main hub for next year's festival, they're actively seeking more opportunities.
"The hurdle is getting the walls donated. There's no shortage of artists that want to paint these spaces. We don't like to give the artists parameters when they're painting. We want them to do whatever they want. A lot of times when a building owner donates something, they want to, like you know, art direct it and stuff and that's never really been like our thing. We want the artists to have full creative freedom," he said.
You can't think about public art in Oklahoma without giving props to the Oklahoma Mural Syndicate.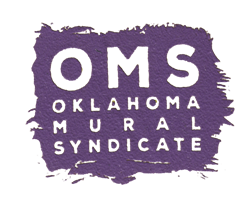 OMS operates the Plaza Walls project along with its sister event, the Milk Crate Jam. This year, they were the team behind the inaugural Sunny Dayz Mural Festival in the Britton District near Western Avenue and Britton Road. But they're also responsible for El Reno Walls as well as the Route 66 Mural Festival in far-flung Miami in the northeastern part of the state.
It's no wonder USA Today named OKC as the best city for public art in the country.
Locals and artists from as far west as Hawaii and as far east as New York descended upon the Plaza Walls 2021 Mural Expo, creating 38 new murals earlier this month.
Here is the full 2021 line-up: Carlos Barboza, BëkiT, Brady, Yo Bro, CES, Darin, Charlie Doves, Riley Edge, EYEZ, Jaiye Farrell, Sek Fink, ISIS FISHER, Kristin Gentry, Guer, Ana Iaccarino, George F. Baker III, Black Tiger IMC, JABEE, JUURI, Eric Karbeling, Katelynn Noel Knick, Al Lovett, MAST, Meme (Few & Far), Tiffany McKnight, Nico, OU, Marium Rana, John Salame, SM Sanz, No Parking Studios, Jaspyr Soul Style, Trashwolf, Michael Noel Walters, Weerdo, Wheron, Maeve Wise, and May Yang.
MC StuddaBudda led the live entertainment featuring DJ Dee Rock, Garistotle, DJ Goddess, Hex_Rated, Nymasis, and SkraCTH.
And everyone got paid a little something thanks to the tireless volunteer work of Dylan Bradway and Kris Kanaly.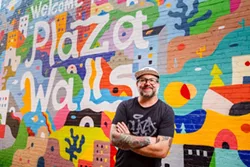 Provided
Julie Robertson's mural in the WesternAve District @Juuriart83
"We think it's the most attended. We had the most amount of artists ever. We upgraded the fence panels so they're nice and smooth. First time we had a stage. We had more performers than ever. We sold more merch than ever. We have the most sponsors ever. It was really a big thing," OMS President Kris Kanaly said.
The popularity of this year's mural festival is a testament to the work those two, along with the rest of their team, have been putting in for years.
"I used to run DNA Galleries in the Plaza District. My ex-wife and I started that back in 2008 and really helped curate some people down there, businesses and artists and creatives," OMS Vice President Dylan Bradway said.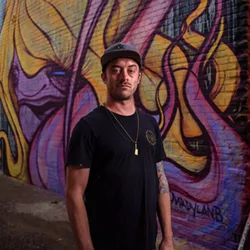 Beau Brand
Dylan Bradway, Vice Presidentof OMS @mrdylanb
" After a couple of years of being down on the Plaza, I realized that the alley was back there but nobody was really utilizing it. We had started doing murals in the District through DNA and on the side of Saints, so the value of the murals down in the District was becoming more apparent."
They struck a deal with real estate owner Steve Mason.
"We just approached him and said, 'Hey, this is a perfect place for artists to come congregate and create murals, create public art, that changes and rotates. We see value in that, especially as supporters of street art just influenced by graffiti or stuff like that," Bradway said.
Kanaly said he got his start as a kid tagging ditches and underpasses but honed his craft on walls that were donated to him and fellow artists to do their thing with.
Decades later, he's still doing the same thing.
But all of OMS is a volunteer and 501(c)3 non-profit organization and festivals of this scale and with this much talent take a lot of time, so they've launched Blank Walls in an attempt to garner local, state and federal funding for the project.
"The artists we hire are ALWAYS paid, but our staff is not … After six years of unpaid staff and a proven track record of building culture through inspirational installations and events, we have reached a tipping point," a blank portion of the Plaza Walls read this year.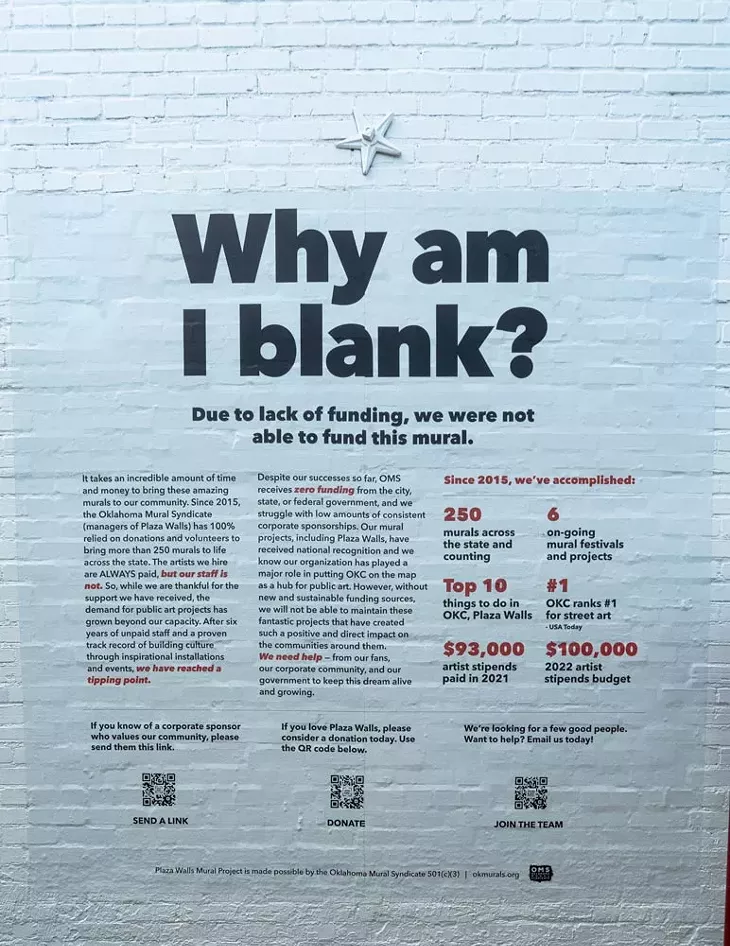 Phillip Danner
Blank mural inside of the Plaza Walls. Scanthe QR Code below to donate to PlazaWalls
"We're definitely getting to the point where we realize this is not sustainable and we really need to focus on getting enough grants or getting enough funding to where we can pay staff, but we haven't gotten there yet. We're just a group of artists that said, 'Hey, let's do this.' None of us had ran a nonprofit before, so we just kind of dove in, classic Silicon Valley model, where you worry about how you make money later on — you just start building. And that's where we are. So we built something amazing. We realize our cultural impact on the city and on the state. We've got to figure out a way to pay staff and that's currently kind of a top priority," Kanaly said.
"We have to approach each project with the mindset like, we have to have the right funding to do this but if it's there, a lot of these small towns are willing to put money towards things to benefit their little downtown areas, smaller communities to bring some life to them. Same thing happened in El Reno. Miami is way out in the middle of nowhere and that's kind of a logistical problem but like we've made it happen multiple years in a row went off without a hitch," Bradway said.
Like the Oklahoma Mural Syndicate, Habit Fest is funded primarily through donations.
For more info about how to donate or sponsor, go to habitfestival.com/
For more info about how to donate or sponsor the Oklahoma Mural Syndicate, go to plazawalls.org/nonprofit


Phillip Danner
Sm. Sanz mural in the Plaza at GatweeodAve and Nw 16th St. @sm.sanz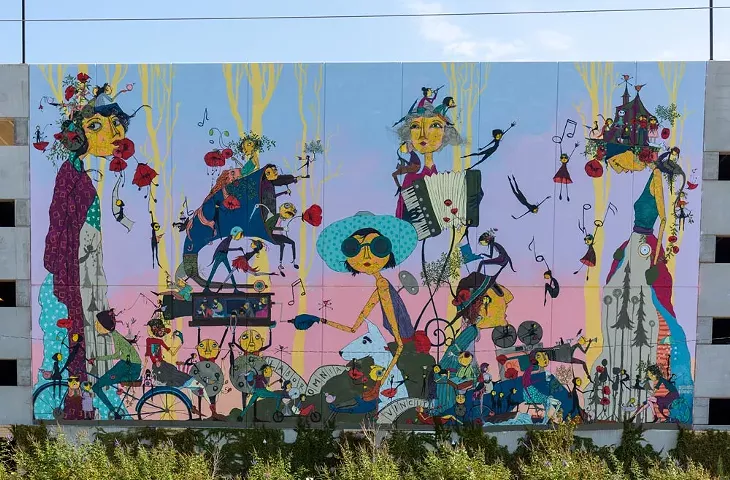 Berlin Green
Denise Doung's mural at Classenand Sheridan Ave. @lildfromokc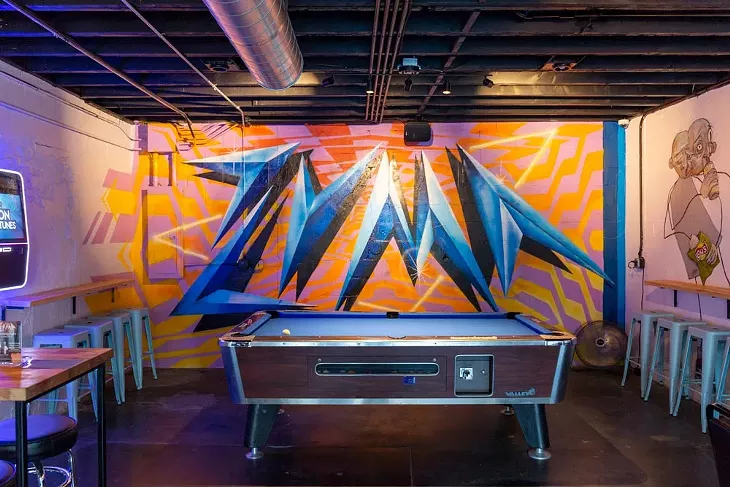 Berlin Green
Dusty Gilpin mural at Zuma. @okiedust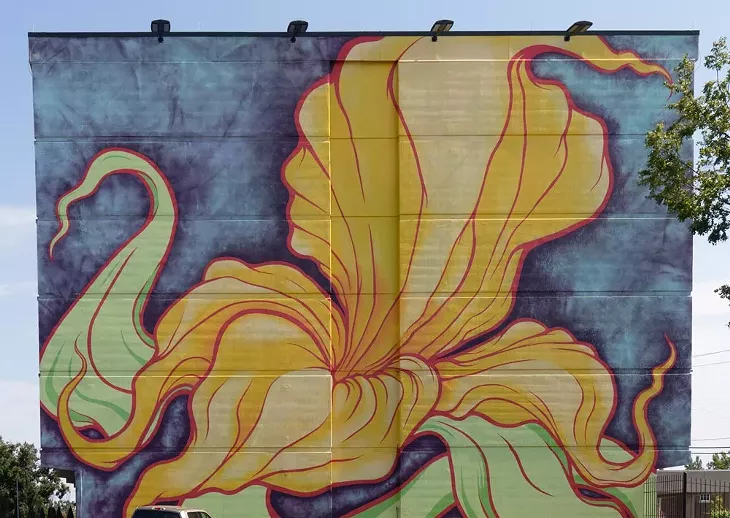 Phillip Danner
Dylan Bradway mural at 13th andClassen @mrdylanb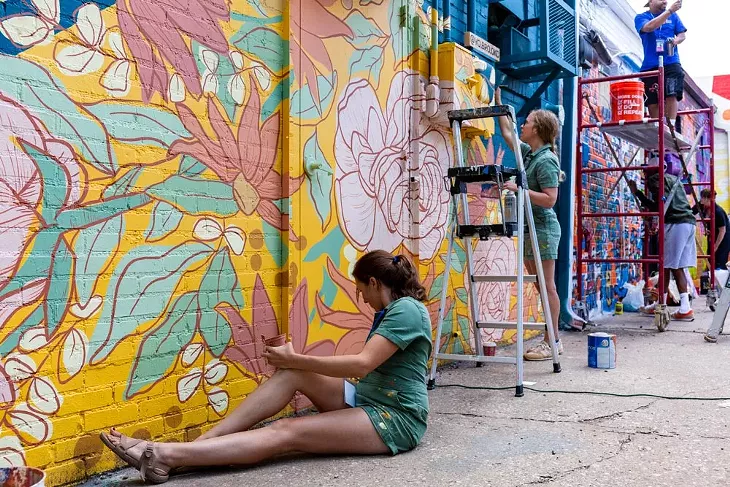 Berlin Green
Collaboration team Lindsay Zodrow andHayley Owen working on their mural inthe alley of Plaza Walls. @yo.bro.okc
Berlin Green
Zek Fink and BëkiT mural in the alley ofPlaza Walls. @sekfink @el_bekit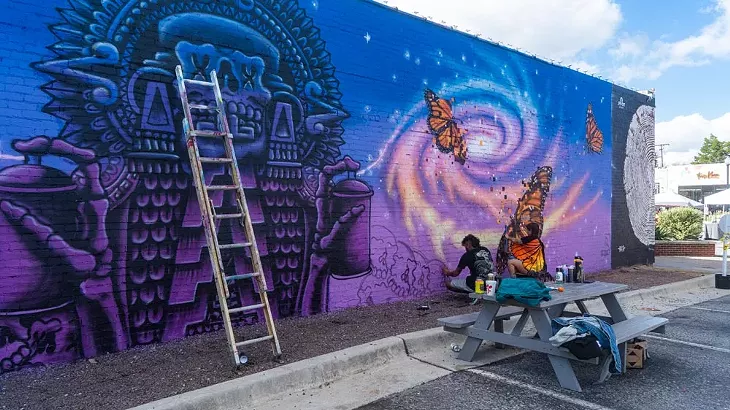 Phillip Danner
Wrdo & Nico mural in the Plaza on theside of Oak and Oare on NW 16th st.@weerdo1994, @nicosuavalicous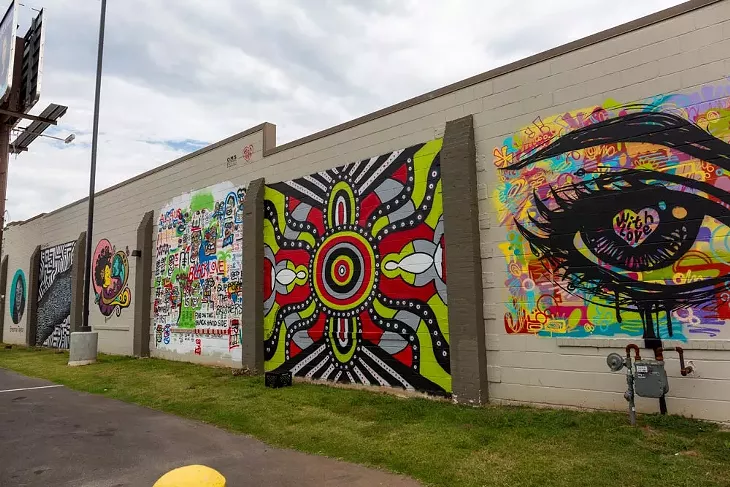 Berlin Green
With Love Project at 1708 NE 23rd St. (Left toright ) @caleblee81, @dawnjaiye, @ebonyimandallas,@noparkingstudios, @tlynnmcknight,@tonythunder.art