FEBRUARY:
Ditched his constituents during an extreme and dangerous cold snap to vacation in New Mexico. Even though he got caught, it didn't stick to him as well as it did to Ted Cruz, but we'd like to remind you going into this election year.
MAY:
But hold his beef. Kevin did his part to be a top ten state for owning the libs by having a barbecue under his PETA billboard. What a cool guy. I bet he's attracting a lot of cool businesses here with those tactics. Like Tesla. Oh, wait…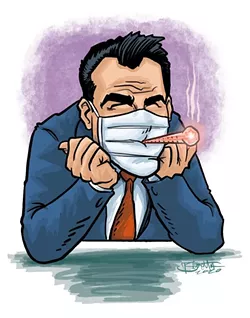 AUGUST:
Kevin took a moment out of his busy day to "share this thoughts" about the events unfolding in Afghanistan, giving a cringe-inducing address to his 1,700 YouTube subscribers. Sure, hundreds of thousands of people heard the message, but it's funnier when you say it that way.
DECEMBER: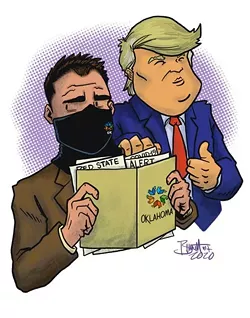 Kevin loves to shoot things as he sometimes points out by posting photos. But his favorite thing to shoot is himself in the foot after needlessly ending a tribal hunting and fishing compact. Way to go, Kev. You showed … well, of us. To the tune of $38 million, the Cherokee and Chickasaw nations estimate.