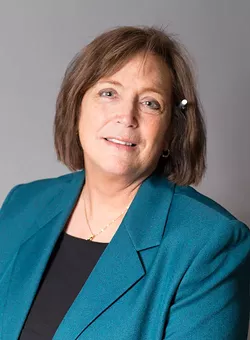 Liz Willner, an education professor at OCU, leads the discussion about After the First Death. | Photo provided
Reality TV, smartphone apps, social media — there are a lot of distractions in today's world, but an ongoing book discussion series at Oklahoma City University proves that interest in literature is alive and well. The winter session of Let's Talk About It, Oklahoma kicks off 7 p.m. Tuesday in Room 151 of Walker Center for Arts and Sciences on the Oklahoma City University campus, 2501 N. Blackwelder Ave.
This session's theme is Young Adult Crossover Fiction: Crumbling Borders Between Adolescents and Adults. English professor Tracy Floreani, who oversees the series, said the theme was an easy choice because it's a relevant topic and there's growing interest in young adult literature among adults of all ages.
Many of the group's core participants have adolescent grandchildren, so they're interested in reading the kind of books their grandchildren read. Plus, much of today's YA literature is so well-written that it appeals to adults and teens, something true of all the books chosen for this series.
"These titles are really the kind that are just good literature, so they're not pandering," said Floreani, chairwoman of English and Modern Languages department and director of OCU's Center for Interpersonal Studies through Film & Literature.
Founded by Oklahoma Humanities Council, Let's Talk About It, Oklahoma is held at several venues throughout the state. OCU's program is one of the largest, with a dedicated core of participants and anywhere from 45 to 60 people attending each session.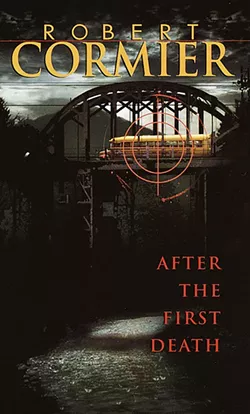 After the First Death by Robert Cormier | Image provided
Multiple perspectives
Floreani said one of the goals for the series is to expose participants to other perspectives, as was the case with last year's civil rights theme. She said that session helped people understand racial injustice and the struggles faced in the battle for civil rights, and she hopes the upcoming YA theme will help adults better understand the young people in their lives.
"We were all young adults once, but we forget how complex those experiences can be," Floreani said. "It reconnects adults with that time in their life and gives them an understanding of people of another generation who are going through a really different world than they did."
Let's Talk About It, Oklahoma features a 35- to 45-minute lecture from a scholar to help shed light on the meanings and themes of the books. Participants then break up into smaller groups to discuss the book further. Floreani said the quality of the discussions is enhanced by the insight provided by the scholar.
This session's first scholar is OCU education professor Liz Willner, who will discuss After the First Death by Robert Cormier. The book follows two pairs of men: 16-year-old Ben and his father General Marchand, who is in charge of an anti-terrorist program, and Miro, a teenager who's a terrorist, and his mentor Artkin, the leader of a group of freedom fighters struggling to take control of their country. The book's themes play out via the hijacking of a school bus full of children and the interaction between their teenage bus driver Kate and Miro. It uses multiple narrators to provide the reader with several perspectives of the same events.
Other books in the five-part series include Monster by Walter Dean Myers on Jan. 24, True Believer by Virginia Euwer Wolff on Feb. 7, The Absolutely True Diary of a Part-Time Indian by Sherman Alexie on Feb. 21 and Annie John by Jamaica Kinkaid on March 7. All discussions start at 7 p.m. in Walker Center Room 151. OCU encourages adolescents to attend the sessions.
The university has a limited number of books to loan to participants, given out on a first-come-first-served basis. They are available at OCU's Dulaney-Browne Library Room 211 or 207.
For more information about the series, call 405-208-5707, visit okcufilmlit.org or email filmlit@okcu.edu.
Print headline: Young views, This season's Let's Talk About It, Oklahoma series at OCU focuses on books for young adults.