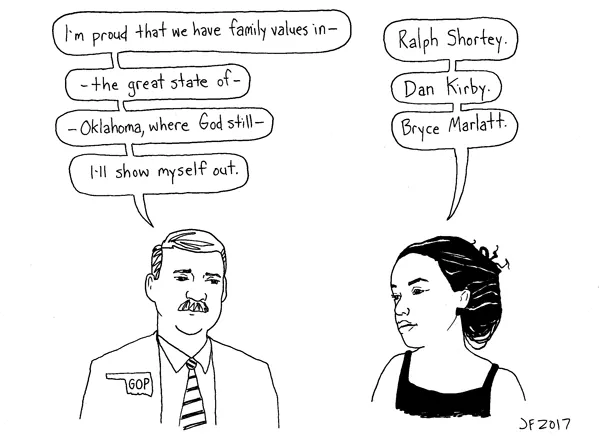 Open letter
To Congressman Steve Russell, U.S. Sen. James Inhofe and U.S. Sen. James Lankford:
As a constituent of yours, I write to express my serious concerns about two related matters that bear on the stability and security of our nation.
During the 16 months leading up to the 2016 presidential election, I observed with growing disgust and alarm the words and actions of then-candidate Donald Trump. In the course of a lengthy campaign, it became apparent that Mr. Trump was vulgar, profane, uniquely ignorant, a pathological liar and a grotesque narcissist. It has been evident for some time that these characteristics did not abate in the least once he took office as president.
Further, in the course of his campaign and presidency, he has done his utmost to undermine and delegitimize virtually every institution crucial to the functioning and preservation of our representative republic — a free press, the electoral process, the judiciary, national intelligence agencies and even the military have all been targets of Trump's self-aggrandizing verbal assaults.
As a retired professor of American history, it is my considered conclusion that Trump is fundamentally unfit and unqualified to carry out the duties of the office that he has assumed. For the first time in my 66 years, I truly fear for the future of our republic.
My fears have been increased manifold by the continually unfolding revelations about the Trump administration's inexplicable efforts to communicate with and curry favor with the Putin dictatorship. This continues despite the unanimous conclusions of our national security agencies that Russian intelligence agents undertook an ambitious and shockingly successful operation to interfere in the 2016 presidential election.
Mr. Trump continues, in the face of incontrovertible evidence, to refuse to acknowledge this fact, offering instead incoherent musings about other possible actors. Trump's bizarre affinity for authoritarian leaders cannot alone explain the efforts by the Trump campaign to establish clandestine communications with a Russian regime that seeks to disrupt democratic institutions and governments on a global basis.
These are not the words and actions of a man who is mentally stable or who holds the interests of the United States to be foremost.
I write not as a Democrat or Republican, but as an American citizen who is sincerely concerned about the security and future of our republic. I am disappointed that so few Republican lawmakers, including yourself, have seemed willing to even begin confronting these issues with the seriousness and immediacy that they demand. Regardless of how these issues are resolved, I expect you, my representative, together with others in Congress, to abide by the oath you swore to defend the Constitution of the United States.
Accordingly, I hold you and your congressional colleagues responsible for ensuring that Mr. Trump and those in his administration are held accountable for any transgressions of ethics or law and that appropriate investigative and/or criminal proceedings shall be undertaken without delay or obstruction.
Our nation cannot afford four years of a presidential administration that is crippled not only by incompetence, but also potentially by criminality.
Blaine T. Browne Oklahoma City
Opinions expressed on the commentary page, in letters to the editor and elsewhere in this newspaper are those of the author and do not necessarily reflect the opinions of ownership or management.
Oklahoma Gazette provides an open forum for the discussion of all points of view in its Letters to the Editor section. The Gazette reserves the right to edit letters for length and clarity. Letters can be mailed, faxed, emailed to jchancellor@okgazette.com or sent online at okgazette.com. Include a city of residence and contact number for verification.