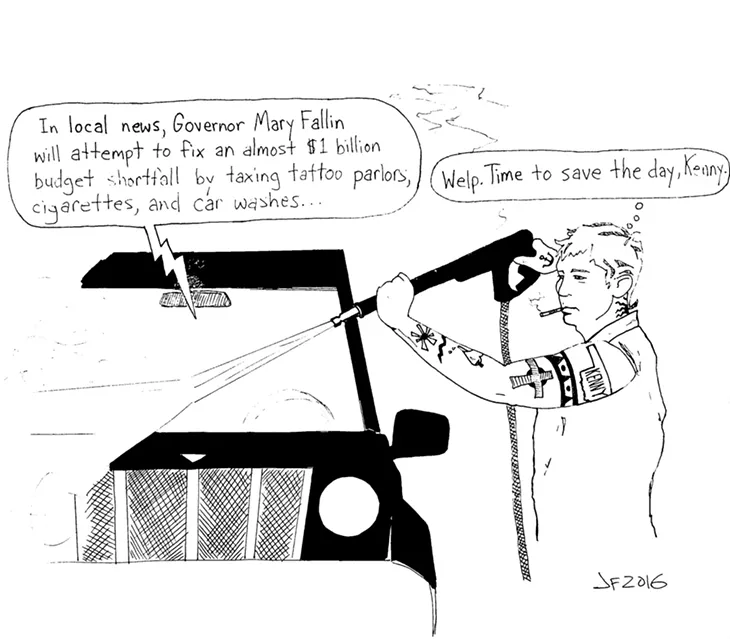 Price patrol
It was this week that an OKC police officer, endangering everybody, raced his patrol car 120 mph to catch a driver of a vehicle that had no tag. He then crashed the patrol car into a retaining wall. Is it this difficult to hire people to be police who have common sense? The news reported that the officer was sent to a hospital and then released. And how much did the patrol car cost the taxpayers?
Merle Wright Oklahoma City
Fuel fascists
Climate change denying Donald Trump is filling his cabinet with fossil fuel fascists that have their sights on turning our beautiful country, and the world for that matter, into a vast toxic waste dump with 30-foot sea-level rises from all their fossil fuel drilling and fossil fuel combustion and pollution.
The same week the EPA reported that high-volume fracking is contaminating our drinking water supplies, Trump appoints the fossil fuel fascist and Oklahoma Attorney General Scott Pruitt, another climate change denier, as his EPA director. Pruitt, you may recall, worked in alliance with Devon Energy while he was getting paid by the people of Oklahoma to sit in the State Attorney General's post.
Then, Trump appointed ExxonMobil's CEO Rex Tillerson (can't get any more fossil fuel fascist than that) to the big enchilada position in his cabinet, Secretary of State. Will his job be mostly opening up new drilling sites throughout the world and approving new pipelines with their potential for rupture from here to eternity? We barely survived the last fossil fuel fascist administration, that of oil barons Bush and Cheney. They invaded the oil-rich Middle East and, in the process, rigged oil prices from 18 bucks a barrel to 150 (after they had been stable at 17 during Clinton's entire eight years in office), setting off huge, worldwide speculation and inflation and economic downturns and eventual economic collapse. And who happens to be Trump's Energy Secretary czar? None other than oil-covered Rick Perry from Texas.
So the Trump administration looks more soaked in oil and fossil fuel pollution than even the Bush/Cheney administration. And the price of oil is already headed upward after being stable for much of Obama's administration. Can't have that. Bring on the gambling and speculation. Surely we can get oil to $300. And when that happens, it's game over and a banana republic for the regular people and workers in this once-great country.
Jay Hanas Edmond
Correction
A Dec. 14 Oklahoma Gazette story (Eat & Drink, "Dishing daybreak") listed the incorrect address and phone number for Good Gravy! Diner. The correct address is 8014 N. Western Ave. and the phone number is 405-761-8886.
Oklahoma Gazette provides an open forum for the discussion of all points of view in its Letters to the Editor section. The Gazette reserves the right to edit letters for length and clarity. Letters can be mailed, faxed, emailed to jchancellor@okgazette.com or sent online at okgazette.com. Include a city of residence and contact number for verification.
Opinions expressed on the commentary page, in letters to the editor and elsewhere in this newspaper are those of the author and do not necessarily reflect the opinions of ownership or management.