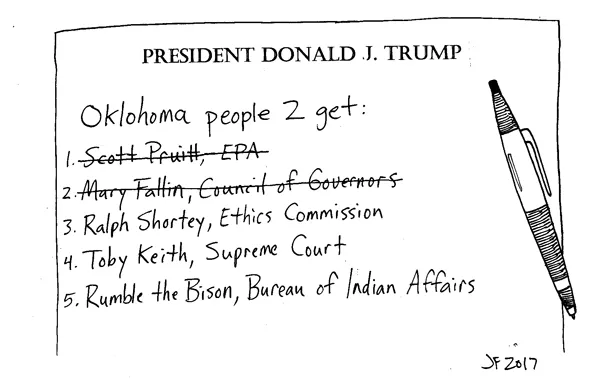 'Pro-birth'
Just because you're "opposed to abortion" doesn't make you "pro-life." In many cases, your morality is deeply lacking if all you want is a child born, but neither fed nor educated nor housed. Do you not want any tax money to go there? That's not pro-life; that's just "pro-birth."
A broader conversation on what the morality of "pro-life" means is needed.
Frank Silovsky Oklahoma City
Editor's note and correction (May 16, 2017): Much of Silovsky's letter was paraphrased or copied without attribution from a Nov. 12, 2004 Bill Moyers interview with Sister Joan Chittister for the PBS program Now. Read the full transcript at pbs.org/now.
Kids these days
On March 15, Moore Police Department posted a picture on its Facebook page of a 5-year-old boy named Jayden who donated a box of "The World's Finest" chocolates to the day-shift officers. According to sources, Jayden was selling the chocolates to raise funds for his elementary school and decided that he wanted to "give a box to the police."
This may not seem like a large contribution to the average taxpayer. For the common 5-year old, giving a $60 box of 30 chocolates away might be harder to do than it is for Sen. Ralph Shortey to get his parking spot back at the State Capitol. Though Jayden may not understand the allegations regarding Shortey, he does understand that there are dangerous people and that there are organizations designed to protect him from such people.
Jayden's actions led me to wonder which is finer in this situation, the chocolate or the kindness of a child who gives back to those who protect children like him.
Blake Pettis Midwest City
Overthrown from within
The Republican Party is being used to dismantle our government of checks and balances and protected freedoms. Under President Donald Trump, agencies that would protect us are being totally dismantled. EPA employees are being fired, budgets cut and departments instructed to reduce regulatory oversight.
The State Department is also closing up shop. Experienced professionals are being replaced by Trump's inexperienced puppets, who are neck-deep in conflicts of interest like Trump's own involvement in the Russian government's interference and manipulation of our presidential election. Our democracy is designed to be protected by the three branches of government, whose checks and balances are supposed to moderate overreach by any one.
The legislative branch has been corrupted. Manipulating people's thoughts and votes by using campaign marketing with unlimited money — allowed by Citizens United — has been effective in allowing less-qualified and dogmatic extremists to hold office.
The Senate changed 200 years of rules confirming Supreme Court justices to confirm Neil Gorsuch. Seriously? You bet! The Supreme Court is the last opportunity to right the wrongs in a democracy. And in Oklahoma, Gov. Mary Fallin recently appointed attorney Patrick Wyrick, who has never even been a judge, to the Oklahoma Supreme Court. Best qualified or easiest to corrupt?
Oklahomans, open your eyes to the unending lies and manipulation of the issues, opinions and elections by those who would benefit financially.
We are fast losing the ability to save our democracy by being overthrown from within.
Susan Schmidt Oklahoma City
Opinions expressed on the commentary page, in letters to the editor and elsewhere in this newspaper are those of the author and do not necessarily reflect the opinions of ownership or management.
Oklahoma Gazette provides an open forum for the discussion of all points of view in its Letters to the Editor section. The Gazette reserves the right to edit letters for length and clarity. Letters can be mailed, faxed, emailed to jchancellor@okgazette.com or sent online at okgazette.com. Include a city of residence and contact number for verification.
Note: Online story edited May 16, 2017, to add correction, links and attribution to a letter to the editor.