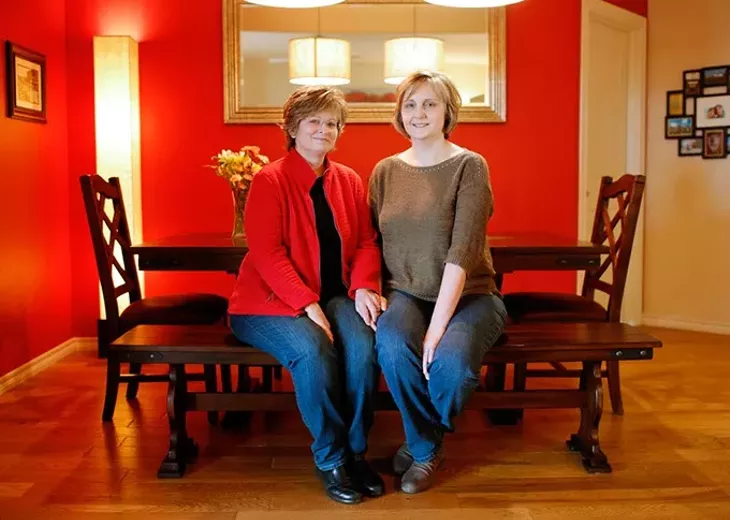 Garett Fisbeck
Debra Martin and Janette Thornbrue pose for a portrait at their home in Edmond, Sunday, Jan. 24, 2016.
This year's Valentine's Day holds special significance for many of Oklahoma's same-sex couples. It's the first time they've celebrated Feb. 14 since marriage equality became legal in all 50 states.
Some couples, like Bruce Hall and Mike Stuart, who celebrated their 21st anniversary as a couple Jan. 30, didn't even consider marriage as an option until recently.
Other couples, like Edmond residents Debra Martin and Janette Thornbrue, didn't wait for marriage equality to come to them. In 2013, they made a weekend trip to Iowa and tied the knot.
'Pure joy'
Last summer, when same-sex marriage became legal everywhere, Martin and Thornbrue were elated.
"It was a feeling of pure joy," Martin said. "And there was also a relief that my country and my state would finally recognize marriage equality for what it is: two people building a life together."
Thornbrue agreed. She said she supports different beliefs and understandings and marriage for everyone is a human rights issue.
"At first, it was hard for me to wrap my head around it," she said. "Once I did, it was freeing and uplifting to finally see the movement of human rights being expanded to all Oklahomans."
The couple has been together 10 years and said Valentine's Day has always been special. But now, as a married couple, they are even more devoted. They both work, divvy up the household chores, care for aging parents and live a simple life.
"We like to watch movies, sports and sitcoms in the evenings or sit out on the back porch in warm weather," Thornbrue said, "just the two of us or with friends."
Living in what has become a notoriously "red" state in recent years hasn't been easy, they say, but friends and family are mostly supportive.
"Now that we're legally married, we both find it a little easier to walk closer together or hold hands briefly when we go out to dinner or a movie," Martin said. "But the thought someone might confront us is still there in the back of my mind."
Martin said she wants to thank Mary Bishop and Sharon Baldwin, a couple who helped initiate Oklahoma's marriage equality fight.
"We deserve to be treated equally under the law," Martin said. "Without those before us who fought the good fight, Janette and I wouldn't have a lovely document from the state of Oklahoma declaring we are legally married."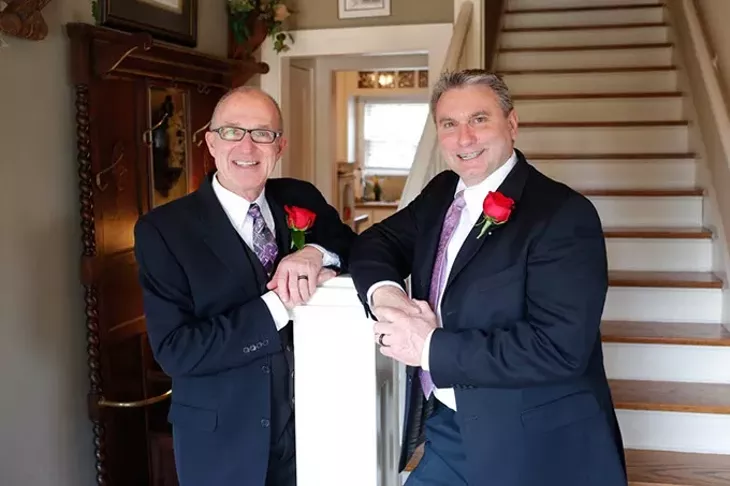 Garett Fisbeck
Mike Stuart and Bruce Hall pose for a photo at their home in Oklahoma City, Saturday, January 30, 2016.
'Ring and all'
"We really didn't think we would be afforded the opportunity to marry as a gay couple in Oklahoma," Stuart said. "A couple of years ago, Bruce and I doubted we would ever have this right in our home state. But we were amazed; after such a long fight for equality, it happened much faster than we ever expected."
Over the Christmas holidays, Stuart said they decided to make it official.
"Bruce proposed to me on Christmas morning, down on one knee, ring and all," he said. "We have always celebrated Valentine's Day anyway, so this year is really not any different.
"The bigger picture is we now have the right to choose a date to get married like any other couple."
The couple married Jan. 21. They also shared the special occasion with friends and are planning a "21 years and finally legal" party."
The life the two men have built together is a simple one. Most days, they go to work, do chores around the house and are involved in the community.
"We are just like our neighbors," Hall said. "Out of bed early, off to work, and back together each evening. We both have side incomes. I have an antique and collectable business, and Mike is a racehorse consultant."
At the end of the day, Stuart said they make time for each other, whether that's attending a play or musical, enjoying an evening in the Paseo Arts or Plaza districts or relaxing at home, watching TV.
"We live by the philosophy 'live and let live.' We do not impose our lifestyle on others and hope they will respect our privacy," he said. "By living this way, we feel it has afforded us the respect of others and set a precedent of how we have been accepted. ...
"Through the years, people who may have befriended or worked with us individually and didn't know us as a couple have realized being gay doesn't define us. It is just part of who we are."
Print headline: Love is ..., Couples celebrate their first Valentine's Day together since same-sex marriage was made legal in all 50 states.