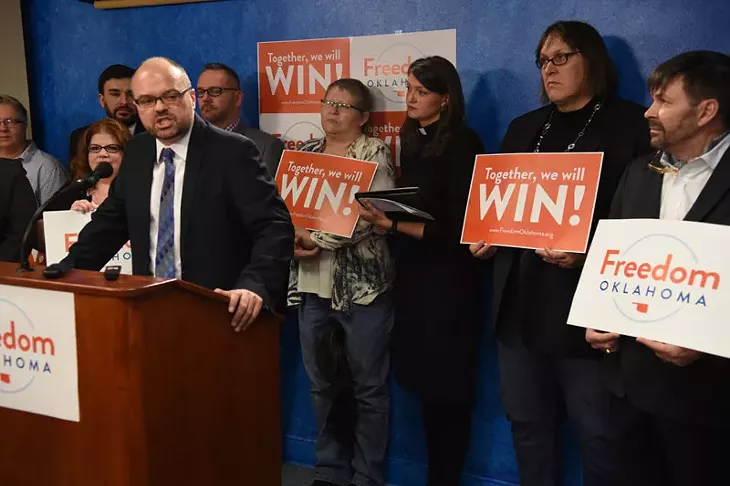 Mark Hancock
Troy Stevenson, along with several supporters, announced the launch of Freedom Oklahoma on Jan. 26.
Two of the state's largest advocacy organizations for lesbian, gay, bisexual and transgender (LGBT) rights have merged under a new name and a new focus just months after same-sex marriage was legalized in Oklahoma.
The Cimarron Alliance, OKC's oldest LGBT advocacy group, and The Equality Network, a statewide organization, have combined resources to form Freedom Oklahoma.
"The LGBT community of Oklahoma is under attack and we are here to tell you we plan on fighting back," said Troy Stevenson, formerly of The Equality Network and executive director of Freedom Oklahoma.
During a Monday press conference at the state capitol, Stevenson said the new organization would fight against at least 10 "hate-filled" bills that target LGBT citizens.
"We are here to actually ask [lawmakers] to pay attention to the $300 million shortfall in the budget and all of the other important issues ... rather than attack our community," Stevenson said.
Despite the marriage victory for the LGBT community last year, Stevenson said legislators who are against same-sex marriage are fighting back with bills that expand conversion therapy, allow businesses to refuse services to same-sex couples and allow county clerks to not issue marriage licenses to same-sex couples.
Rep. Sally Kern, R-Oklahoma City, who has been an outspoken critic of same-sex marriage for several years, has drawn attention for several anti-LGBT bills she has filed this year.
Stevenson, along with several other LGBT rights supporters, said Monday that they believ many of these proposed bills are unlawful and they hope to defeat them before ever reaching a committee hearing.
"We have been successful every time we have to fend off anti-LGBT legislation," said Laura Belmonte, a board member for Freedom Oklahoma.