OKC Metropolitan Librariy director candidate, Roosevelt Weeks, speaking during a public meeting at the Ronald J. Norick Downtown Library, 9-23-14. mh
Are libraries still relevant?
"It's a stupid question," said Tim Rogers, one of three finalists for Metropolitan Library System's (MLS) executive director job. "Asking that question makes it sound like all libraries are the same."
Rogers, a director for a library consortium in North Carolina, along with Jon Walker, director of the library system in Pueblo, Colorado, and Roosevelt Weeks, a library administrator in Houston, participated in a forum last week that allowed members of the public to meet and hear from the three finalists for the top job at Oklahoma's largest library system, which has over 510 employees and 19 branches across the metro.
Donna Morris, the current executive director of MLS, is retiring after 12 years, and the library system is searching for her replacement during a time when new technology and new content models are changing the way libraries operate.
"Libraries have always changed," said Walker, who also gave the crowd of close to 50 a presentation on his work in Pueblo. "When you ask most people to describe a library, they probably first mention books, but libraries have not always been about books. The first libraries 4,000 years ago contained rooms full of clay tablets. So long as libraries are willing to adapt, their future is guaranteed."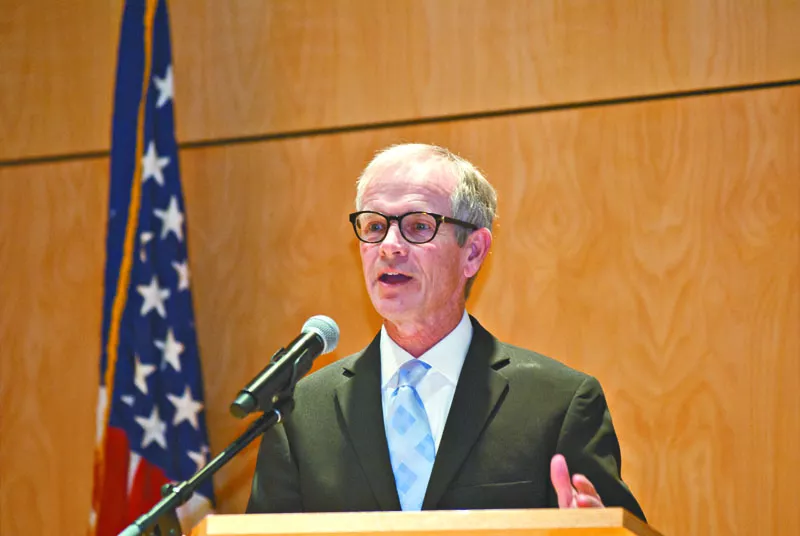 OKC Metropolitan Librariy director candidate, Jon Walker, speaking during a public meeting at the Ronald J. Norick Downtown Library, 9-23-14. mh
Weeks, who currently serves as deputy director of administration for the Houston Public Library, said he would like to help MLS increase its use of technology and believes the system should increase its funding for e-books; help staff become more technology savvy; and increase the system's technology infrastructure, which includes increasing Internet speeds at each branch.
The executive search committee has completed its final interviews and has authorized the search firm to negotiate a salary and perform a background check on its recommendation. The recommended candidate will be voted on by the library commission at its Oct. 9 meeting.
The hiring of a new executive director will signal a change for Oklahoma County's library system during a time of transition for the library industry across the country.
"Figuring out the role that libraries should play in the future has been a long-standing discussion in many communities," said Lesa Mitchell, founder of Network for Scale. "As everybody knows, there are a bunch of books there that are, in many cases, now available online."
In a partnership with the John S. and James L. Knight Foundation, Mitchell has announced a competition for $2.5 million in grants to be used to help redefine libraries in the 21st century. Though libraries face an uncertain future, many who work in the industry believe libraries will continue to evolve like they always have. Projects like the ones offered by the Knight Foundation are hoping to spur innovation and new ideas.
"Libraries are thriving today because they are always evolving," wrote Anthony Marx, president of the New York City library system, in a post for the Knight Foundation. "Indeed, many of the hallmarks of what makes a great community library today didn't exist mere decades ago: computer access, self- service check out, expansive educational programming and more."
All three candidates for the executive director job acknowledged that libraries face a need to change, but each believed the industry has already shown an ability to adapt in the past and there are many ways for libraries to take advantage of the advancements in technology.
The next executive director for MLS will oversee a library system that has already started its latest evolution process. Electronic books for checkout on digital devices, music downloads and a revised online catalog system are all features of MLS.
Mark Hancock
Visitors to the downtown library in Oklahoma City work on computers.
"We did redo our new online catalog and website, but we are in constant developments with a lot of new software both behind the scenes and at the front," said Kim Terry, MLS's director of marketing and communications. "We also have a new online calendar of programs and events that was just launched and are working on getting an online meeting room reservation system for our customers."
The library system's new website includes enhanced features for searching for books, but it also includes insight into the personality of library staff with new bio pages. It's a feature that might not seem too important, but Rogers said one of the ways libraries need to improve is by becoming more visible in the community and developing a personality.
"Branch staff needs to be integrated into the community," Rogers said. "The best way for the library staff to be a major part of the community is to get out into the community and be active in the community and not just seen as the librarian behind the desk."
All three candidates agreed that libraries are not meant to be uniform facilities, with each branching looking and acting the same; instead, libraries should be unique to their surroundings and function as an inviting place to visit.
Unlike other industries — such as newspapers and book publishers — that have seen print products fall in popularity to electronic devices, libraries are not reliant on book or newspaper sales. Physical books might become less popular, but the growing demand for technology can be met by changing library systems.
"Libraries have made a pretty significant change in recent years," said Nancy Anthony, chair of the MLS commission. "It's not just books anymore. This is the only place you can get free technology. This is addressing the digital divide, and it's really important so we don't wind up with a bunch of haves and have nots."
Print headline: Maintaining relevance // The metro's library system prepares for a new era with a new executive director.