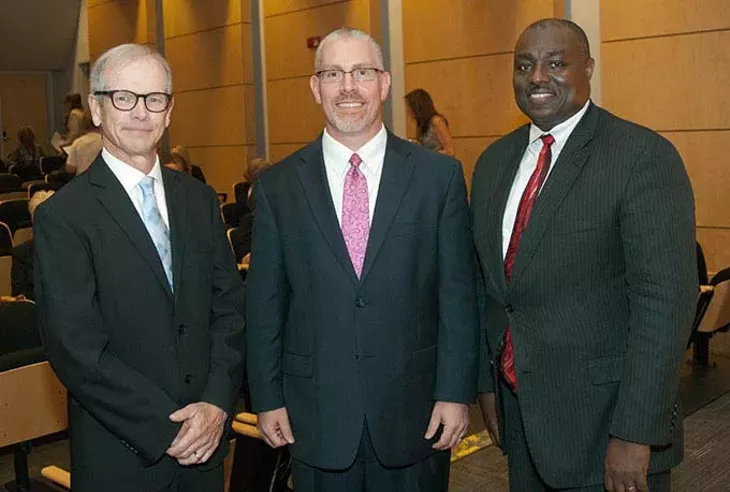 From left, Jon Walker, Tim Rogers and Roosevelt Weeks, director candidates, before the start of the Public Forum concerning the choice of a new OKC Metro Library System director, at the Ronald J. Norick Downtown Library, 9-23-14. mh
Are libraries still relevant?
"It's a stupid question," said Tim Rogers, one of three finalists for the Metropolitan Library System's executive director job. "Asking that question makes it sound like all libraries are the same."
Rogers, a director for a library consortium in North Carolina, along with Jon Walker, director of the library system in Pueblo, Colorado, and Roosevelt Weeks, a library administrator in Houston, participated in a forum Tuesday night that allowed members of the public to meet and hear form the three finalists for top job at Oklahoma's largest library system.
Donna Morris, the current executive director of MLS, is retiring after 12 years and the library system is searching for her replacement during a time when new technology and new content models are changing the way libraries operate.
"Libraries have always changed," said Walker, who also gave the crowd of close to 50 a presentation on his work in Pueblo. "When you ask most people to describe a library they probably first mention books, but libraries have not always been about books. The first libraries 4,000 years ago contained rooms full of clay tablets. So long as libraries are willing to adapt their future is guaranteed."
Weeks, who currently serves as deputy director of administration for the Houston Public Library, said he would like to help MLS increase its use of technology and believed the system should increase its funding for e-books, help staff become more technology savvy and increase the system's technology infrastructure, which includes increasing Internet speeds at each branch.
The library system employs 510 and operates 19 branches across the metro. The executive search committee is finishing interviews on Wednesday and is expected to announce the next step shortly.