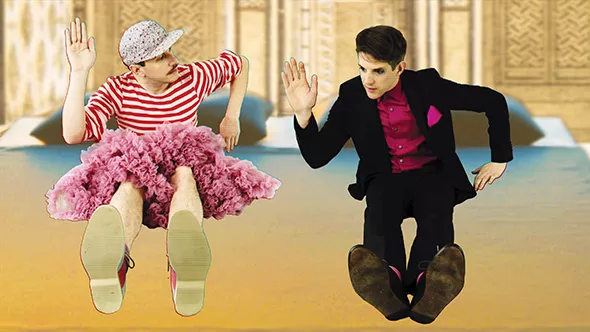 provided
Princess (Alexis Gideon left and Michael O'Neill) in a scene from its "sci-fi feminist rock opera" Out There
Princess
7 p.m. Monday
21c Museum Hotel
900 W. Main St.
21cmuseumhotels.co
405-982-6900
Free
Like many cinematic science fiction epics, Princess' animated album-length music video Out There begins with sustained synthesizers and explanatory text.
"Proclaiming Earth to be a misogynistic dystopia," the introductory titles read, "the art-pop super duo Princess prepares a rocket ship to find a better world. As only two white men could."
Princess is scheduled to perform Out There while screening the accompanying film 7 p.m. Monday at 21c Museum Hotel, 900 W. Main St. A collaboration between Michael O'Neill (The Ladybug Transistor, MEN) and Alexis Gideon (a multimedia artist known for animated video operas), Out There is the follow-up to the duo's self-titled 2005 debut, but Princess' latest project is more than a record.
"We call it a sci-fi feminist rock opera," O'Neill said. "Genre conformity has never been our specialty. … It's a video-art piece; it's a musical album."
Following a March 1 premiere at Pittsburgh's Andy Warhol Museum, Princess is touring with the film as a performance art piece before determining whether to release the music — ornately layered, trip-hop-inspired indie-rock also featuring synth-rockers TEEN — as a standalone album. The songs, pieced together track by track via email, began to take shape in 2016 as a reason for O'Neill and Gideon to reunite Princess while living in separate states, but the duo began to see a clearer purpose for the project after the presidential election. The "seed of the idea" for Out There became firmly planted after O'Neill and Gideon went to the Women's March in Washington, D.C., following the inauguration.
"[We decided] this should be a piece about women and about misogyny and about what we as men are supposed to be doing or how we're supposed to be participating in that movement," O'Neill said. "The lyrics were sort of in process at that point. I think that some of them were already written, and it was kind of revealing itself as we listened back, what the subconscious narrative kind of was. More lyrics came after we decided to make a piece explicitly about this. Some of it was sort of organically coming out with the subtext of oppression or misogyny."
Though the themes became more solidified after the Women's March, O'Neill said the duo have been thinking about women's rights and the damaging impact of misogyny for several years.
"Feminism and the notion of toxic masculinity aren't something that only dawned on us while making this piece," O'Neill said. "As we've grown up and become men, it's just something that I feel I've always paid attention to."
His time in MEN with multimedia artist and former Le Tigre member JD Samson (who makes a guest appearance on Out There's anthemic "Rise Up") gave O'Neill additional perspective.
"That really informed my feminism," he said, "because that work was very political, and I feel like I learned a lot about myself and about this topic by collaborating with women. It's sort of been a lifelong journey of understanding the kind of man that I want to be."
Still, the idea of creating an artwork about feminism was somewhat daunting for the two men.
"It is tricky, and it sometimes feels scary," O'Neill said. "You don't want to say the wrong thing or you don't want to come across like, 'Look at me. I've got all the answers as a man talking about women's issues.' But at the same time, I don't want to be afraid of it, either, because it's important that men take up just as much urgency around this issue as women do, especially since men are inherently more in positions of control in our society. If we are in those positions, we should use that to be feminist and to make sure that we're doing the right thing and we're saying the right thing by women."
provided
Princess performs the music for Out There live while screening the album-length music video 7 p.m. Monday at 21c Museum Hotel.
Getting There
Recording the music for Out There, O'Neill estimated, took about a year, and creating the film, which largely consists of still photographs of the duo animated using stop-motion techniques — with additional artwork representing the "Divine Feminine" created by visual artist Jennifer Meridian — took another. The project might have taken much longer if not for Gideon's animation experience, which allowed him to fix mistakes during the editing process.
"It takes a long time to sort of move your arm 16 different times just to raise your arm or whatever," O'Neill said. "The first time you're trying to do a walk cycle, we call it — just to get an animation of you walking across the street — you've got to learn, 'OK, this foot goes here. This foot goes here,' but after doing it so many times, you just kind of get quicker at it."
The film element — which features Princess performing a final show on Earth before blasting off on literal crotch rockets, escaping from a smartphone-powered prison, fist-fighting in outer space and other, more difficult to describe actions — is necessary to explaining Out There's storyline, O'Neill said.
"The lyrics have an abstractness to them, so the visual element really helps drive home a narrative," he said.
Out There is a story about two men attempting to find a refuge from Earth's misogyny in the cosmos, but O'Neill said that women are ultimately the ones who need space.
"I think that we have to make space for women in places where we take up more space," O'Neill said. "We need to listen to women more, especially in areas where a woman's voice should be the priority. … I definitely don't want to come across and say, 'We need to say more,' because that's not the motivation here. However, I think … if the urge to say something in support of women comes to us — and in this case it came to Princess in this artistic way — that we didn't want to feel like we shouldn't or we can't because when people think of feminism, I think they think primarily about women who are feminists, and we need to understand that feminism is something that needs to come as much from everybody. It's about equality."
The film's handmade-looking sci-fi elements represent not large-scale white knight heroics, but the small individual and collective efforts that can help shape the world around us.
"It's important to realize how this plays out in our own lives, even in miniscule ways, at home or at work or whatever," O'Neill said. "It's not just about grand gestures of, 'How do we solve this crisis of misogyny?' It's about, 'How do we treat the women in our lives, whether that's family or friends or colleagues or people on the street, people that you meet at a store or wherever it may be, just the women that you interact with every day? How do we make space for them? How do we treat them? How do they feel around us, and why? How can we, as men, support women better?'"
Admission is free. Visit 21cmuseumhotels.com/oklahomacity.