Alexa Ace
Lance Kimball owns Simple Cure and Flagship Vapor.
A prime suspect during the search for the cause of an outbreak of a lung disease commonly called "vaping illness" has been confirmed by a subsequent investigation.
On Nov. 8, Centers for Disease Control and Prevention released the results of a recent run of testing, announcing that vitamin E acetate had been found in the lungs of all 29 victims of the disease whose samples were tested.
The discovery was made by bronchoalveolar lavage, or BAL, injecting saline into the lungs of the patients, suctioning it out and testing the results.
The CDC refers to vaping illness as "e-cigarette, or vaping, product use–associated lung injury," or EVALI.
"During August–October 2019, BAL fluid specimens were collected by clinical teams caring for hospitalized EVALI patients. Public health laboratories and health departments from 10 states (California, Connecticut, Hawaii, Illinois, Maryland, Michigan, Minnesota, Texas, Utah, and Wisconsin) … Vitamin E acetate was detected in all 29 patient BAL samples. Among 23 patients for whom self-reported THC use information was available, 20 reported using THC-containing products. THC or its metabolites were detected in 23 of 28 patient BAL samples, including in those of three patients who said they did not use THC products. Nicotine metabolites were detected in 16 of 26 patient BAL specimens. Results for plant oils, MCT oil, petroleum distillates, and diluent terpenes were all below analyte-specific levels of detection," according to a CDC news release.
Vitamin E acetate was identified as a likely cause of the illness in September by New York State Department of Health.
"Laboratory test results showed very high levels of vitamin E acetate in nearly all cannabis-containing samples analyzed by the Wadsworth Center as part of this investigation. At least one vitamin E acetate containing vape product has been linked to each patient who submitted a product for testing. Vitamin E acetate is not an approved additive for New York State Medical Marijuana Program-authorized vape products and was not seen in the nicotine-based products that were tested. As a result, vitamin E acetate is now a key focus of the Department's investigation of potential causes of vaping-associated pulmonary illnesses. Vitamin E acetate is a commonly available nutritional supplement that is not known to cause harm when ingested as a vitamin supplement or applied to the skin. However, the Department continues to investigate its health effects when inhaled because its oil-like properties could be associated with the observed symptoms," according to a New York health department news release.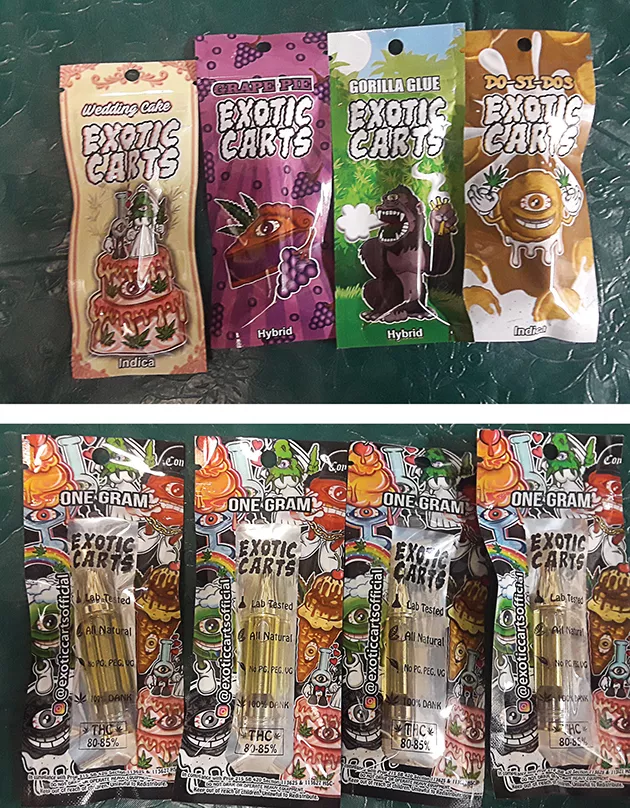 provided
The CDC has identified vitamin E acetate as the culprit behind dozens of cases of vaping illness caused by black market vapes.
"Patients with EVALI had higher odds of reporting exclusive use of THC-containing products, as well as reporting frequent use of these products, obtaining them through informal sources, and using a counterfeit THC-containing product marketed as Dank Vapes," according to the CDC.
Dank Vapes
Dank Vapes has been singled out as a primary carrier of the substances that led to the outbreak. The packaging is available cheaply from many online wholesalers, most of which ship from China. While the packaging looks sleek and often contains wording that makes it seem as if the product originated and was tested in California, there is no such brand. Instead, black-market suppliers fill the cartridges with fluid of dubious origin and sell them on the streets.
Morgan Tepsic decided to conduct his own experiment on the Dank Vape brand. He purchased one from an Oklahoma City metro dispensary and submitted it to The Highgrade Testing Lab.
Lab analyst Abigail Crutchner developed a protocol to test for vitamin E acetate in the sample. While the sample did not show detectable levels of vitamin E acetate, there were numerous other substances that appeared in the sample that were not normal things that were being tested for, like microbes and pesticides.
Instead, the test results showed that the sample, which was purported to contain a high level of THC, instead only had 8.02 percent THC and 13.05 percent CBD. The Dank Vape also passed tests for microbes, mycotoxins, heavy metals and solvents.
"There's so much misinformation out there. There's so much education that needs to happen out here in Oklahoma," Tepsic said. "I've lived out in Cali in the industry for a little bit, and so I've seen what quality should be and how things kind of should run to a certain extent, and when I see things like Dank Vapes, I just had to, I had to kind of shed a light on that, not necessarily to blow up the spot on dispensaries, but moreso just to kind of educate the people here."
Nicotine market
The vaping illness outbreak has had not only an effect on the medical cannabis vape industry in Oklahoma, but also the nicotine vaporizer market here.
Lance Kimball owns and operates both Simple Cure, a cannabis company, and Flagship Vapor, which sells nicotine vape juice.
"On the Simple Cure side, I haven't seen a tremendous impact. I was grateful that the CDC finally came out and kind of clearly stated what we've all suspected since the first few cases. The vitamin E acetate from illicit street carts," Kimball said. "On the Flagship site, it's really been difficult, to be honest with you. We've lost a couple of our smaller orderers, but still a couple of clients that were, you know, important relationships to us out of New York. One of our staple partners has a couple of locations in Atlanta. Their last day open will be November 23 because of a significant decline in business as a result of all of the news recently. Almost everybody that we talked to across the board is all of our retail partners are substantially down 40 percent, 70 percent down from what they were this time last year, so that is significant.
"We're just over a year into this, and new patients still being added all of the time, and so I think that you're constantly seeing new customers being turned on to our products. But in addition to that, because we were kind of first to market, I think a lot of people have grown to understand or appreciate the fact that our cartridges are 100 percent cannabis, and so that offers certainly some peace of mind. I think with all of this recent concern with compounding constituents, vitamin E acetate and stuff like that, I think a lot of people that are kind of aware of or got a little bit of an understanding of the products that are out there understand that they don't have to worry about that with us."